Foxconn to invest in new manufacturing facility in Karnataka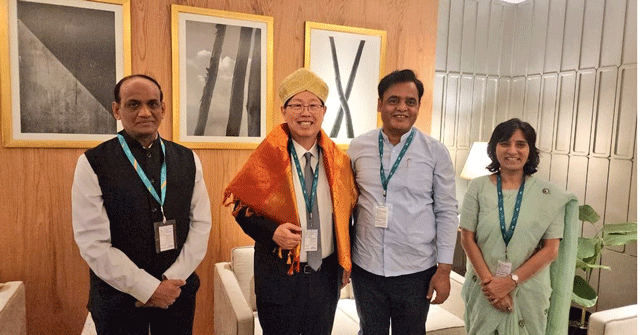 Taiwanese electronics contract manufacturer Foxconn has announced plans to invest in an electronics manufacturing project in Karnataka as it looks to ramp up manufacturing in India and reduce dependence on China.
A Bloomberg report citing undisclosed sources said on Thursday, Foxconn is planning to invest close to $700 million in the Karnataka facility.
The company has identified 300 acres of land in Doddaballapura & Devanahalli, which is near the Bengaluru International Airport, for the manufacturing project, which is expected to generate over one lakh jobs in the state over the next 10 years.

After visiting the project site, Foxconn chairman and CEO Young Liu also met Karnataka Chief Minister Basavaraj Bommai, who assured full support from the state government for the project.
On Wednesday, Liu also met Prime Minister Narendra Modi and discussed how they can enhance India's tech and innovation ecosystem.
Foxconn is one of the leading electronics contract manufacturers in the world with an annual revenue of $215 billion last year. It is also Apple's key manufacturing partner and has manufacturing facilities in various countries including China, US, and India. In India, it has an iPhone-making facility in Sriperumbudur, Tamil Nadu, which reportedly employs close to 15,000 workers.

Foxconn's biggest facility is in Zhengzhou, China, which suffered a major disruption in the product in October-November last year due to government order lockdowns to curb the spread of fresh Covid cases in the country. It was one of the reasons why the supply of new iPhone 14 Pro models remained low in the December quarter.
Last November, Reuters reported that Foxconn is planning to quadruple its workforce at the Tamil Nadu facility over a period of two years. In December, Foxconn announced a $500 million investment in India as Apple is looking to increase iPhone production in India by three times.
The Taiwanese company is also planning to set up a semiconductor manufacturing and design facility in Gujarat in a joint venture with Vedanta Group.

India Electronics and Semiconductor Association (IESA) has hailed Foxconn's decision to expand manufacturing in India and the jobs and wealth generation opportunity it will lead to.
Vivek Tyagi, Chairman of IESA, called it a landmark moment for electronics manufacturing in India and the state of Karnataka.
"This is a true testimony of policies getting translated to action and business," said K Krishna Moorthy, CEO and President of IESA.

---