Wearable shipment drops globally in Q4 2022: Canalys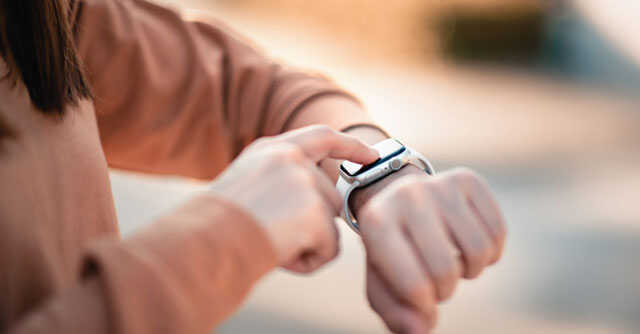 The shipments of wearable devices dropped 18% year-over-year (YoY) in the fourth quarter of 2022 resulting only 50 million units shipped during the period globally, as per the data revealed by market research organisation Canalysis.
This was the first time when the shipments dropped by double digits in the fourth quarter, the data said.
Shipments decreased YoY during the Christmas season for all the major tech companies including, Apple, Xiaomi, Huawei, Samsung, and Google, with only Apple reporting yearly increase.

The Canalys report also found that over the three months of October through December, shipments of smartwatches fell by 17%, while shipments of basic bands fell by 43% worldwide.
However, shipment of 13.8 million Apple Watches in Q4 made the company global leader. Together with the rest of the smartwatch industry, that was down 17%. Hence, Apple's market share increased from 27.1% to 27.5% throughout the quarter. Even though its quarterly shipments were down 25% from the previous year, Google nevertheless managed to move into second position overall. On the other hand, that drop only applied to Fitbit trackers. The launch of the Pixel Watch led to a 16% increase in Google's smartwatch shipments. 880,000 units of the latter were shipped in its first fiscal quarter.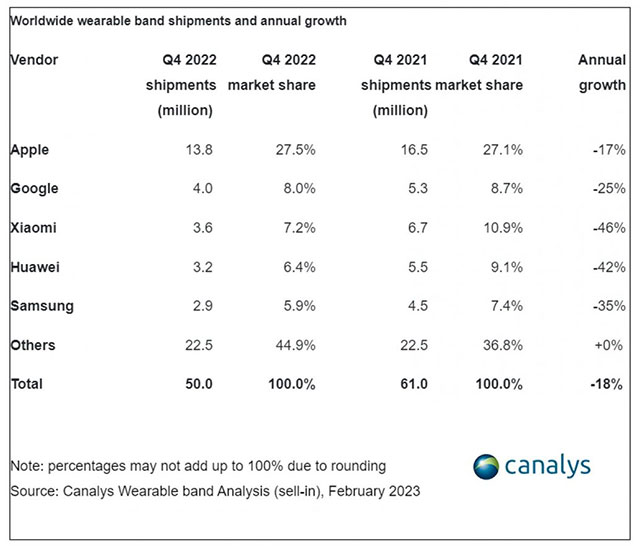 Xiaomi, Huawei, and Samsung all witnessed yearly decreases in Q4 shipments of 46%, 42%, and 35%, respectively, aiding Google in this quarter. Xiaomi captured 7.2% of the market with 3.6 million devices shipped. During the fourth quarter, Huawei shipped 3.2 million wearable band devices, giving the company a 6.4% share of the market. Samsung had 5.9% of the wearable band market, with 2.9 million devices shipped.
During 2022, only Apple showed yearly growth in wearable band shipments, and even that was just 5%. The Apple Watch Series 8, the Apple Watch SE, and the Apple Watch Ultra were the company's three new smartwatches released last year. With 20.4% market share in 2021, Apple increased its 20.6% share in 2022 thanks to a whopping 41.4 million watches shipped.
Canalys Analyst Cynthia Chen said, "The wearable band market is expected to grow at a modest 2% in 2023. While we expect basic bands to continue declining, basic watches and smartwatches will grow, but growth will be capped below 10%. Vendors remain vigilant and will emphasise quality rather than quantity given some recovery in consumer spending."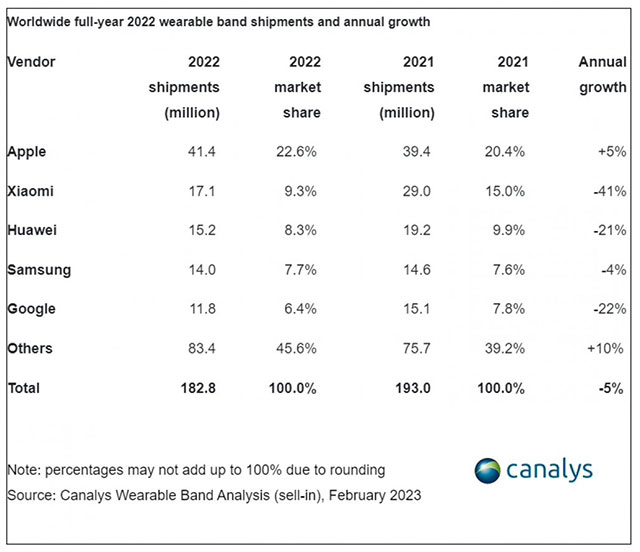 The report further added that the wearable band market as a whole declined by 5% in 2022, with smartwatches showing growth of 3%, simple watches showing growth of 21%, and basic bands showing a decline of 39%.
In 2023, Canalys predicts smartwatch shipments will increase by 8%, surpassing the 6% growth in basic watch shipments predicted for this year. Canalys says that "further development will centre on smartwatch OS, with more chances of connectivity and tracking features supported by pragmatic use-cases to debut on smartwatches, backed by consumers' rising interest in advanced watches."

In contrast, a report by International Data Corporation (IDC) released on February 8 showed that the Indian wearables industry saw an increase of 46.9% YoY in 2022, shipping 100 million units. Twenty-five million units were shipped in the fourth quarter of 2022, an increase of 16.5% YoY. IDC analysts believe that low prices are primarily responsible for the wearables market's continued strength despite a general dip in customer enthusiasm for buying new technology and gadgets.
---