Indian firms bullish on OpenAI's GPT-4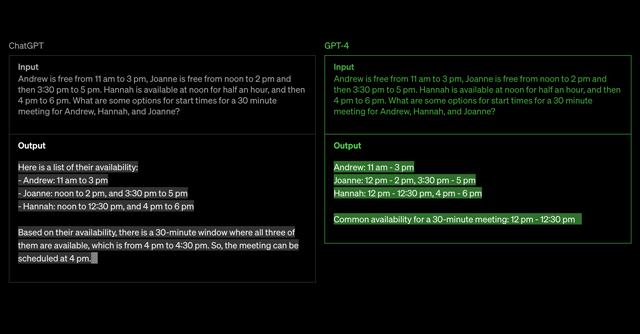 Industry experts and companies welcomed the launch of GPT-4, the latest-generation large language model by Microsoft-backed artificial intelligence firm, OpenAI. The new model, which was launched on Tuesday, is presently being evaluated by companies in terms of its business potential and deployment, with the inclusion of six Indian languages offering scope for chatbot makers to build support for vernacular features into their enterprise products.
Generative Pre-trained Transformer (GPT) refers to a series of language models built by OpenAI. These models use billions of data points to read written text inputs, based on which they generate content. GPT-4, the latest iteration, can also take image inputs and process them in text responses.
OpenAI claims GPT-4 offers 'greater accuracy', 'broader general knowledge and problem solving abilities', and 'advanced reasoning capabilities' over ChatGPT. A statement issued during launch said the tool "is 82% less likely to respond to requests for disallowed content and 40% more likely to produce factual responses than GPT-3.5."

At launch time, OpenAI listed US language learning platform Duolingo, ed-tech firm Khan Academy and investment platform Morgan Stanley as businesses already using the generative tool.
Indian firms, too, are evaluating the tool's useability across applications.
Swapan Rajdev, chief technology officer at Reliance Jio-backed homegrown enterprise chatbot firm Haptik, said the company is evaluating early use cases of GPT-4 to build into its own business automation tools.

"GPT-4 has clear advantages in terms of its reasoning power, which will help build use cases that are more powerful than GPT-3.5. We are already evaluating how these uses can be integrated into enterprise use cases, and we are about four to six weeks away from GPT-4 being integrated into enterprise tools," he said.
Rajdev said the use of five Indian languages out of 26 globally, on which GPT-4 was tested, could expand its ability to be integrated into Indian enterprise use cases. These languages are Bangla, Urdu, Punjabi, Marathi and Telugu.
Jaya Kishore Reddy, CTO at homegrown chatbot firm, Yellow.ai, added that GPT-4's responses "are more grounded in facts, and have a relatively lower tendency to hallucinate facts." Terming this to be a "major advantage in enterprise use cases," Reddy added that the company will be integrating the new language model in its enterprise automation suite.

Sanjeev Menon, co-founder and head of technology and product at Pune-based enterprise chatbot firm, E42, added that enterprises will likely look to take advantage of GPT-4 ability to process longer text inputs, in turn generating long-form written content.
Jaspreet Bindra, a technology expert and founder of consultancy firm Tech Whisperer, added that GPT-4 "will catch on like wildfire" by virtue of its intuitive interface. "Customer service, legal departments, marketing and advertising, and programming teams within larger organizations need to start working on it right now. It can be very interesting for banks and retail firms, which have lots of data," he added.
Bindra also highlighted the presence of Indian languages as part of GPT-4's training process. "We will see a lot of Indian startups starting to build products in Indian ways and languages, using OpenAI's foundational models, as well as open application programming interfaces (APIs)," he said.

However, industry experts added that despite its advances, GPT-4 may not see an immediate jump in adoption. Jayanth Kolla, co-founder of market research and consultancy firm Convergence Catalyst, said Indian firms are yet to seriously adopt generative AI tools, and the scenario is unlikely to change immediately.
"There are some clear benefits for enterprises based on GPT-4's abilities, which is likely based on many more parameters and usage data over GPT-3.5. However, it is important to note that Indian companies have not yet gone all-out and shifted an entire business vertical to a generative AI platform. The same applies for information technology services — whether adoption there will grow will depend on very specific use cases that enterprises would like to adopt. But, how and whether this would be built will depend on how GPT-4 is adopted in the long run," Kolla said.
Haptik's Rajdev concurred, and said for many Indian firms that are at the nascent stage of generative AI adoption, using GPT-4 may not be absolutely necessary. "At least two or three mainstream use cases, which include generating basic responses to user queries, are already sufficed by deploying GPT-3 and GPT-3.5 language models behind a chatbot, so it does not necessarily mean that GPT-4 will offer an instant advantage. Given that the latter is also somewhat more expensive, GPT-3.5 will likely be the chosen tool of preference for many firms, until GPT-4 applications grow in maturity and complexity," he said.

---