Bharti-backed OneWeb to finish satellite constellation with March 26 Isro launch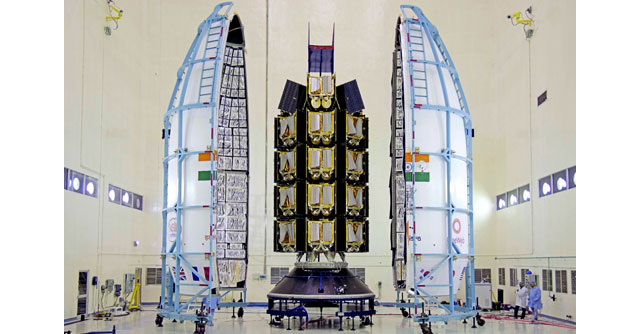 Bharti-backed satellite operator, OneWeb, announced on Thursday that it plans to complete the launch of all of its low-Earth connectivity satellites as early as on March 26, aboard a rocket by Indian Space Research Organisation (Isro)'s commercial arm, NewSpace India Limited (Nsil). The launch will be OneWeb's 18th, the company confirmed in a statement on Thursday, where 36 of its satellites will be launched aboard an Nsil rocket.
To be sure, while March 26 is the estimated date targeted for the satellite launch by OneWeb, Nsil, the commercial launch operator, is yet to confirm the date of launch for the mission.
The penultimate launch for OneWeb took place on March 10, when US-based private space launch operator, SpaceX, launched 40 of its satellites into a low-Earth orbit, before its booster stage landed back on Earth. The series of launches will make OneWeb the first private satellite operator to complete a constellation of low-Earth satellites that can beam internet connectivity down to Earth.

A statement added that completing the constellation will allow OneWeb to deliver 'global coverage' of internet, through distribution partners on the ground. Once operational around the world, OneWeb's internet services in India should be operational through Bharti Airtel, the telecom operator owned by Bharti Enterprises — an investor in OneWeb. Neil Masterson, chief executive of OneWeb, said during the previous launch on March 10 that the company's global satellite network will be active in most geographies by the end of this year itself.
Satellite internet services, to be sure, are expected to pick up pace among enterprises in the coming years. An Allied Market Research report from October last year said that global satellite internet connectivity services can grow into a $19 billion market by 2030. Companies such as SpaceX's Starlink, US e-commerce major Amazon founder Jeff Bezos-backed Project Kuiper, domestic telco Jio in partnership with Luxembourg-based SES, and domestic satellite service provider Nelco with Canadian operator Telesat, are some of the entities that are looking to capture a chunk of the global demand for satellite internet connectivity.
While most experts have stated that the segment will cater to enterprises and niche applications such as aviation and maritime transit, a growing crop of consumer use cases have also come to the fore. This includes the presence of satellite connectivity for emergency communication on Apple's latest smartphone lineup, iPhone 14. US and Taiwan chipmakers, Qualcomm and MediaTek, followed Apple soon with the launch of their own satellite connectivity chips for phones, which could open a market for consumer satellite internet services, too.

---