NTT Ltd targets $1 bn revenue in India; to double data centre capacity by March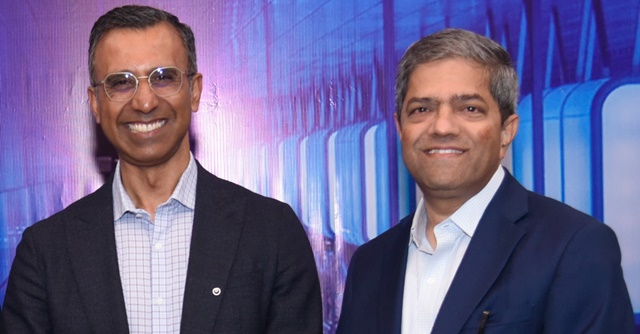 NTT Limited, which merged its data centre and information technology (IT) services divisions last October, is bullish on India, having announced a five-year, $2.5 billion investment in data centres in Maharashtra in January. The company expects to soon see its India revenue touch $1 billion. In a recent interview, Abhijit Dubey, global CEO NTT Ltd., and NTT's India CEO, Avinash Joshi, shared the company's roadmap while explaining why India is NTT's largest employee base outside its home turf Japan, and how artificial intelligence (AI) will influence demand for data centres, among other things. Edited excerpts:
What is the extent of operations for NTT in India?
Dubey: We have about 40,000 employees in India, and it's the largest outside NTT's home base in Japan. Our India operation has three aspects to it — the first is the internet infrastructure business which offers data centres, marine cables, etc. This is pretty substantial — we've made a lot of investments in the past here, and will continue to do so in the future. We have numerous Indian companies as clients here.

Our second business operation is IT services where we provide services to many Indian enterprises. The third is our delivery and innovation hub which we use to deliver services to clients globally, including North America and Europe. These services include consulting, digital transformation, digital operations in apps, infrastructure, business process outsourcing, and more.
Joshi: For IT services, we serve nearly 3,000 clients in India. In banking and financial services (BFSI), we manage nearly 40% of all branches of the banking industry in the country. Our data center presence is substantial, with about 16 of them already operational. We will almost double this capacity by March 2024. We also offer on-cloud cyber security services, as part of our offerings in India.
You hope to hit the $1bn revenue mark in India. How is this revenue divided among the businesses that you mentioned?

Dubey: We generate revenue from our data centres and IT services — the innovation hubs are cost centres that don't generate revenue. At present, the revenue split between the two businesses is around 50:50, and in terms of revenue in the country, we're somewhere between $500 million and $1 billion.
Would there be greater demand for edge data centres, or will you invest more in hyperscale ones given the craze around large language models (LLMs)?
Dubey: All our data centres are hyperscalers (A data centre qualifies as Hyperscale when it exceeds 5,000 servers and 10,000 square feet, according to market intelligence firm International Data Corporation (IDC)). Going forward, we will of course continue to invest in hyperscale data centres. But we'll also invest in 'edge' data centres, which would be in Tier-II cities. These would be slightly smaller in scale and in terms of their footprints, but both would be equally important for a nation like India.

Joshi: Given that hyperscalers ideally need the subsea cable to connect to, for the longest time, these facilities have been in Mumbai and Chennai. Now, we have facilities in Bengaluru, Noida, and are building one in Kolkata as well. This gives us four hyperscale facilities in the four metro cities. But, within these cities, we will have multiple campuses. Some of these are hyperscale campuses, while some cater to large- and medium-sized enterprises. The BFSI sector is a large hyperscale consumer—as cloud migrations start with greater pace, more clients will use our data centre colocation facilities.
With the advent of data sovereignty and localisation requirements, there are certain regulatory needs. Because of this, even global banks intend to start leveraging our data centre facilities here in India.
How do you strike a balance between hyperscalers and edge data centres?

Dubey: Certain loads will remain on hyperscalers, while for certain loads, clients will prefer to be near the core, which is necessarily not through our hyperscale facilities. But, in both cases, clients won't build their own data centres. Their data deployments will be on public clouds, but will be through co-hosted, colocation data centre facilities like ours.
We, therefore, see a need for both formats, and we're getting positioned very well in both scenarios. Extending beyond this, as clients migrate their data load from public cloud to private cloud, we also help enterprises build their own private cloud, and manage it for them too. That's where our IT services division comes into the picture, and presents an end-to-end offering. This helps us offer clients the ingredients to meet them at any point in their cloud journey. Having a decent data centre connectivity, and ecosystem partnerships, also helps.
Given advances in AI, remote automation, and the demand for Big Data, how are you seeing data demand being transformed?

Dubey: When we now build new data centres, we try to have our marine cable-landing stations straight in the data centre. That brings a huge advantage in a country like India, because then, you effectively don't have latency between where the marine cable lands, to the core data centre. That's a key area of strength for public cloud providers, and is one key way to migrate.
Further, when an enterprise wants to be in a data centre, the great thing about having public cloud providers in our data centre is that an enterprise can also co-locate their private cloud or their AI infrastructure in the same data centre as where they are consuming the public cloud from. That's a significant strategic advantage for us. Even if they are not in the same data centre because we have connectivity access across our data centres as well — we can minimise that latency. This is a big part of our strategy on how we reduce the latency between the marine cable landing stations into the core data centre, and also within the data centres themselves.
How does the synergy between NTT and NTT Data work out in terms of your offerings?

Dubey: What NTT Data brings is a lot of applications. For instance, with enterprise applications like SAP, they also bring capabilities around digital transformation, whether it's in the domain of cloud transformation or application modernisation cloud, native application development, product engineering, data and analytics projects, etc. We've, meanwhile, brought the data centre structure.
As an example, if you're a manufacturing company and you want to drive an Industry 4.0 transformation project in your factories, the first thing you need is reliable connectivity that is ultra-low latency and offers high bandwidth. That's where private networks come in, especially private 5G, because Wi-Fi is not geared towards that in many cases. Once you have that ultra-low latency, high bandwidth connectivity, you can put in a lot of use cases on top, whether it's predictive maintenance, health and safety, machine vision, and so on. Through this, you can put an 8K camera into a factory and remove all the IoT (internet of thing) sensors — the cameras essentially can do the work of thousands of IoT sensors.
As NTT Ltd., we would provide private network connectivity, while NTT Data would provide all the edge infrastructure and real-time analytics platforms, which stay on the edge itself.
With localisation regulations coming in for multiple nations, do you expect a significant rise in demand in geographies that mandate such laws such as the European Union (EU), and India?
Dubey: The short answer is, as the need for data localisation increases, that will result in increased data centre capacity, although I suspect the relationship will not be a 1:1 factor, but it will result in increased capacity, which is a net positive for what we do.
Are companies excited about private 5G networks?
Dubey: The uptake has been slower than anticipated. It depends on whether the governments in every country have provided private spectrum. If the spectrum is available, then it's easier. But, the reason why it has been slower so far in India is because the device ecosystem has not upgraded to be 5G-enabled. But over the past four to five months, we have started to see an uptick in the adoption pace. Prior to that, we've mostly been in the proof-of-concept stages for many of our clients. We're seeing a clear rise in uptake in developed markets such as the US and the UK.
Joshi: In India, private spectrum is yet to be allotted to companies — the spectrum is available only with telcos. That in itself is not an issue since we are partnering with telcos. The discussion now is about the use cases for various industries. In another six months' time, there will be very tangible uses that will get developed, and bought into from a return on investment (RoI) standpoint.
What sustainability steps has NTT taken with its data centres, especially with greater data demand?
Dubey: Hyperscalers haven't yet fully deployed the infrastructure to enable large language models. It's still in very early stages, and they will likely do more private versions before a public version. So, the AI-driven data demand is still building up. Even then, on the sustainability end, we are pursuing renewable power sources for our data centres. At the end of FY23, about 35% of our global power consumption of our data centres was coming from renewable sources.
This strategy differs across countries — in India, we're predominantly sourcing solar. In other countries such as Germany, it's a combination of solar and wind power. We've committed that by 2030, all of our data centre energy consumption will come from renewable sources, which is a very significant commitment — especially given that we've got more new data centres coming up.
We're also investing in advanced cooling technologies, such as liquid immersion cooling. We actually piloted this first in India among all global markets, and this is getting a lot of interest, especially for generative AI. In the short to medium term, there will be additional expenses, but in the longer term, that's the right thing to do and the longer-term cost curves will come down as well. For now, we are incurring these additional expenses.
---