Microsoft hires former OpenAI CEO Sam Altman to lead AI research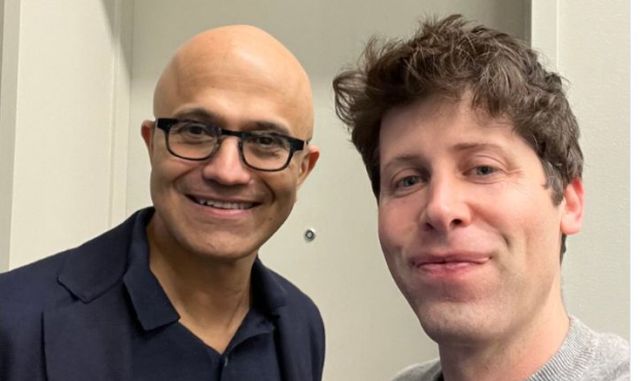 Microsoft announced on Monday that it is hiring former OpenAI chief executive officer (CEO) Sam Altman and co-founder Greg Brockman to lead a new team focused on advanced artificial intelligence (AI) research.
Microsoft CEO and Chairman Satya Nadella said that Altman, along with fellow OpenAI co-founder Greg Brockman and other former OpenAI employees will oversee a "new advanced AI research team" at the company.
Altman, who became the public face of AI with the releases of ChatGPT and GPT-4, was unexpectedly fired on Friday after the board expressed a lack of confidence in his leadership abilities at OpenAI. Following negotiations over the weekend to potentially bring Altman back to OpenAI, Nadella made the new announcement.
"We're extremely excited to share the news that Sam Altman and Greg Brockman, together with colleagues, will be joining Microsoft to lead a new advanced AI research team," said Nadella. "We look forward to providing them with the necessary resources for their success."
In a post on X, Altman confirmed his move to Microsoft by quoting Nadella, who stated that "the mission continues." Nadella further provided hints about Altman's role at Microsoft, expressing the company's commitment to allowing founders and innovators to build independent identities and cultures within Microsoft, as demonstrated with GitHub, Mojang Studios, and LinkedIn.
Altman's hiring by Microsoft occurred shortly after negotiations with OpenAI's board failed to reinstate him as CEO. Meanwhile, former Twitch CEO and co-founder Emmett Shear has been named interim CEO at OpenAI, taking over from CTO Mira Murati, who assumed the role of interim OpenAI CEO after Altman's sudden termination on Friday.
The news of Microsoft's new advanced AI research team comes just one week after the company announced the development of its own custom AI chip for training large language models, potentially reducing reliance on Nvidia. Additionally, Microsoft has created its own Arm-based CPU for cloud workloads. Both custom silicon chips are designed to power Azure data centers.
Microsoft has made significant investments in OpenAI, with its initial investment of $1 billion in 2019 and subsequent substantial investments in 2021. Altman played a crucial role in convincing Nadella to commit $10 billion to OpenAI, resulting in a nearly three-fold increase in valuation from $29 billion to over $80 billion. Reports indicate that Microsoft's cumulative investment in OpenAI currently stands at $13 billion.
Furthermore, Microsoft serves as the exclusive cloud partner for OpenAI, providing cloud services to support all OpenAI workloads across products, API services, and research. Nadella reaffirmed Microsoft's commitment to the partnership with OpenAI, expressing confidence in their product roadmap, innovation capabilities, and support for customers and partners.
"We look forward to getting to know Emmett Shear and OpenAI's new leadership team and working with them," added Nadella.
Altman, who co-founded OpenAI in 2015, has become one of the most influential voices in AI, particularly after the release of ChatGPT last year. He has spoken at business summits and testified before the US Congress on the potential benefits and risks of AI. Time magazine recognized Altman as one of the 100 most influential people in AI in 2023.

---