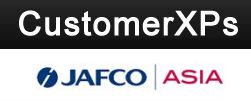 Bangalore-based CustomerXPs Software Pvt Ltd has raised $4 million from Tokyo-based technology-focused venture capital fund Jafco Asia in its SeriesA funding.
The current funding will be used by the company to expand across multiple domains and global markets, though the majority stake will remain with the existing investors and the promoters.
Established in 2006, CustomerXPs is an IP-based firm in the CRM (customer relationship management) Version 2.0 space, which delivers real-time intelligence using a creative, human-like "thinking, inferring, learning" approach.
The CRM start-up is engaged in providing IT solutions and services and specialising in domains like financial services, retail and telecom. "Our product is unique and not ecommerce-category we are into software product category. We need to ramp up with more domain and markets. This fund is enough for us as off now. Now we need to execute our plan," said Rivi Varghese, CEO and co-founder of CustomerXPs.
Ernst & Young has acted as financial advisor to CustomerXPs and Jafco Asia's Murli Ravi has joined the company's board of directors. The firm was initially targeting to raise Series A round of funding in the range of $5-$7 million, meant to create more IP and building a bigger team.
According to Jafco's Ravi, what attracted the fund to the company was its strong management team. Other founders of CustomerXPs are Aditya Lal (CTO), an Infosys hand who has worked with Amazon.com as well, and Balaji Suryanarayana (COO), formerly with Accenture. Rivi Varghese, the CEO, was head of product management at Infosys' Finacle where he conceptualized and delivered 12 new-to-the-world products being used by leading banks globally. He has also had a stint at Microsoft. "In terms of product deployment, they have been doing consistently well over the last few months. I hope in future as well the company will keep all the promises," said Ravi.
Recently, Jafco Asia has closed its $100 million fifth fund, Jafco Asia Technology Fund V, which will invest in tech companies in South Asian countries. Although Jafco Asia does not have an office in India, it has invested in eight companies since 2006. Among those are online education provider Vriti Infocom and loan origination portal Apnapaisa (earlier called Apnaloan).
Vriti Infocom Pvt Ltd, an exam preparation platform company, raised $5 million in a Series B funding led by Jafco Asia, along with a follow-on investment from existing backer Intel Capital. Also, Jafco Asia and domestic VC firm VenturEast invested close to $13 million into Bangalore-based Si2 Microsystems.
---