Recharge sites: How charged up are their offerings

Almost everyone who owns a mobile phone and has an internet connection must have dabbled with online mobile recharge at some point. Then there are users who use the service regularly. With so many recharge sites vying for your attention, which one should you choose? We tried to find the answer to this question by comparing the leading recharge sites in India that include Freecharge.in, Paytm.com and Rechargeitnow.com.
To best compare the sites, we recharged the same Vodafone number using each site individually. Read on to find out the results.
Rechargeitnow.com (mobile and DTH)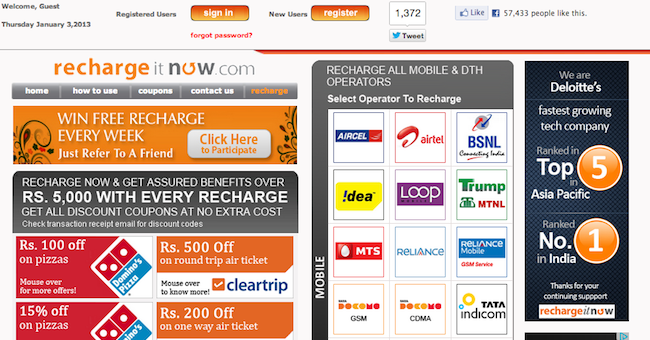 You start by selecting your mobile operator and the exact mobile number after which you are redirected to the recharge page where you can select the recharge amount. The site offers details on popular available top up plans as well as special plans (SMS packs, internet packs, calling packs etc.). Alternatively, you can also choose to enter your own recharge amount.
Post selecting the amount, you will have to enter your banking details. In order to complete the recharge process, you can either login to your existing Rechargeitnow account (if you happen to have one) or can continue as a guest user. Once the recharge is done, you will be sent a confirmation e-mail with a receipt that also includes discount coupons from different vendors like Dominos (food), Goibibo.com (travel), Zovi.com (apparel), among others.

All in all, the recharge process is hassle free and can be completed in three steps. Our rating for the site is 4/5 (Four considering the occasional failed recharges, else it would be full marks).
Freecharge.in (mobile, DTH and data cards)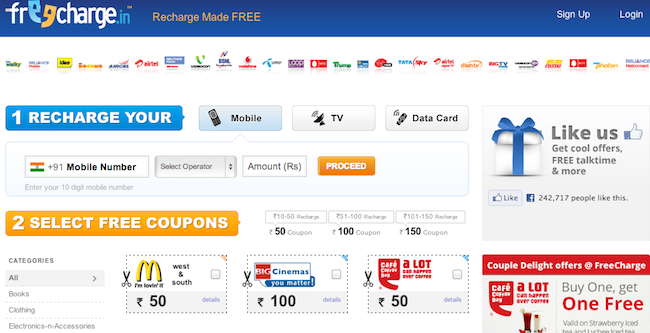 In this case, the mobile number precedes the operator selection, after which you have to enter the recharge amount. Unlike Rechargeitnow, there is no assistance provided in terms of available top up plans/special plans. This makes selecting the amount a pain since you have to search for it separately on individual operator sites. Once the amount is selected, users are prompted to select a coupon (optional), depending on the recharge amount. Like Rechargeitnow, the coupons range from food (McDonalds, CCD, Dominos, etc.), movies (Big Cinemas), apparel (Jabong.com) and travel (Cleartrip.com) among others.
The differentiation lies in the fact that on Freecharge, the coupons are not offered for free (you have to pay an additional sum for them), but users can also choose to not select any. Additionally, users cannot proceed as guests and have to either login or register to continue with the recharge process. Once the recharge is done, an e-mail and SMS confirmation is sent to the user.
We rate the site 2/5, considering it doesn't offer any recharge suggestions and the coupons are paid (no matter how exclusive).

Paytm.com (mobile, DTH, data card, utilities and bus tickets)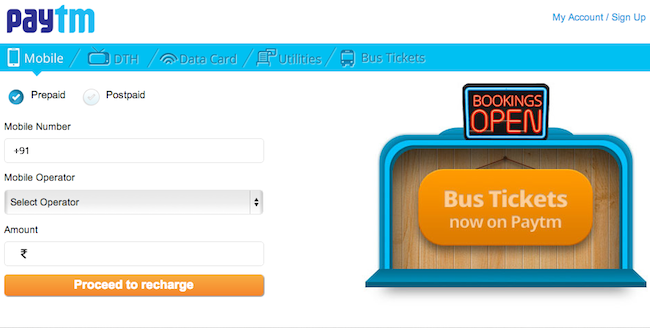 Unlike its competitors, the site offers the maximum amount of services to the end consumers. The similar process of selecting the mobile number, operator applies, but the site offers a mix in terms of available recharge options, in the sense while it offers data on some operators (like Reliance, Aircel, etc.), it is missing for others (like Vodafone). Post entering the recharge amount, the site offers a range of coupons that users can select (optional) free of cost.
Users have to sign in/sign up for completing the transaction, or they can also connect via their Facebook accounts. Once the recharge is completed, an SMS and e-mail confirmation (along with the selected free coupons) is sent to the user. While Paytm allows users to select the coupons they want, in comparison, Rechargeitnow offers a number of random free coupons (since you cannot select the ones you want) and Freecharge offers only paid.
The site has a no-nonsense appeal to it and wins hands down as far as the user interface is concerned. Additionally, an interesting feature that we found on the site is that in case of failed recharges, the amount is credited as Paytm cash, which can then be used for future recharges. We offer a 4/5 rating for the site, one short of full marks only because it doesn't offer available recharge options for all operators.

Each site has its own appeal, but we would slightly tilt the balance in favour of Rechargeitnow. But do give them a try (if you haven't already) and share your comments on the same below.
Rechargeitnow claims to be doing over a lakh recharges on a daily basis and has a registered base of over 5.2 million users (making it the clear leader of the pack), followed by Paytm, which had a user base of 2.6 million users (as of August last year) and was doing around 60,000 transactions on a daily basis. In comparison, Freecharge claims to be doing over 40,000 transactions per day and has more than 2.8 million registered users.
Keep track of this space for such comparisons.
---