Zomato co-founder on next funding round, new features & revenue model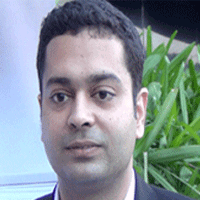 Zomato is one of the few Indian consumer internet services firm that has expanded to the overseas market. The firm, which is backed by Info Edge (India), the country's largest public listed internet company, is now looking at next round of funding which may involve new investors. Techcircle.in caught up with Pankaj Chaddah, COO and co-founder at Zomato.com who talked about how the firm is close to raise over $10 million, current users base, how it is making money, new additions to site and more. Edited excerpts:
How does Zomato actually make money? Since we see limited monetisation on the site how do you break-even with such a business model?
Since a lot of people come to Zomato.com to search on the basis of location, dining options and other preferences, we sell advertisement space to restaurants on the basis of this. Advertising is a very scalable business. For India, we broke even operationally six months back. As a firm, we haven't broken even because we are investing very heavily on overseas expansion.
You had started event ticketing sometime back. Is there a plan to scale it up since we don't see much activity in that front?
We figured out that same users who are searching for restaurants would also like to know about events. Gradually, we went beyond restaurant events in September 2011 and started doing bookings for other events too. But then, we phased it out and now we stick only to restaurant-related events. Events like Sunday brunches, or dine with DJ are gaining traction. This new year's eve we sold a lot of tickets across cities like Delhi, Bombay, Hyderabad etc. Our event ticketing is now focused only on the restaurants we list.
How do you measure your growth in numbers?
We have touched 9 million users across the globe which includes London, UAE, Sri Lanka and India. We have 1,200 clients who advertise on Zomato to target consumers. We also currently have 1.5 million downloads for our app.
What made you make a push for overseas expansion?
We as a team are very restless. We have been thinking of overseas expansion for more than a year. We have been searching different markets, both developing and developed for the past few months. We figured that UAE has the biggest gap in this space. The user base in UAE is very similar to India. It also has a very high growth in internet and smartphone penetration. There are no marketing platforms for merchants in these markets. Hence we launched Zomato in Dubai. Then we launched Sharjah and Abu Dhabi. After that Sri Lanka which is a growing market, but is small. London was a tough choice as we were entering a developed market. It is a fragmented market and already has different players. However, players in London don't go to the ground to get information. There is no comprehensive platform there and we are betting on that.
What kind of traction have you already gained overseas?
In UAE, we already have 300,000 users and in Sri Lanka, it is 1,50,000 users. Though in London we were in invite only mode for a week, we got 10,000 people.
You never thought of making online restaurant bookings. Why?
Even in the developed markets, only 10 per cent of the users do online restaurant bookings as compared to 90 per cent who actually go and book their tables at dining places. Or customers would rather pick up the phone and call to book. For London, the merchants are mature enough to actually handle online customers and satisfy them. But in India, the user satisfaction has been very low in this space. We don't believe that the Indian market is ready for online booking. The merchants are not comfortable with technology to react fast enough to customer queries.
Are you coming up with any new features for the website?
We have just launched the catering section. Through this, users will be able to search catering players and read reviews on the same. We will be the aggregator who will provide all the information to decide whom to engage as a caterer. We are also building something through which users will be able to upload pictures along with reviews. We will have seamless integration with Instagram for this. Also, we have been working on the online booking platform for a time and it is ready. But we are not launching it.
Tell us something about your expansion plans and fund raising?
For India, we are profitable and have 200 employees. Eight months back, we had 85 to 90 people and by December 2013, we should have 450 employees. We are looking for funds to drive the international expansion. We have been very aggressive in expanding in UAE and London. By the end of year, we should be in another three to five international markets.
What is the amount you are looking for fund raise?
We are looking for a double digit number in US million dollars. You should get to know in the next month or 45 days.
(Edited by Prem Udayabhanu)
Comment(s)