Online gaming company  Games2win.com India Pvt Ltd has raised close to $2 million (Rs 10 crore) in Series C round of funding from Clearstone Venture Partners, a US-based venture capital firm. The funding will be primarily used for games acquisitions and building the international team.
Alok Kejriwal, co-founder and CEO of Games2win, said, "We are very fortunate to have Clearstone as our lead and initial investor. Clearstone has constantly contributed and supported our financing efforts over the past five years and its management team understands our business, ambitions and the massive opportunity available in the global gaming market."
Clearstone is the lead investor in the company and it has invested in all three rounds of funding in Games2win.
The company claims that its direct-to-consumer network is growing 20 per cent month on month, and post funding, it wants to feed its network with best of breed titles (made in house and also acquired from the market).
Games2win was set up by Kejriwal and Mahesh Khambadkone (COO) back in 2007. The company is headquartered in Mumbai, with a presence in San Francisco, and currently has a 100-strong team. It owns 800 proprietary, casual games and has over 20 million monthly users across mobile and web properties. Its games have been generating downloads without any marketing and the company claims to have had 30 million downloads across the iTunes store and Google Play store in just one year. Two of its games – Parking Frenzy and Super Mom – had also topped the global apps charts last year.
"Games2win is uniquely positioned to leverage its games studios in India, its constantly expanding content library and the booming mobile market," said Sumant Mandal, managing director of Clearstone.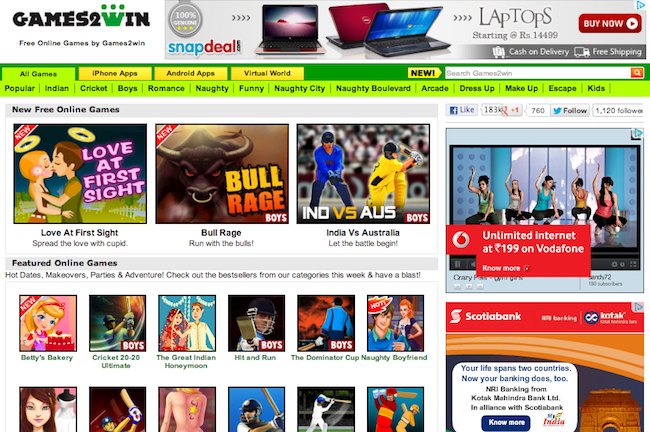 In March 2011, the company raised $6 million in Series B from Clearstone and Silicon Valley Bank (SVB India Capital Partners). Prior to that, it had also raised the initial capital from the same set of investors.
In March last year, Nirvana Venture Advisors, the early-stage VC fund of the Patni family,acquired 10 per cent stake in Games2win from a clutch of VC and PE firms, as well as from employee shareholders, for an undisclosed amount. During that transaction, early investors Nexus India Pvt Ltd and ICICI Venture part-exited the company by selling their shares to the new investor. However, lead investors Clearstone Venture Partners and SVB Holdings did not divest their shares in the transaction. As part of the deal, Amit Patni, co-founder of Nirvana Venture Advisors, joined the board of Games2win.
Investments in other gaming startups
Last year, a number of gaming startups received funding. In December 2012, Bangalore-based MadRat Games Pvt Ltd raised an undisclosed amount from Blume Ventures. HashCube Technologies Pvt Ltd, another Bangalore-based social gaming startup, also raised an undisclosed amount from Blume Ventures and Indian Angel Network (IAN) in July 2012.
In June 2012, Pune-based gaming startup Rolocule Games Pvt Ltd raised an undisclosed seed funding from Mumbai Angels and Blume Ventures. And in February that year, Indian Angel Networkinvested approximately $1 million in Gamiana Digital Gaming Pvt Ltd, a Mumbai-based digital gaming startup.
(Edited by Sanghamitra Mandal)
---