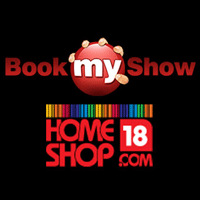 The two e-commerce properties of Network18 Media & Investments—BookMyShow and HomeShop18— generated robust revenue growth though the latter saw losses mount further for the year ended March 31, 2013.
While its online movie and events ticketing business BookMyShow moved on after clocking maiden profit in FY12 with better profit margins last year, HomeShop18 which, houses a TV shopping and e-com marketplace, saw losses pile up further.
Both businesses are backed by venture capital and private equity investors. While BookMyShow raised fresh funds from Accel Partners and is now lo longer a subsidiary of Network18, HomeShop18 is backed by private equity firm SAIF Partners.
BookMyShow: The movie and events ticketing portal run by Big Tree Entertainment Pvt Ltd saw revenues rise almost 80 per cent to Rs 52.6 crore ($8.7 million). This is the actual revenues earned from the convenience fee it charges from selling tickets. The revenue growth was just a shade lower than the previous year when it grew 83 per cent to Rs 29.47 crore. This shows the firm has maintained the topline growth momentum and is not yet feeling any growth pangs given that it already dominates the market.
This was accompanied by the firm clocking a net profit of Rs 3.2 crore or more than double the Rs 1.4 crore that it generated the previous year. This means the firm improved its margin after breaking even in FY12 (against a net loss of Rs 41 lakh in FY11). The firm's net margin rose to 6.1 per cent against 4.9 per cent in FY12.
The firm recently also acquired Ticketgreen.com, an entertainment ticketing portal mainly catering to the south Indian market. The deal was struck at the fag-end of FY13; so revenues from that business could be seen flowing from this financial year. Given that BookMyShow was not present in the southern market, the deal was complementary to its operations.
Bookmyshow.com services approximately 105 cities and 1,400 movie screens in India. As of December 31, 2012, bookmyshow.com had approximately 5 million registered users and recorded an average of 5 million unique visitors per month, according to Google Analytics. In December 2012, bookmyshow.com recorded approximately 7.7 million total visits, which represents growth of 40 per cent from around 5.5 million visits in December 2011, according to comScore.
It sold an average of over 2 million tickets per month in the nine months period ended December 31, 2012, which translates into over 46 tickets per minute.
HomeShop18: The digital commerce firm, which draws a chunk of its business from the home-shopping network and runs an e-commerce portal, also saw acceleration in revenue growth with the turnover of TV18 Home Shopping Network (which runs HomeShop18) rising to Rs 225.4 crore ($37.4 million).
In FY12, HomeShop18 had revenues of around Rs 90 crore which means a growth of 150 per cent during the year (interestingly, Network18's latest annual report says TV18 Home Shopping Network clocked turnover of Rs 119 crore in FY12 while the previous year's annual report said it was Rs 90 crore for FY12; we have contacted the firm for a clarification and update the report as we get the details).
Its net loss rose further to Rs 120 crore from Rs 107 crore the previous year. On the flip side, this marks an improvement as the firm is now making lower loss on every additional sales compared with the previous year.
HomeShop18 has over 500 brands spread across more than 12 million SKUs which are made available to customers in over 3,000 towns and cities in India. HomeShop18 witnessed 3.7 million transactions in 2012 (January-December 2012), representing a 97 per cent increase compared with the same period in 2011.
Homeshop18.com had over 7.7 million unique visitors in December 2012, which represents growth of over 185 per cent from around 2.7 million unique visitors in December 2011. Homeshop18.com also recorded around 75 million page views in December 2012, as per comScore.
(Edited by Joby Puthuparampil Johnson)
---