Bangalore-based Homebuy360 wants to be a one-stop shop for all stakeholders in the real estate sector; can it?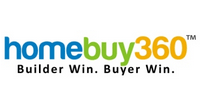 When the trio of Kshitij Minglani, Rajat Kothari and A K Gururaj launched Homebuy360 in 2011, they not only wanted to save the administration cost of the builders, but also ensure transparency. Started with a capital investment of Rs 1 crore through personal savings and a little help from their mentors, the company aims to make home buying and selling a transparent exercise.
"We saw that the communication between builders, brokers and buyers post sale of an apartment was highly manual and ineffective. We also realised that less than five per cent of the builders use tech-based cost effective enterprise resource planning (ERP) systems for booking, document creation, collection, email and SMS notifications or handling the grievances of the buyer. They (builders) also spend a hefty amount on manual administration; hence, the need for a cloud-based application was quite apparent," said Minglani, co-founder, Homebuy360.
Developing an integrated product
The company wants to make Homebuy360 a five-pronged tool to bring the builders, buyers, brokers, vendors and banks on a single online platform. Presently, it has been able to bring builders, buyers and brokers under the same platform and is working to add features to make it a one-stop shop for all the stakeholders of the industry.
To use the web-based application, builders are provided with buyer logins (for their clients) through which home buyers can monitor construction updates, documentation, project photographs, as well as payment alerts and receipts. They can also use the application to post grievances and give referrals. For brokers, the portal manages contacts, leads, properties, compares demand and supply, provides marketing templates like email and SMS campaigns and generates reports on various parameters. It can also be used for commission management, setting email/SMS reminders, enabling website telephony and live chat solutions, among others. In short, the portal handles the entire sales and marketing operations for real estate brokers.
As of now, the company is present in seven cities, including Bangalore, Mumbai, Pune, Hyderabad, Chennai, Nagpur and Delhi and has 35 real estate developers on board like Rajesh Lifescapes, Pride Purple, Vaswani Group, The Address Makers, PBEL, and Puranik Developers, among others.
Revenue model
According to Kothari, the portal operates on various revenue models for developers, including pay-per-user, pay-over-time, pay-as-you-sell and pay-per-project model. "The tie-up with the developers can be for select or for all projects. The developers pay a fee for the licence and then they pay for the annual subscription. Typically, the base version is kept at about Rs 14 lakh and the price varies as per the model," he added.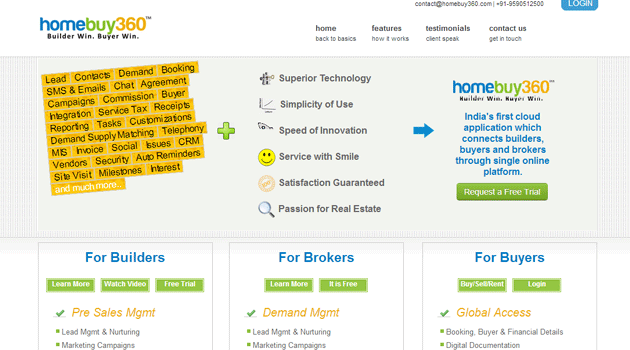 The free version of the brokers CRM gives limited access to some of the features and can be used by only two employees. Besides, there are two other plans, including 'budding broker' and 'SME broker' priced at Rs 2,500 and 6,000 per month respectively. The SME plan includes unlimited access to all the features, including commission management, etc. for unlimited employees while the budding broker package lacks some of the features.
The company had earlier also made a capital expenditure of Rs 25-30 lakh and launched Homefind360.com to influence a buyer's home purchasing decision. But it later realised that it had to fight biggies like 99acres.com and MagicBricks.com in that space, which requires lots of marketing capital. Hence, the company made Homefind360 free for all developers and buyers and is now looking at adding value to Homebuy360 through this integrated product. There is no direct monetisation from Homefind360 or any plans to market the portal.
What's in store?
The founders are now working to market the vendor model designed by the company and build a system to connect the banks. For the same, the company has created a system to club select vendors across multiple categories to fulfil shopping needs (mainly furniture, electronic appliances) of home buyers at the time of moving into a project. It will also connect the banks, DSAs and financial intuitions with the prospective buyers, and create a system that encompasses the entire home loan process through technology.
(Edited by Joby Puthuparampil Johnson)
Comment(s)