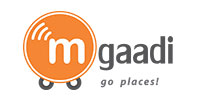 Seed-stage impact investment firm Unitus Seed Fund has led an equity investment in Bangalore-based India Drivers Network Services Pvt Ltd, the company behind the mobile-based auto rickshaw booking service mGaadi. mGaadi will use the capital to develop its network of auto drivers, enhance its technology platform, as well as to prepare its operations for significant expansion in Bangalore and other metro cities.
"India's consumers are wild about smartphones, and now they can use them to schedule an auto rickshaw whenever needed," said Will Poole, managing partner, Unitus Seed Fund. "mGaadi is bringing Uber-like convenience to auto rickshaw riders, addressing a massive need in India's growing metro areas."
mGaadi was founded in 2013 by serial entrepreneurs Solomon Prakash and Vishy Kuruganti. Solomon had earlier founded a number of organisations in the for-profit and not-for-profit areas, including Maya (a non-profit working with the children and youth), Maya Organic and Labournet (for profit social enterprises), Prajayatna (working for school reforms). His partner Kuruganti had previously Graspr.com, a video social learning startup.
A mobile-commerce auto rickshaw ordering service, mGaadi aims to make local commuting reliable and easy for commuters, while at the same time improving and stabilising incomes for auto rickshaw drivers.
How it works?
mGaadi has launched a service, which enables consumers to order an auto rickshaw for near-immediate pickup or to schedule a pickup using their mobile phone – either through its app (Android and Windows) or a voice call. mGaadi auto drivers are then connected to riders based on their location and availability. After each ride, consumers rate the driver experience. mGaadi's approach improves the service quality by leveraging crowd-sourced ratings. The best drivers get more fares, thus increasing their daily revenue.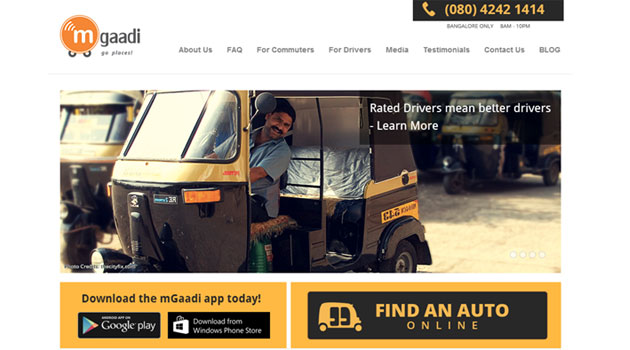 mGaadi claims that it has already signed up over 2,100 auto drivers in Bangalore, and over a quarter of the drivers have already been rated by customers.
India's basic individualized public transport option is the auto rickshaw with more than 50 lakh drivers across India's metros. Bangalore's 1.6 lakh auto rickshaws represent three per cent of its vehicular traffic, but carry a whopping 30 per cent of daily commuter trips. Commuters regularly experience challenges finding autos when they need them, and face further issues dealing with drivers refusing rides, charging high fares and generally not being courteous. Many auto drivers struggle to earn their daily income targets or to increase their incomes by working longer shifts. The result is a disorganized and highly inefficient system which no one is happy about. This is where companies like mGaadi come into the picture. mGaadi's technology enables better rider-to-driver matching, more transparency, and higher earnings.
Unitus Seed Fund, part of the Unitus Group, is a financial services group operating in multiple emerging markets since 2000. The fund essentially invests in BoP startups that serve large low-income populations. This is Unitus Seed Fund's fourth investment in innovative commerce marketplaces. Its other investments in India include Milaap, GoCoop and Medypal. The fund has offices in Bangalore and Seattle.
---