Komli Media partners with Adquant to launch social ads platform in APAC region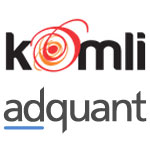 Mumbai-based digital media technology platform Komli Media has entered into a partnership with Adquant, a leading social advertising company and a Facebook Preferred Marketing Developer (PMD). As part of the partnership, Komli now has exclusive rights to offer the Adquant platform across the Asia-Pacific region.
The platform will be available to advertisers and agencies as a Komli solution in markets including India, Singapore, Indonesia, Thailand, Philippines, Malaysia, Australia and New Zealand.
"We are excited to partner with Komli in the APAC region. When using an enterprise tool such as ours its imperative that you get the right support in order to scale your business and we believe customers licensing Adquant through Komli will receive just that," said Adquant CEO Joe McCormack.

Over the last few years, social networking site Facebook has emerged as one of the most important mediums for marketers, with a number of online services, financial brands and e-commerce portals leveraging it to drive customer acquisition and incremental sales growth. According to the company, its social ads platform (powered by Adquant's technology) empowers marketers to apply sophisticated algorithms to optimise all parts of their social advertising programs.
The platform will enable advertisers to effectively buy Facebook ads, manage large groups of them, target granular audiences and measure effectiveness. Some of the features of the platform include auto-bid optimisation, website custom audiences, True Life Time Value (LTV) optimisation and mobile app tracking, among others.
Matt Sutton, VP, social media business at Komli, said, "Increasingly, advertisers and agencies are looking for tools with features that allow them to procure social media effectively with increased return on investment (ROI), transparency and reporting capability. Those same advertisers have also been telling us that they need that platform to be armed with servicing and support through a trusted local vendor. We believe this partnership fills that gap in the APAC market."

Just last month, Komli had launched mobile remarketing capabilities to its Remarketing Demand Side Platform (RDSP) which enabled digital advertisers and e-commerce players to convert their site visitors into customers. The new offering provides marketers and app developers an efficient and cost effective solution to re-engage with their users on mobile and web applications.
The company offers solutions across display, mobile, video, social, search and data for advertisers, agencies and publishers. Its offerings include a real-time-bidding (RTB) performance advertising platform called ATOM that integrates audience data to improve return on investments. Headquartered in Mumbai, the company has more than 400 employees across 18 offices in India, Australia, New Zealand, Southeast Asia, the Middle East, Hong Kong and North America.
In October last year, the firm had raised $30 million in its Series E funding led by Peepul Capital with participation from existing investors Norwest Venture Partners, Nexus Venture Partners, Helion Venture Partners and Draper Fisher Jurvetson. Recently, Komli's CEO Prashant Mehta had stepped down from his role, and currently co-founder Amar Goel holds the CEO's role.

---