World's largest e-commerce company Amazon Inc. has launched its #AmazonCart service in India. With it, customers can add products they discover on Twitter to their Amazon.in shopping carts without leaving the micro-blogging site. It basically allows product discovery-recommend-buy via Tweets.
"The Twitter and Amazon agreement now extends to India to provide the maturing e-commerce industry in the country with another tool to engage online shoppers as well as to extend relationships on Twitter," said Arvinder Gujral, business development director, Southeast Asia and India, Twitter.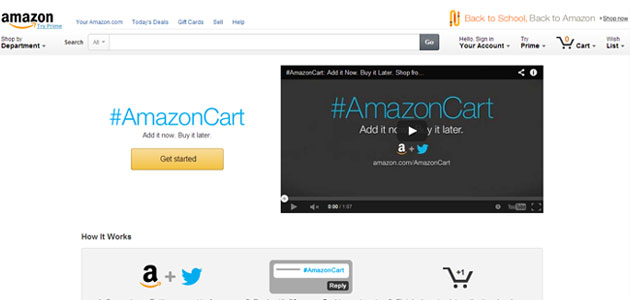 How it works?
Customers who have connected their Amazon and Twitter accounts can add items to their carts just by tweeting the link of the product along with the #AmazonCart hashtag. In effect, when a customer discovers a tweet from their favourite artist, expert, brand, or friend with an Amazon.in product link, they simply add "#AmazonCart" to their reply on Twitter and the product is automatically added to their Amazon.in shopping cart.
They get a reply tweet from @MyAmazonIN as well as an email from Amazon.in when the item is successfully added to their cart. The customers also have the ease to switch between apps without typing more passwords or bookmark an item they are keen on buying.
As with any other item in their cart, customers don't have to buy items added through the hashtag — they will remain there until customers either checks out or removes them.
For customers who have not connected their Twitter and Amazon accounts, they receive a reply tweet asking them to connect their accounts to enable the new feature. The product will be added to the customer's Amazon.in shopping cart after they have finished connecting the Twitter and Amazon accounts.
For any products or deals that are out of stock, unavailable, or expired, customers get a tweet to indicate status of unavailability. Apart from India, the feature is currently available for customers in the US and the UK (via #AmazonBasket).
Last month, Times Internet Ltd's listing service TimesCity had introduced a new feature to enable users to book tables via Twitter.
Amazon.com Inc., which forayed into India last year with a country-specific online marketplace Amazon.in, saw its revenues for the first quarter ended March 31, 2014 rise 23 per cent to $19.74 billion from $16.07 billion last year. Net income for the quarter increased to $108 million from $82 million last year.
Amazon.in has over 17 million products across categories including books, movies and TV shows, Kindle devices, tablets and eBooks, computers & accessories, mobiles & accessories, consumer electronics, toys & games, baby products, personal care appliances, health care devices, watches, fashion jewellery, apparel, accessories, home and living, beauty products, among others.
---