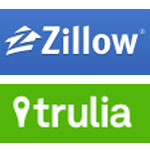 NASDAQ-listed Zillow, Inc has entered into a definitive agreement to acquire NYSE-listed Trulia for $3.5 billion in a stock-for-stock transaction, as per a company statement. The transaction is expected to close in 2015.
The combined company will maintain both the Zillow and Trulia consumer brands to offer differentiated products and user experiences, attract more users and maximise the distribution of free content across multiple platforms, apps and channels.
Trulia CEO Pete Flint will remain as CEO of Trulia reporting to Zillow CEO, Spencer Rascoff, and will join the board of directors of the combined company.
By operating independent consumer brands through one corporation, the companies expect to realise synergies to improve operational efficiency over the long-term. By 2016, it expects to achieve at least $100 million in annualised cost avoidance.
"Both companies have been successful in creating compelling consumer brands and deep industry partnerships, but it's still early days in the world of real estate advertising on mobile and Web. This is a tremendous opportunity to combine our resources and achieve even more impressive innovation," Rascoff said.
"By working together, we will be able to create a robust marketing platform that will help our industry partners connect with potential clients and grow their businesses even more efficiently," Flint added.
Both the companies are generating the majority of revenue through advertising sales to real estate professionals. The companies expect to offer shared services and marketing platforms for advertisers that enhance agent productivity and marketing and deliver greater return on their investment.
The two companies' combined revenue currently represents less than 4 per cent of the estimated $12 billion real estate professionals spend on marketing their services to consumers each year.
While Goldman, Sachs & Co. acted as the exclusive financial advisor to Zillow, J.P. Morgan Securities LLC acted as a financial advisor to Trulia.
In June, Zillow reported 83 million unique users across mobile and Web while Trulia reported 54 million monthly unique users across its sites and mobile apps.
---