Google adds free voice calling to Hangouts, available on iOS & Android platforms
Search giant Google has added a free voice calling feature to its Hangouts app. Starting today, users will be able to make voice calls from Hangouts (over the internet) on the web, Android and iOS platforms.
While it's free to call other Hangouts users, as well phone numbers in the US and Canada, international calls are chargeable. However, the company claims that the international rates are really low and affordable.
"We know how important it is to keep in touch with friends and family, especially when they're spread around the world. Hangouts already make it easy to send a quick message, or start a group video chat. But sometimes it's best to just call to say I love you, and with the new version of Hangouts you can," wrote Amit Fulay, product manager at Google in an official company blog post.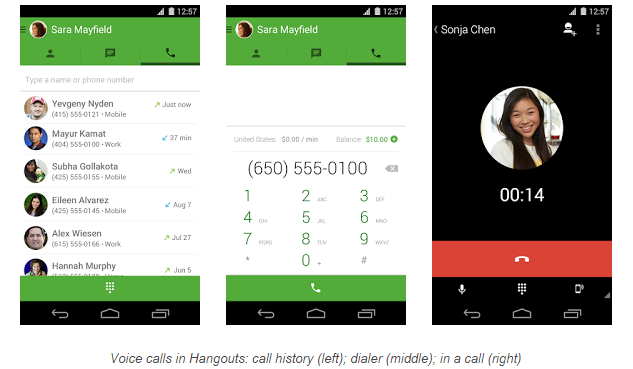 Note that to get started on Android, you will need to download the new version of Hangouts (rolling out over the next few days), then install the accompanying dialler to turn on voice calls. On iOS and the web, voice calls are available as of now.
"Whether it's your sister in Paris or your best friend in Boston, Hangouts lets you call the people you care about at little or no cost. So download the app and dial your loved ones today," wrote Fulay.
Introduced back in 2011, Hangout enables Google+ users to send messages or do live video chat among themselves. The feature was first launched only for PCs but was later added to mobile phones as well. Hangouts can also be used for public broadcast with 'Hangouts On Air'. Users can do this by starting a normal hangout, then choosing the option to broadcast and record their session. Once they are On Air, other people can join their hangout and anyone can watch their live broadcast.
With the feature, users can broadcast their live hangouts from the Google+ stream, YouTube channels or personal websites; see how many viewers they have got; and record and re-share the video. Once off the air, Google+ uploads a public recording to the users' YouTube channel and to their original Google+ post, so that they can share and discuss the broadcast after it's over.
Note that services like Microsoft-owned Skype and Viber already offer a mix of free and paid voice calling. Mobile messaging app WhatsApp was also planning to launch its own voice calling service in the second quarter of this year. However, there is no word on that from the company so far. According to WhatsApp VP Neeraj Arora, the company is still working on the same, but they don't have a specific launch timeline as of now.
Comment(s)