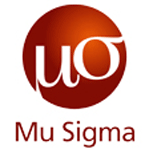 India- and US-based Mu Sigma Inc., one of the leading Big Data analytics companies in the world has launched a new product called muUniverse. According to the company, the product will enable leaders of companies plan, prioritise, engage and take informed decisions powered by data and analytics.
"In the age of Big Data, companies often lack the tools they need to appreciate and understand the complexity of problems they face. A new art of problem solving is needed to address this. The goal of our new platform is to automate dynamic thinking- that is often baked into the DNA of innovators like Steve Jobs and Elon Musk- and make it available to any major corporation," said Dhiraj Rajaram, founder and CEO of Mu Sigma.
The concept of muUniverse is based on the patterns found in nature where problems occur in clusters rather than isolation, and organisms increase in complexity over time. By creating a common language around business decisions, muUniverse automates the dynamic thinking process and eliminates blind spots while planning the analytical roadmap.
According to Mu Sigma, working with the world's largest companies over the past 10 years has helped it discover thousands of problems across different industry verticals such as airlines, hospitality, banking, finance & insurance, entertainment, big pharma, healthcare, CPG & retail, technology, media, and telecom, etc.
The new product builds on top of the company's muPDNA platform that encodes the intelligence of business problems and serves as the basis of discovering interconnections. It allows companies to navigate an increasingly complex set of interconnected problems they face in areas such as sales, marketing, finance, supply chain, and risk, among others.
Mu Sigma was founded in 2004 by Rajaram, who was earlier a strategy consultant at Booz Allen Hamilton and PricewaterhouseCoopers. Rajaram holds an MBA from the University of Chicago, an MS in Computer Engineering from Wayne State University, and a bachelor's degree in Electrical Engineering from College of Engineering Guindy, Anna University.
It helps companies institutionalise data-driven decision making and harness Big Data. Mu Sigma solves high-impact business problems in the areas of marketing, risk and supply chain across 10-12 industry verticals, and claims to have over 3,500 decision science professionals and more than 75 Fortune 500 clients. According to Rajaram, Mu Sigma is winning around 10 customers a quarter.
The company has raised more than $200 million in financing so far and is in talks with a group of investors to raise upwards of $200 million in fresh funding, which could value the company more than Flipkart. Backed by Sequoia Capital and General Atlantic, Mu Sigma already works with global brands like Microsoft, Pfizer, Dell, and Walmart to help institutionalise data-driven decision making.
---