Peek at the five startups showcased at Techcircle E-commerce Forum 2015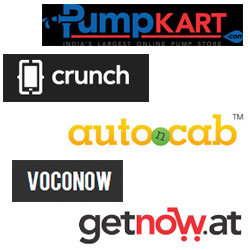 The seventh edition of Techcircle E-Commerce Forum in Mumbai saw a packed house of over 350 people comprising top venture investors, who's who of e-com entrepreneurs and other startups share notes and views on the past, present and future of e-commerce opportunity in the country.
Techcircle.in provided a platform to five innovative early-stage e-commerce companies to showcase their products at the event. Here is a quick look at these ventures.
Pumpkart.com: It is an online store for agricultural and domestic pumps. It offers a variety of pumps that include basement toilet pumps, booster pumps, car cleaning pumps, drainage pumps, hydropneumatic pumps, borewell pumps, rainwater pumps, waste water pumps, monoblock pumps, high pressure pumps, solar pumps etc.

Crunch Commerce: It extends a layer of m-commerce tools to traditional e-commerce backend. Its flagship product is Crunch Adaptive, a mobile-web platform which works across mobile devices and brings an app like experience in mobile web browser.
NGA Technologies Pvt Ltd: It has developed AUTOnCAB, an Android/iOS based mobile application which provides on demand one tap hailing of autorickshaws. The app also calculates distance/fare for a ride. It has the ability to monitor all drivers and rides in real time.
Voconow Enterprises: Voconow's mobile ad-tech product makes static print ads interactive and transactional and transforms them into a sales channel and a revenue centre. It connects the offline print media to the online digital media. In that sense, it operates at the intersection of print and digital.

Retail Labs: It has developed Getnow.at which seeks to change how people shop in India by bringing local shopping online. Consumers can order products from stores in their city with guaranteed delivery in six hours. Local stores list their products on our marketplace and the firm handles distribution for them.
---