What does Ola gain from TaxiForSure?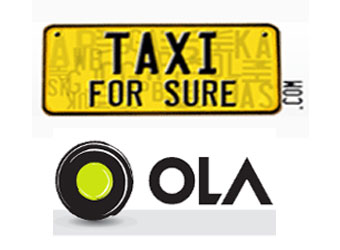 Ola's acquisition of TaxiForSure makes for an interesting reading. The largest player in the taxi booking space has acquired what is essentially a rival which is under a tenth of its own size for $200 million (Rs 1,240 crore).
So what does it gain out of it?

Firstly, it pre-empts Uber snapping TaxiForSure, which could have created a serious competition for Ola. Notably, media reports have suggested Uber is in talks to buy Meru, which can allow it to still bounce back and become a much more significant player in India (read here for more on that). But for now Ola has made sure it has significant legroom to stay ahead of Uber in the near future in the country, something even Flipkart cannot claim against Amazon in India.
Then comes inventory synergies or rather additions. Ola says it has 70,000 cabs and 30,000 autorickshaws on its network. TaxiForSure, in turn, has around 15,000 cabs besides an undisclosed number of autos (it started autos recently). Here, Ola claims it is going to keep TaxiForSure independent and there would not be any inventory sharing. In other words in cities where both operate, they would continue to compete against each other.
This is quirky, as logic would command it to integrate TaxiForSure's inventory with itself even though it may, for various reasons, continue to operate two separate services at the front end.

Ola argues this is because both focus on different segments. But for the front end consumer it does not matter if the provider is bringing cabs owned by a fleet operator or represents a driver who owns his/her own car (which is the main differentiator in business model).
However, a little peek at the markets where Ola is present and where TaxiForSure is present gives a clue of what's the game-plan.
Ola says it is present in 67 cities while its website shows it has presence in around 85 cities. TaxiForSure in turn is present in some 47 cities. We asked this question to Ola and they repeat that they operate in all the markets where TaxiForSure is present. That does not gel with the numbers.

So the logical conclusion would be that Ola is going to use TaxiForSure's inventory without saying so, which is fair enough.
Valuation, financials
If we go by last year's financials, Ola is over 12x TaxiForSure in terms of top-line but burns less cash comparatively, if benchmarked against revenues.

Ola had total revenue of Rs 51 crore for the year ended March 31, 2014 with net loss of Rs 34.2 crore. TaxiForSure had revenue of Rs 4.2 crore including Rs 3.8 crore from commission fee out of the cab operators whom it connects, with net loss of Rs 17.08 crore, in the same period.

Of course, this is just a fraction of the value of transaction they processed. Cab booking firms take around 15-20 per cent of the overall value of transaction in a ride which means the actual transaction value of these firms were in the region of Rs 300 crore and Rs 25 crore in FY14, respectively for Ola and TaxiForSure. Their growth has been on a tear, however.

Ola itself is believed to be now doing transactions worth over Rs 160 crore a month. If TaxiForSure is growing at a similar pace it could be doing roughly Rs 150-200 crore as gross transaction in the current year.
At $200 million it is being valued over 6x its gross transaction value. Given that mature e-com firms are commanding valuation of 2-2.5x gross merchandise value (GMV), cab booking seems to be in a much sweeter spot.
Of course, this is not to suggest the valuation of TaxiForSure was entirely based on current transaction value it processes. It may well be a function of other variables.

Note, as first reported by VCCircle, Ola itself is now looking at a bumped up valuation in its new round of funding. It is apparently looking at a similar valuation multiple to gross transaction.
(Edited by Joby Puthuparampil Johnson)
---