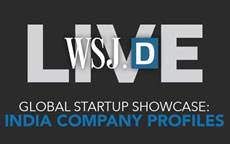 All six Indian startups that were vying for a semi-finalist spot at the WSJDLive, the global technology conference hosted by The Wall Street Journal, have failed to make the cut.
The WSJDLive has announced the list of seven finalists who will be pitted against each other at the Global Startup Showcase to be held on October 19-21 in California. The finalists are California-based dog game console CleverPet, social shopping & web monetisation tool COSIGN (the US), brain health startup Mindful Scientific (Canada), thermoelectric bracelet maker embr labs (the US), homepod startup Keecker (France), Insraeli micro radar system ARTsys360 and multi-purpose digital music tool Artiphon (the US).
To get there, these seven startups have battled some 250 other startups from 26 countries. Startups with less than $5 million in funding could only apply.  Finalists were selected by senior editors of The Wall Street Journal.
The winner will be showcased in the WSJ's special report that will be published on October 27.
They will be judged by Rupert Murdoch, Executive Chairman of News Corp and 21stCentury Fox; will.i.am, founder and CEO, i.am+; Mark Cuban, entrepreneur and investor and owner of Dallas Mavericks; and Theresia Gouw, co-founder and Managing Partner, Aspect Ventures.
Here's a brief look at five of the six Indian startups that Techcircle.in profiled.  WeMultiFun Co, which was the sixth Indian venture in the fray, declined to be profiled.
Guiddoo: The startup aims to change the way people travel. Guidoo provides a video-based tour guides and concierge service that can ensure that the traveller does not miss out on a good experience during the trip. It also has the option of downloading the guides before reaching the destination so that one does not have to depend on unreliable internet connections during the trip. It also allows users to book tours and activities in and around historical places from within the app.
How India Lives: This startup was founded by a bunch of financial journalists who wanted to change the way data is perceived. How India Lives provides data in the form of interactive graphics so that it is easier to comprehend. Although they get data from conventional sources such as government agencies and the Census, they also tap into unconventional sources such as the databases with various e-commerce companies to build stories around them. For example, with a mix of coding and research, they can analyse the database of a matrimonial site to find out which city is most "progressive".
Parentune: According to the founders of Parentune, parenting is the most difficult job that almost everyone takes up at least once in their lifetime. Hence, Parentune is trying to be the most trustworthy and reliable friend of every parent. It has created a verfied online community where parents can tally their notes with each other. Besides, their online portal uses algorithms that provide childcare solutions tailored according to the age of the child.
Cxex: It is a yet-to-be-launched community-driven comparison platform that enables shoppers to review various e-commerce websites and post their experiences. Pioneering "social commerce", Cxex also uses analytics to show how certain websites fare when compared to its peers. The startup also aims to turn the boring reviewing experience on its head by making it a rewarding experience for the reviewers. Cxex also provides consulting services to e-commerce companies and helps them improve customer experience.
Stockal: The startup is leveraging social media chatter by creating a data crunching app that would sift through social media conversations, analyst reports, news clippings, blogs and discussion forums to provide investment signals for stocks listed in the US. Stockal derives investment signals from trader conversations and insider postings on StockTwits and Twitter, while also looking for actionable insights from livefyre, Disqus and other discussion forums. It is run by a sentiment-analysis algorithm that the company claims can analyse three million data points daily for over 6,000 stocks.
---