Until a few months ago food-technology startups were the darlings of investors and attracted millions of dollars in funding. They expanded rapidly and burnt cash in marketing and advertising as they chased customers and market share. And then they got more funding to do the same thing all over again.
Reality is now sinking in.
Several food-tech startups are reeling under financial pressure to control costs and sustain investor interest; some are shutting shop, tweaking their businesses, pausing operations or reducing their staff count.
So what went wrong?
According to some estimates, about half of the food-tech firms operating in India started in the past year. As per VCCEdge, the data research platform of VCCircle, 19 food-tech startups have raised about $160 million in venture capital funding so far in 2015. Only five companies managed to raise money twice (see chart).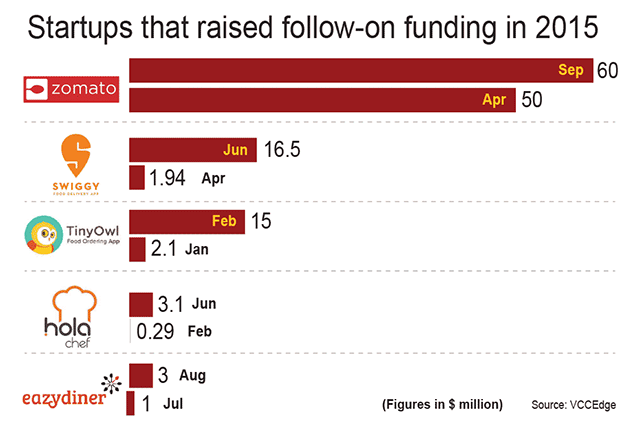 New startups are still emerging every now and then, trying their luck in an already crowded market. But not many can differentiate themselves in a market where the margins are low. Flawed business models and lack of innovative revenue strategies have taken a toll on many food-tech startups, which pin their hopes of survival almost entirely on external funding.
Consolidation has already started in the nascent sector. Rocket Internet-backed Foodpanda, for instance, acquired rival Just Eat India early this year. Last month, hyper-local grocery and fresh food delivery platform Grofers acqui-hired financially struggling food delivery app SpoonJoy.
"The food-tech hype was created due to low entry barriers. There are almost 250 food startups trying to validate slightly different models and attract investors," says Udit Saran, CEO and co-founder of Bangalore-based online food-delivery startup EatonGo. "In such a crowded space, market corrections were meant to happen."
Alok Jain, co-founder and CEO at Yumist, says there are many reasons for the difficulties food-tech startups are facing. "A singular focus on raising money, random pivots, high burn owing to uncalled-for advertising and hiring are the major reasons," says Jain, who took a dig at SpoonJoy when it halted operations with a tweet that read, "Let us be the 'spoon' to feed you with some real 'joy'".
Business models The online food ordering business in India is estimated at Rs 5,000-6,000 crore, growing about 30 per cent month-on-month, according to a report by India Brand Equity Foundation. The sector includes aggregators, food-ordering platforms, delivery-only players, proprietary meal sellers and cloud kitchens.
Broadly, startups in the sector can be categorised on the basis of the three main business models. The first set comprises ventures such as TinyOwl,which provide software-only marketplaces that act as selling points for restaurants. The second group includes hyper-local food delivery services like Foodpanda and Swiggy, which bring the traffic and manage the logistics. Finally, there are full-stack food businesses like Food Vista and Brekkie.
Of these, restaurant aggregators seem to be facing the most problems. So much so that many of them are starting in-house delivery services.
For marketplaces, the average transaction size is small and the commission they get on each order is rather thin. As a result, revenue often falls short of meeting the capital spend on customer acquisition. Moreover, it's difficult for such marketplaces to build a strong brand image for themselves as they cannot control the quality of the food or quicken the pace of delivery.
Foodpanda's struggles as a food-ordering marketplace were well documented in several media reports recently. In fact, Foodpanda and Zomato have started food delivery services in select cities.
For hyper-local food delivery startups, the average ticket sizes are smaller when compared to e-commerce companies. With a commission that varies from 5 per cent to 15 per cent on each order and long-distance delivery requirements, they fail to get the unit economics right. And the flow of orders is not uniform throughout the day, lowering productivity of delivery executives.
Many of these companies raised funding from angel investors or venture capital firms such as Sequoia Capital and SAIF Partners over the past few months. Some of them are now in troubled waters.
Cracks begin to show In early October, mobile-only food ordering startup TapCibo Online Solutions Pvt Ltd, which operated under the brand Dazo, shut shop just as it completed a year of operations. It had raised seed funding from investors including CommonFloor co-founder Sumit Jain and Google India MD Rajan Anandan.
Mumbai-based food ordering app TinyOwl has laid off more than 200 employees within two months and is also scaling down its operations. The company had raised Rs 100 crore in its Series B round in February and, after the first wave of layoffs, secured another $7.5 million (Rs 50 crore).
Foodpanda, one of the biggest names in the Indian food-tech space, is looking to sell its Indian arm. Its German investor, Rocket Internet, has reached out to at least three of Foodpanda's peers in India for a possible deal, according to a Mint report.
The latest sign of trouble comes from restaurant listings and food delivery firm Zomato. Last week, its CEO and co-founder Deepinder Goyal warned the company may miss its revenue target for 2015-16. The company is also laying off nearly 10 per cent of its workforce. Zomato raised $60 million in its last round of funding that propelled it into the club of 'Unicorns', a tag meant for startups valued above $1 billion.
Nagaraja Prakasam, a member of the Indian Angel Network, says there is a bit of hype around the 'digital consumer' segment. He draws a parallel with the dot-com era. "Since many e-commerce companies are getting good valuation, there is a similar expectation on every segment," he says.
Prakasam explains the problem with the help of an example. "One of the reason companies like Webvan failed in the US is the delivery cost, even though the delivery boys were paid very less. I recently saw a job ad calling delivery boys with a paycheck of Rs 20,000 a month. This is great news for the country in terms of employment, but not so good news for these ventures as their business model cannot support this," he says.
Sanjay Mehta, also a member of the Indian Angel Network, says most food-tech companies are run by technology experts, so their focus is on building technology first and business later. "It doesn't work in this sector," he says.
But while some startups are struggling, some others have lured investors over the past month. Vadodara-based food ordering marketplace Boibanit has raised $150,000 in angel funding while Gurgaon-based Twigly got $200,000 in angel funding. MealHopper secured $100,000 in seed funding, gourmet meals portal iChef.in raised an undisclosed amount and on-demand meal provider Frsh.com raised a bridge funding round.
What next? Industry observers say the fundamental success mantra for startups in this sector is the quality of food. Innovative business models and creative marketing efforts will also help startups survive the test of time.
"Hyper-growth models may not work in food delivery where the quality of food is the only key to consumers' decision," says Saran of EatonGo. He says startups should focus on getting repeat clients as discounts can lure customers only once. "The food market can't be compared with e-commerce or the taxi business; you can't have similar strategies. Drop in repeat sales is when you will start struggling and burn more," he adds.
Both Saran and Jain of Yumist see a bright future for the industry. They feel investors will keep pouring funds but say only companies focusing on solving the industry's pain points while sticking to business fundamentals will attract investment.
Angel investor Mehta feels quick-service restaurants (QSR) could eventually take the lead in the food-tech sector. "The QSR industry is growing by leaps and bounds. There is an opportunity to fix the broken supply chain with technology solutions but only a handful of startups will be able to do it."
However, entrepreneur-turned-angel investor Ajeet Khurana is pessimistic about the sector in the near term. But he says this is not just a case of food-tech startups failing. "Instead, I think several startups were actually failures from day one," he says.
Khurana feels exuberant investors failed to see that many startups created little value. Many startups across sectors will fail to raise follow-on funding, he says. "And that is a good thing as it brings back some rationality into the early-stage ecosystem, thereby preventing a bubble."
---