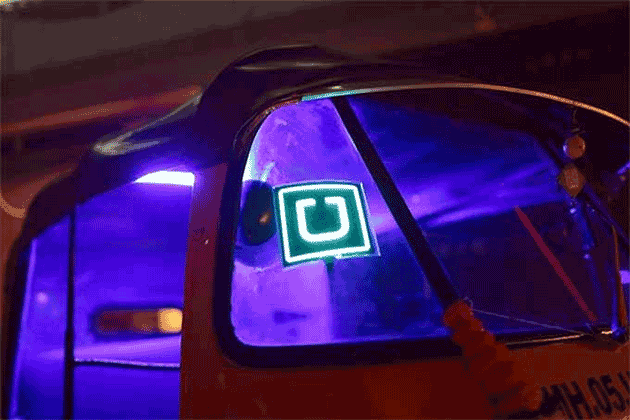 Uber India has temporarily suspended UberAUTO, its autorickshaw hailing service.
"At Uber, we continuously experiment with products to ensure that we can provide the most efficient, affordable and convenient ride to everyone everywhere. We are temporarily removing this product (UberAUTO) to solve specific problems that need to be resolved to help it scale," a spokesperson for the ride-sharing app, said. However, he did specify what problems were hampering UberAUTO in India.
Uber started UberAUTO eight months back in Delhi after taking cues from domestic rival Ola, which had launched Ola Autos in November 2014.
Ola Autos
In a press statement released today, Ola said it has 16,000 autorickshaws on its platform in Delhi. Overall, Ola works with 70,000 autos across Delhi, Bengaluru, Chennai, Ahmedabad, Pune and Hyderabad.
Another player in the auto rickshaw aggregation space is Paytm-funded Jugnoo.
Uber has been experimenting with different kind of services in India. In October, Uber signed a Memorandum of Understanding (MoU) with the Government of Punjab to develop a pilot project for a peer-to-peer ride-sharing programme in the state.
In September, Techcircle.in had reported that Uber is launching its car-pooling service here.
Uber Technologies Inc, which presently has operations in 22 Indian cities, has been scaling up in the country despite regulatory challenges.
The San-Francisco-based company 'will easily more than double' its direct headcount in the country by December 31, 2015. Uber recently launched cash payments facility in India, a first for the company in any geography.
Uber counts Bangalore and Kolkata as two of its fastest growing cities globally. In July, Uber said it will invest $50 million in Hyderabad over the next five years to establish a facility that will house hundreds of its employees and be its biggest international office.
Funding
Uber recently raised $2.1 billion in a new round of funding that takes its valuation to $64.6 billion, The Wall Street Journal reported.
The round was led by Tiger Global Management and T. Rowe Price, the report said. Prior to this round, Uber had raised more than $10 billion in equity and debt, it added.
However, the competitive environment is increasingly becoming strenuous for Uber.
Earlier this week, Ola joined its international peers Didi Kuaidi, Lyft and GrabTaxi to form an alliance against Uber. This global alliance enables customers of one partner to avail cab-hailing services of the other three through the same app they use in their home country.
Sri Lanka launch
Separately, Uber said it has launched operations in Sri Lanka. It has unveiled UberX (features air-conditioned sedans and premium hatchbacks) in Colombo. The company will enter Pakistan early next year.
---