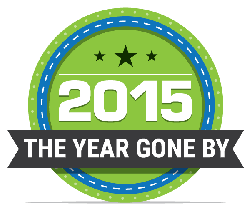 A bunch of Indian entrepreneurs discovered the rough side of the fancied startup life in 2015. While these ventures showed a lot of promise, they seem to have lost the plot for diverse reasons. Cost cutting became a central theme for ventures that were incessantly burning cash. A few unfortunate ones were compelled to shut shop. Internal clashes and unsuccessful pivots were the other major reasons for turmoil in 2015. Out of the 10 well-known startups that had a rough year, five were food-tech ventures. We take a look at ventures that had a forgettable 2015.
Localbanya
The online grocery delivery sector had its share of highs and lows this year.
Mumbai-based Localbanya, a three-year-old online supermarket backed by Shrem Strategies and Bennett, Coleman & Co Ltd's Springboard Fund, stopped taking orders in October. Localbanya asked 40 per cent of its employees to leave as it prepared to pivot from being an inventory-led, warehousing-centric model to an online marketplace for groceries. At that time, company officials claimed that the startup would soon make a comeback.
However, there has not been any update on this front.
"We are under renovation. We will be back shortly," a message on the websites reads.
Karan Mehrotra had founded the venture with Rashi Choudhary and Amit Naik in 2012.
TinyOwl
The hostage crisis at food ordering startup TinyOwl was probably the most unexpected episode of the year. On November 2, Mumbai-based TinyOwl said it was laying off 112 employees, as part of measures to make the business viable. In September, it had sacked about 100 staffers.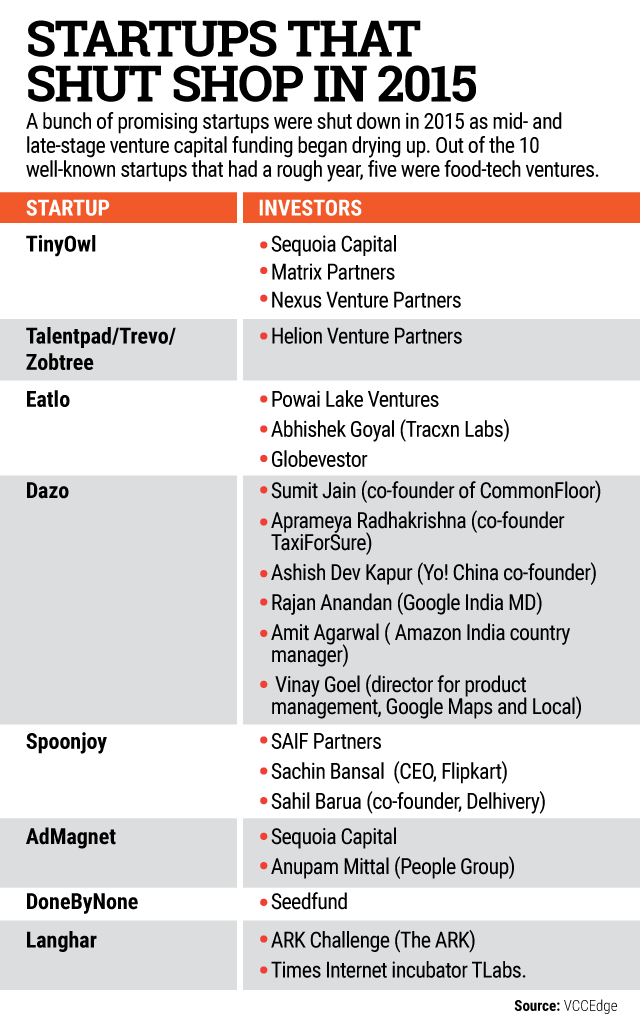 A day later, TinyOwl co-founders Harshvardhan Mandad, Saurabh Goyal, Shikhar Paliwal, Tanuj Khandelwal and Gaurav Choudhary travelled to Chennai, Pune, Hyderabad and Delhi offices. Their message to employees was: Take post-dated cheques and agree to quit work. However, employees in Pune demanded full and final settlement. They claimed to have lost trust in the company's top management. Co-founder Choudhary and a colleague were held hostage at TinyOwl's Pune office by about 30 irate staffers who had been sacked. Many were incensed as the layoffs were announced a few days after TinyOwl raised $7.5 million (Rs 50 crore) in fresh funding from existing investors Sequoia Capital and Matrix Partners.
It's CEO, Mandad, said on November 4 that the situation had been resolved. "We have had a long day in resolving a critical situation in Pune wherein two of our employees had been made to stay back in office for over 48 hours. We have been able to resolve this and have immediately started working on considering the demands beyond the terms of employment, placed forward by other employees from other cities," Mandad said.
Talentpad/Trevo/ Zobtree
Is serial entrepreneurship linked with serial failure? Mayank Jain and Raghav Jain have burnt their fingers thrice.
First, they founded and closed social referral startup Zobtree. Last year, they joined hands with Nikhil Vij to form TalentPad.com (formerly known as Talent Auction), a Bangalore-based curated marketplace for technology recruitment. The trio managed to raise funding from Helion Venture Partners. However, by the middle of 2015 it closed down.
"One of the things that our entire team has been passionate about is making a big impact to a wide-ranging audience. We could not figure out a way to achieve that," the company said in its final blog post in August.
In October, the same bunch of entrepreneurs ventured into the bus pooling space with Trevo, an app that aggregated tourist and chartered buses in Gurgaon and Delhi NCR. Within a month, Trevo too ran out of steam. Industry insiders say that Trevo shut down due to its inability to raise fresh funding. The company was reportedly scouting for Series A funding of up to $10 million.
Eatlo
Bangalore-based Eatlo is another food-tech venture which ran out of cash. The company, which was founded by Rahul Harkisanka and Sai Priya Mahajan in November 2014, sourced meals from chefs and enabled delivery in select areas of Bangalore.
The chinks in Eatlo's armoury were showing since early December when it stopped accepting orders. The company unsuccessfully tried to raise Series A funding of $7-8 million. A few weeks later, Eatlo confirmed its decision to pull the plug.
In fact, the startup closed its operations just five months after raising funding from Powai Lake Ventures, Abhishek Goyal of Tracxn Labs and equity crowdfunding platform Globevestor.
"We have temporarily closed our operations and we are re-evaluating things. We are a startup and a lot of things keep changing. We will update once we decide," Harkisanka told Techcircle.in.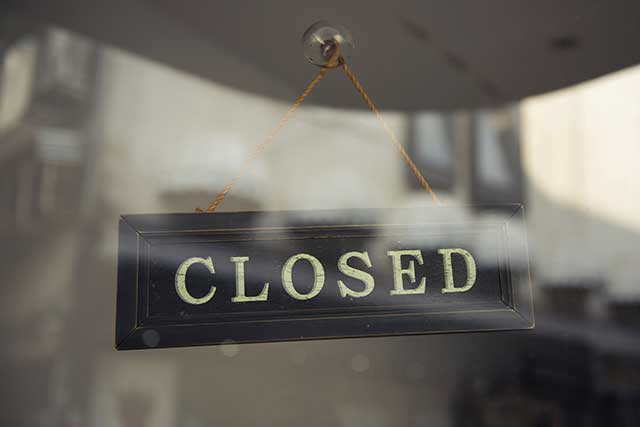 Dazo
Food ordering startup Dazo, which started life as Tapcibo, had barely completed a year before it shut shop in early October.
The venture - founded by ex-Redbus executive Shashaank Shekhar Singhal and Explore-in-Android founder Monica Rastogi - had an illustrious set of backers. It counted CommonFloor co-founder and CEO Sumit Jain, TaxiForSure co-founder Aprameya Radhakrishna, Yo! China co-founder Ashish Dev Kapur and Amazon India country manager Amit Agarwal, besides Google India MD Rajan Anandan, as investors.
Dazo's decision to wind up operations reflected the challenges facing the food-tech sector - wafer-thin or no margins, high cash burn owing to uncalled-for marketing and low entry barriers for new players.
"As a team we've decided to move over this business and we'll be working on a new product," the company said in October.
Spoonjoy
Food delivery app SpoonJoy was another casualty of waning investor interest in the food-tech space. The SAIF Partners-backed SpoonJoy was acqui-hired by hyper-local grocery and fresh food delivery platform Grofers in October, after the cash-strapped venture ran out of cash.
The two-year-old SpoonJoy, which counted Flipkart CEO Sachin Bansal and Delhivery co-founder Sahil Barua as backers, was a subscription-based online platform for users to order meal packs.
Though the acquisition ensured that Spoonjoy did not fade into oblivion, its acquirer Grofers has no plans to continue the food-tech business. Grofers CEO Albinder Dhindsa said that his interest lay in leveraging the experience of the Spoonjoy team.
AdMagnet
Sequoia-funded advertising network AdMagnet suspended its operations in October, a few months after its co-founder Ratish Nair left the company because of health problems. AdMagnet was founded by Nair and Sunil Miranda in 2008. It was spun off from Interactive Avenues, a digital marketing agency, co-founded by Nair.
In its heyday, AdMagnet enabled brands to reach 19.79 million unique visitors or 51 per cent of India's internet population.
DoneByNone
Seedfund-backed DoneByNone was one of the earliest causalities in the e-commerce space this year. The private label women fashion etailer went inactive in January.
The company was founded by Amarinder Dhaliwal and Vijesh Sharma in February 2011. Vijay Misra joined hands with the duo later. For two years, the company ran operations under the HandsPick.com brand, before changing it to DoneByNone in 2013. While the founders did not specify why the company closed operations, the inability to secure fresh funding was seen as the primary reason.
Dhaliwal quit the company to join handset manufacturer Micromax as the chief operating officer of its new sub-brand 'YU'.
Housing.com
Housing.com could easily go down as the most Googled Indian startup of 2015, thanks to its maverick former CEO Rahul Yadav's headline hitting ways.
Be it Yadav's email spat with Sequoia Capital's managing director Shailendra Singh, his infamous run-in with Housing.com investors or the bizarre decision to gift his entire stake to the company's employees, Yadav never ceased to surprise. He attracted a legal notice for accusing the Times Group of deliberately maligning Housing.com. In a caustic resignation letter to investors, much before he was sacked, Yadav termed Housing.com's investors as 'intellectually incapable'. The open feud finally reached its climax in July when the company board sacked him.
Under Yadav, Housing.com had spent Rs 120 crore on advertising, marketing and other business development activities. Soon after Yadav's ouster, the company shut down unprofitable units and brought in new senior executives. In all, about 800 jobs were cut in multiple rounds. After operating without a full-time CEO for three months, Housing.com appointed its chief business officer Jason Kothari as CEO.
Housing.com, which has so far raised around $120 million from investors, is in talks for fresh funding from existing investors led by Japan's SoftBank. Housing.com competes with PropTiger in which News Corp, the parent of this news website, owns a 30 per cent stake.
Langhar
Delhi-based Langhar was the first food-tech venture to shut shop this year.
The company was founded in 2013 by Karanpreet Singh, Pankaj Sharma, Sunil Kumar and Pawan Saini and had secured $1,50,000 from ARK Challenge and $20,000 from Times Internet incubator TLabs. Langhar was a community marketplace that served fresh homemade meals by connecting housewives, hobbyists and professional cooks.
---