Rocket Internet backed ride sharing app Tripda may shut down operations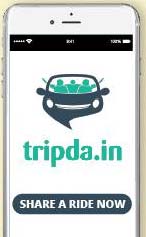 Tripda Inc, a Rocket Internet-backed global, multi-location ride-sharing marketplace Tripda may shut down its operations.
Techinasia, which reported the development quoting anonymous sources at Tripda, said the decision to shut down was attributed to the startup's failure to secure follow-on round of funding from an unnamed US-based venture capital firm that declined to back it.
Rocket Internet declined to comment on queries sent by Techcircle.in regarding the development. However, a spokesperson for Rocket Internet said that Tripda may issue a statement in this regard over the next few days.
"We don't comment, Tripda will issue a statement in the next days," the spokesperson said.
In January last year, Tripda raised $11 million in Series A funding from an unnamed New York-based VC firm besides existing backer Rocket Internet.
Launching its operations in Brazil in 2014, Tripda is currently present in 13 countries that include the US, Colombia, Chile, Argentina, Singapore, Malaysia, Philippines, Uruguay, Taiwan, Pakistan and Mexico. The ride sharing launched its Indian operations in November 2014.
Tripda works by binding user's Facebook ID to Tripda's website and then enters their pickup location, destination, and date of departure. Drivers need to register their vehicle by providing the car's brand, model, number of seats available and level of comfort before entering the upcoming car trips. Tripda sets a suggested price for drivers to charge each passenger.
Rocket Internet Ventures has had a rather uninspiring start to the year. It has shut down the Asian operations of its multi-geography mobile taxi app Easy Taxi.
A couple of days ago , Tech Crunch reported that Rocket Internet is selling food takeaway operations in Spain, Italy, Brazil and Mexico to London based Just Eat for €125 million ($140 million)
Likewise, Jabong.com, Rocket's most serious bet in India, has become the top money losing initiative for the company in the country last year. Recent news reports suggest that its other India portfolio companies Foodpanda and FabFurnish are also on the block. Foodpanda has been plagued by suspect orders, lack of automation and over-dependence on Excel sheets. FabFurnish recently pivoted into a full-fledged marketplace.
Founded in 2007 by the Samwer brothers (Marc, Oliver and Alexander), Rocket Internet is one of the largest internet incubators in the world.
The firm is headquartered in Berlin, and operates a network of around 25 international offices, covering all relevant developed and emerging markets. Its primary focus is on building transaction-based business models in the online and mobile space.
Rocket Internet's core model is to replicate successful global internet businesses in emerging markets outside China with rigorous marketing. It brings in industry executives, gives them stakes in its companies and designates them as co-founder, founder or CEO. Most of its portfolio companies operate in multiple regions.
Last month, Rocket Internet raised $420 million in the first close of its new fund, with Rocket Internet itself contributing about $ 50 million, to invest in European internet companies.
Ride-sharing has been picking up in India. Radio taxi company Meru Cab Company Pvt Ltd is gearing up to launch ride-sharing services for its inter-city operations after the successful rollout of ride-sharing services in Delhi.
Both Ola and Uber offer ride-sharing services for their intra-city services. Hyderabad based Zify Tech Solutions Pvt Ltd, which runs a ride-sharing app, had raised $190,000 (Rs 1.2 crore) in angel funding from two Hyderabad-based investors and Sean O'Sullivan of SOSventures. Accel Partners- and European VC firm Index Ventures-backed European inter-city ride-sharing startup BlaBlaCar entered India last year in January. It raised $200 million in a Series D investment round at $1.6 billion valuation from Insight Venture Partners, Lead Edge Capital, and Vostok New Ventures. In April 2015, online travel group Ibibo launched a carpooling app named Ryde that lets users share rides.
Comment(s)