Why startups are making a beeline for the online-to-offline space

End-of-season sales were once known for eager shoppers lining up at store doors early in the morning to get the best bargains. In the last couple of years, however, the crowds have thinned out. Customers now prefer to buy online, attracted by the frequent discounts offered by e-commerce stores.
It is to lure back the customer to the brick-and-mortar store that a number of startups have come up. Their USP is the online-to-offline (O2O) model which uses a smart mix of internet advertising, QR codes, online payment, offline pickup and hyperlocal listings to nudge the online shopper back to the "real" shop versus the virtual one.

Take recommendation and last-minute discovery platform Zakoopi, Zakoopi Infotech Pvt. Ltd, for instance. The Zakoopi app, on the lines of the Zomato model, allows a customer to discover 12,000 apparel retailers across Delhi NCR, Mumbai, and Kolkata. The platform has over 60,000 ratings and reviews by end-consumers and also has location-specific guides such as "top 5 places to find lehengas in Karol Bagh".
Innotarget Fashalot Retails Pvt. Ltd, which runs Fashalot, works with major fashion brands in Delhi NCR and Bangalore, providing information on offers in stores, latest collections, pre-sale information and cashbacks when a customer shops from its partner stores. One of Fashalot's USPs is that shoppers can get up to 25% of their bill amount back and redeem it for future purchases. It also uses location-based technology to track transactions that happen inside the store.
Big payoffs for small retailers

It isn't just customers who get to benefit. Small-time retailers, or one-store brands, get tech support to analyse customer behaviour. "We offer proximity/targeted marketing because we know what users are searching, what kind of stores they are visiting, and stories they are reading. So based on the behaviour of our readers, we help retailers to send a very targeted set of campaigns," says Samik Sarkar, co-founder, Zakoopi.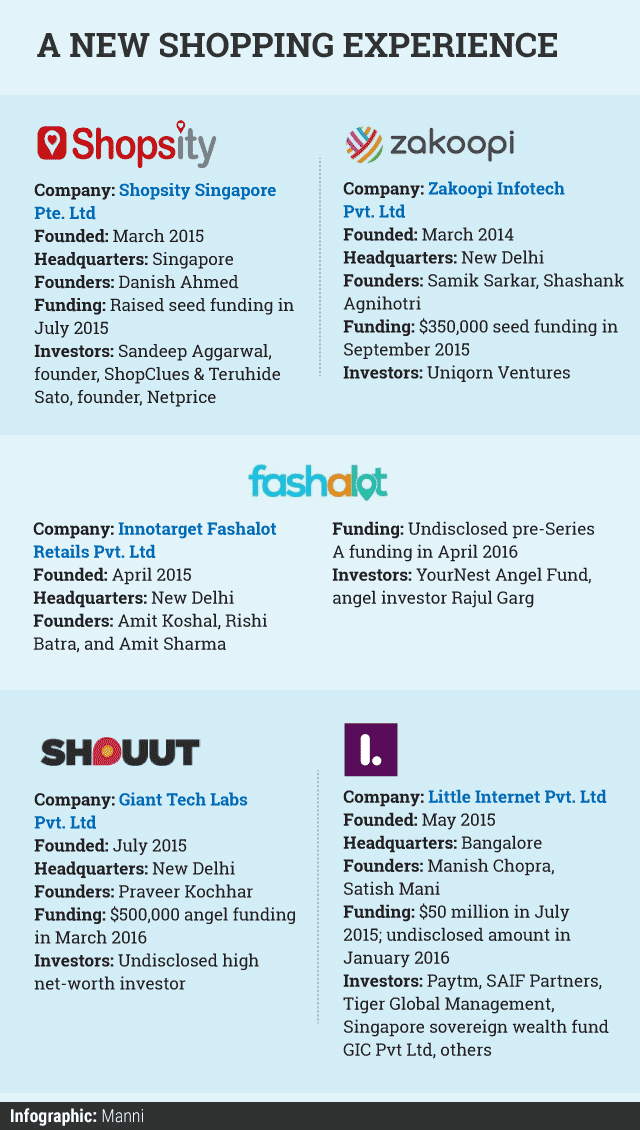 Yebhi.com co-founder Danish Ahmed's new startup Shopsity, under Shopsity Singapore Pte. Ltd, which he terms an "anti e-commerce" venture, is a pure-play discovery platform. The web and app platform connects offline retailers to customers, allowing users to discover local fashion, jewellery and home décor stores. Users can block an item on Shopsity and pick it up at the store by paying the merchant directly.

Deepak Sharma, owner of Promenade Footwear Store in Noida, bordering Delhi, who earlier sold his merchandise on e-commerce platforms such as Flipkart and Amazon, recently shifted to Shopsity. "In the last three months, we've got 40-50 customers through Shopsity," he says. "My products at Flipkart were sold in the name of Flipkart. Nobody knew about my store. Now, at least, people visit my store."
Discovering the opportunities
Many of these startups started as listings or discovery platforms, but embraced O2O once they realised the opportunities in this segment. For instance, curated blogger-driven platform Shouut, run by Giant Tech Labs Pvt. Ltd, offers 30,000 recommendations across categories such as shopping, food, nightlife, shopping, and travel and in over 1100 towns. On the O2O side, the Shouut app's "Brands" section allows users to discover discounts and campaigns in nearby branded retail outlets. It is currently associated with over 40 brands across 1000 stores such as Shoppers Stop, Croma, Reliance Digital, DLF Promenade, Benetton, among others.

"Retail clocks close to $600 billion in revenues. Out of this, the online play is 3-4%. There is huge scope in enabling offline retailers access the online markets and consumers, and the space will continue to expand significantly," says Girish Shivani, executive director and fund manager, YourNest Angel Fund, which has invested in Fashalot.
Again, Little, run by Little Internet Pvt. Ltd, is not an apparel discovery platform, but a marketplace for deals related to offline merchants that has emerged as an O2O channel. The app covers restaurants, movies, hotels, salons, gyms, spas and other services. It has more than 10,000 merchants on board who dole out 27,000 live deals on its platform. "For merchants, Little acts as a personalised sales platform they can use to gain intelligence about customers in the vicinity, send timely notifications and offer relevant deals," says Manish Chopra, co-founder, Little.
Early days yet

These startups realise that it is early days yet and they will need to tweak their business models several times before they perfect their art. Offline retailers are not yet geared to address an online audience. Most of the national brands work on a franchise model, so running discounts is big challenge. As Praveer Kochhar, founder, Shouut, says, creating a discount coupon which is recognised by a brand's numerous points of sale across the country is not easy. "It might just take three weeks to create one discount code, and physical retailers work by process."
However, sensing the long-term opportunity, Shouut is coming up with a product, called 'Flash Sale' – for which the startup has filed a patent application. "We are asking brands to run offers exclusive to Shouut users," says Kochhar. "We will charge retailers for per walk-ins to the retailers and if that walk-in translates into a transaction through that promotional voucher we will charge a higher fee."
Currently, Fashalot has a mix of pay-outs based on walk-ins, revenue share, subscription and advertising. It charges 10-20% commission on every transaction that happens in the store. "Store walk-ins and transactions are the most scalable and contribute to nearly 90% of our partnerships," says Rishi Batra, co-founder, Fashalot. It claims to be registering 30% repeat transactions, up from 17% a month ago.

Zakoopi doesn't charge any listing fee, but offers technologies and tools to retailers for Rs 3000-Rs 5000 per month. "If retailers want our proximity marketing service during promotional campaigns, they are charged based on number of impressions," says Sarkar. "Zakoopi is not profitable yet, but we expect to make profits by mid-2017."
Sarkar says one of the biggest challenges in the O2Ospace is measuring store walk-ins and resultant in-store transactions. "In the O2O food delivery space, unit economics for delivering would be a challenge; while in the beauty and wellness space, a lot of people book the service but ultimately never go and cancellations are higher. Local vendors find it irritating as they may not be reaping the entire benefits from the O2O model yet."
But that could soon change with a combination of right technologies, customer convenience and vendor success stories.
Like this report? Sign up for our daily newsletter to get our top reports.
---