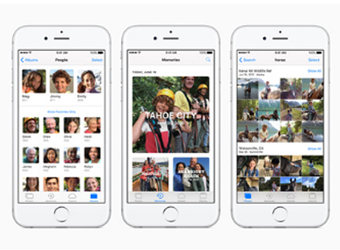 Apple Inc on Monday unveiled iOS 10 at its annual developer conference. The next version of Apple's software for the iPhone and iPad comes with a bunch of new features. So much so that Craig Federighi, Apple's senior vice president of software engineering, termed it as the biggest iOS release ever for users.
The new software has enhanced 3D features, improved Siri and an all-new lock screen. It also overhauls photos, music and messages. iOS 10 will be available as a free software update for iPhone 5 and later versions, iPad Air and iPad Pro, iPad 4th generation, iPad Mini 2 and later versions, and iPod Touch 6th generation. Here are the top five features of iOS 10.
New notifications, new lock screen
The first and the foremost change you would notice in iOS 10 is the redesigned look. With "Raise to Wake" you can see your lock screen without touching your phone. Simply lift the phone and the lock screen will become visible.
On the lock screen, swipe right to launch the camera and swipe left to see your widgets, directly on the lock screen. If you swipe from the top or the bottom, you get the notification centre and control centre as usual.
There's also a deeper 3D Touch integration with iPhone 6s and iPhone 6s Plus for apps such as Weather, Stocks and Calendar.
Personal and expressive Messages 
Messages is the most frequently used iOS app. With the new update you can use animated and personalised ways to message friends and family.
Apple is adding animations like balloons or fireworks that can take over an entire screen to celebrate a special occasion. There is a feature called 'invisible ink' to send a message which is only revealed after a friend swipes over it. There is a handwritten notes option for a more personal touch.
Apple is opening Messages to developers to create new ways for users to communicate in a thread, send payments or schedule dinner or a movie, all from within Messages.
A smarter Siri
In iOS 10, Siri can be extended to do more than ever by working with the apps you love to use. It will now be opened up to developers to interlink Siri and app functionality. For example, if you want to send a WhatsApp message, all you have to do is say 'Send a WhatsApp message to….' and you are done. Or ask Siri to call an Ola or Uber cab.
Redesigned Maps 
The Maps function in iOS 10 has got a face-lift and offers traffic on route. The company announced Maps extensions, which will be available to third-party developers. With extensions, apps such as OpenTable can integrate bookings right into Maps, and services like Uber can make it easier for users to book a ride without ever leaving the Maps app.
Maps will now proactively deliver directions to where you most likely want to go next, based on your routine or appointments on your calendar. Along the route it will also look for petrol pumps, restaurants, coffee shops and will provide an estimate of how the stop impacts the length of your trip.
Rediscover memories in Photos, new design for Apple Music 
Photos in iOS 10 will help you rediscover favourite and forgotten occasions from your photo library by automatically surfacing them in Memories.
For music lovers, iOS 10 uses a new design language that makes it easy to navigate and discover new music. The Library, For You, Browse and Radio tabs have been completely redesigned to provide an even greater sense of place.
Like this report? Sign up for our daily newsletter to get our top reports.
---