Exclusive: Online truck aggregator TruckSumo shifts business model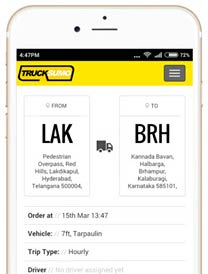 Hyderabad-based truck aggregator TruckSumo.com has shut down its online operations, a person privy to the development told Techcircle.in.
The website is still live but users are not able to place orders and the company's customer care number is also not operational.
That the truck aggregator platform was under stress came to the fore in June when it had suspended its operations and stopped taking fresh orders.

TruckSumo's co-founder Arun Rao, however, told Techcircle.in that the company has moved from B2C to B2B model. He, however, did not elaborate on the new business and refused to answer whether the B2C platform had indeed been shut down.
A detailed questionnaire sent to the company also did not elicit any response.
The development comes at a time when startups across sectors are reeling under funding crunch and many have had to shut shop as investors have turned cautious in placing bets on businesses whose profitability is in doubt. Last week, inter-city truck aggregator TruckMandi had shut its operations.

Truck aggregation business has especially been in doldrums. Over the past eight months, only two online truck aggregators—GoGo Truck and Dipper—have raised funding.
TruckSumo, operated by Pipip E-Services Pvt. Ltd, was set up in March 2015 by Nithin Baalay, Abhishek Bajpai and Rao as an intra-city transportation service provider. It worked as an aggregator of mini-trucks and connected businesses with local logistical needs to service providers.
The company, which was one of the 24 startups to be selected by the diversified Aditya Birla Group in December last year for an incubation programme, has not yet raised external funding.

Over the past two years, several startups have entered the road transport sector seeking to reshape the space known for its randomness, arbitrary rates, all-cash transactions, delayed deliveries and a lack of transparency in deals.
Online truck aggregators such as TruckSuvidha, Porter, BlackBuck, GoGo Truck, FreightBazaar, Moovo, Turant Delivery and CargoExchange have been trying to bridge the gap among companies, warehouses, transporters and truck drivers to ensure on-time delivery and optimum use of fleet capacity.
DEAR READERS,

Following the publication of our article on TruckSumo closing its online operations , the company took to Twitter to say the following
. @techcirclein - Aww. So you decided we were dead because we did not respond to your email? So cute! Keep up the good work.

— TruckSumo (@trucksumo) 29 August 2016
While we stand by our article, since Mr Rao has made public claims about our journalism, we thought it might be useful for our readers to understand what transpired.
The article, which followed this early TechCircle report on TruckSumo considering suspending its online operations on June 9, was based on conversations with three separate individuals in the industry who were aware of the issue as well as a previous conversation with four of TruckSumo's employees, including a customer care executive. As is fairly standard when individuals are discussing matters that a company has not publicly acknowledged, they were not named in the article.

Before publishing the latest article, our reporter also tried to place orders on TruckSumo's website, like an ordinary customer might, on several occasions but the orders were not accepted and the company's customer care number was also not operational.
The reporter also sent an email to the company as well as the work email address of co-founder Nithin Baalay, but there was no response. The reporter also tried reaching Mr Baalay on his mobile phone through calls and text messages but got no response.
Well after the article was published, TruckSumo and another co-founder Arun Rao responded on Twitter claiming our report was incorrect

. @techcirclein kills @trucksumo for the second time in as many months. Reason: We did not respond to their email :( pic.twitter.com/gwapAaVo5F

— Arun Rao (@arunvrao1) 29 August 2016
We again tried reaching the company with the intention of correcting any inadvertent errors we may have made in our report but could not get a response. Eventually, Mr Rao called the reporter but refused to answer any of his questions. He only said TruckSumo had changed its business model. He didn't deny that TruckSumo's original business had been shut, which remains the gist of our article.
Mr Rao continues to say on Twitter that our report did not take into consideration the lives of employees and their families without offering any specifics nor engaging with us to correct any errors that he can point to. We would be glad to interview Mr Rao or any other executive at TruckSumo who speaks to us on-the-record and update our readers with any facts that are in variance with our reporting.
Archna Shukla Editor-in-Chief
Like this report? Sign up for our daily newsletter to get our top reports.
The article has been updated to incorporate TruckSumo's co-founder Arun Rao's response.
---