Deals site Nearbuy gets $2.2 mn in loans from BlackSoil Capital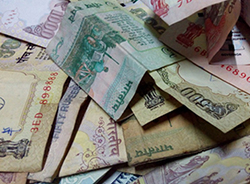 Deals and discounts site Nearbuy has raised venture debt of Rs 15 crore (about $2.25 million) from non-banking financial company BlackSoil Capital Pvt. Ltd.
The Gurgaon-based company plans to use the capital to invest in customer and merchant technology, it said in a statement.
This is the first debt transaction for Nearbuy since August last year when NASDAQ-listed deals aggregator Groupon Inc. sold a majority stake in its India unit to Sequoia Capital and the company's management. Groupon Inc. is now a minority shareholder in the Indian company. Sequoia had earlier invested $17 million in the company.

BlackSoil specialises in real estate and venture debt transactions, among other segments. The NBFC is promoted by Shashi Kiran Shetty, chairman and managing director of AllCargo Logistics; Ganesh Gala, managing director of Navneet Education Ltd; and Mumbai-based realty expert Virendra Gala.
Mohinder Pal Bansal, director at BlackSoil, said that venture debt is growing rapidly in India and that the lender would back startups with sustainable business models, unit economics and customer traction.
Venture debt is fast emerging as an important tool of funding for companies in the country as it provides the companies more time to grow without diluting any equity. Recently, venture debt firm InnoVen Capital India Pvt. Ltd agreed to provide loans of around Rs 40 crore to Capillary Technologies Pvt. Ltd and Simplilearn Solutions Pvt. Ltd.

Nearbuy is operated by Groupon India Pvt. Ltd. Although the legal entity remains the same, the company had changed its brand name in August last year after the management buyout.
Nearbuy features hyperlocal offers in segments such as food and beverages, spa, salons, wellness and getaways. Its merchant base has increased from 10,000-15,000 when it was Groupon to 50,000 as Nearbuy. The company has also increased its presence to 33 cities from the 12 cities it was present in earlier. It claims to generate over 500,000 footfalls for offline merchants per month.
In May, in an interview Nearbuy founder and CEO Ankur Warikoo told VCCircle that after moving out of the Groupon fold, the company got hold of the technology and rebuilt it entirely to form a mobile-first business, which had better unit economics than the desktop version.

Nearbuy has trimmed its losses by exiting cash-guzzling verticals and slashing discounts. Its net loss for 2014-15 shrank to Rs 54 lakh from Rs 18 crore in 2013-14 and Rs 38 crore the year before, according to VCCEdge, the data research platform of VCCircle, based on filings with the Registrar of Companies.
Net sales rose 58% to Rs 132.4 crore in 2014-15 from Rs 84 crore in 2013-14. The company hopes to become profitable in the next 12 months.
Like this report? Sign up for our daily newsletter to get our top reports.

---