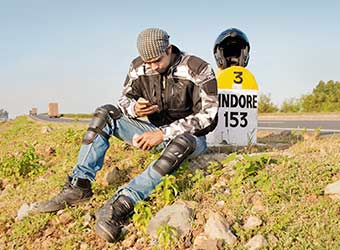 Yatra.com, one of India's top online travel agencies (OTAs) that is set to get listed on NASDAQ through a reverse merger, will issue a small equity stake to Reliance Industries Ltd as part of a business arrangement, a person privy to the development told Techcircle.
The proposed deal is linked to an existing partnership where Reliance has pre-installed Yatra mobile app in its Lyf branded 4G handsets. According to the person cited above, Yatra is looking to grow its reach almost six-fold with the arrangement and the transaction could be cashless.
Yatra claims 7 million download of its app with 4.4 million active users. It is looking to add 35 million potential users solely through the partnership with Reliance over the next three years. It could not be ascertained if the equity stake would be issued at the end of achieving the milestone or sooner. Yatra is in the process of getting listed on NASDAQ.
According to quarterly results disclosure by Reliance, it sold 3 million Lyf handsets in the quarter ended 30 September. It had commercially launched its telecom service under Reliance Jio on 5 September.
The firm had previously sold over 2 million carrier-agnostic handsets in the market. At the time its telecom service was in the trial phase for its own employees.
Reliance Jio had brought on board 16 million users within a month of its launch as of 30 September and as per a PTI report early this month citing a top company executive, it has been adding 0.6-1.1 million customers a day with the launch offer that includes free connection and zero usage charge for the first three months. The firm is aiming to hit the mark of 100 million users by the end of first year of launch.
Separate email queries to spokesperson of Reliance Industries and Yatra.com on the proposed transaction went unanswered.
Reliance Industries is already a strategic investor in Yatra through its public listed subsidiary Network18 Media & Investments Ltd. Network18 has investments in Yatra Online Inc, the US-based holding company of Yatra.com and Yatra Online Pvt. Ltd, its Indian arm that houses the OTA's key operations.
If the deal materialises, it would make for another such transaction between a handset maker and a consumer internet venture. India's top home-grown handset maker Micromax has sealed such transactions in the past. In October 2015 it had picked an undisclosed stake in Times Group's music streaming property Gaana.com.
Yatra.com In July, the OTA that claims to be the second largest among its peers announced a reverse merger agreement with a US-based special purpose acquisition company (SPAC) paving the way for a back-door listing in the US. Yatra Online Inc will merge with Terrapin 3 Acquisition Corp (TRTL), an American SPAC, in a deal valuing it at $218 million (Rs 1,458 crore).
This deal was previously expected to be completed by October but is now set for December, pending shareholder voting of TRTL.
TRTL is essentially a SPAC or what is also known as a blank cheque firm. These firms are a special category of companies created through a public listing without any set operations (hence blank cheque). Blank cheque firms raise public funding with the purpose of acquiring and reverse merging one or more firms in an identified sector and or geography. After such an acquisition through a reverse merger, they become an operating firm.
Yatra's larger peer MakeMyTrip had gone public on NASDAQ in 2010 through a regular initial public offering (IPO). Last week, MakeMyTrip said Naspers-controlled ibibo will merge with MakeMyTrip to strengthen its lead over other Indian OTAs .
Founded in 2006 by former Ebookers Group (UK) executives Dhruv Shringi, Manish Amin (CIO) and Sabina Chopra (EVP - operations),Yatra is backed by a string of venture capital, private equity and strategic investors.
The current shareholders of Yatra will continue to own at least 35% of the issued and outstanding shares in the combined company. They would also get up to $80 million in cash and may receive additional consideration of up to $35 million upon the achievement of certain financial objectives during the 18 months after the closing of the deal.
Yatra had raised capital in tranches from counts Norwest Venture Partners, Network18, Reliance Capital's PE arm, Intel Capital, Valiant Capital, InnoVen Capital, IDG Ventures and Vertex Venture Management, the VC investment arm of Singapore's sovereign wealth fund Temasek.
Yatra customers booked more than 2.8 million air travel reservations and hotel stays with total transaction value worth more than $900 million (at current exchange rates) during the fiscal year ended 31 March 2016, an increase of 25% from the prior year (at constant currency rates) with 74% of transactions coming from repeat clients who return to book more travel.
Besides MakeMyTrip and ibibo, it also competes with Cleartrip and Via.com, among others.
---