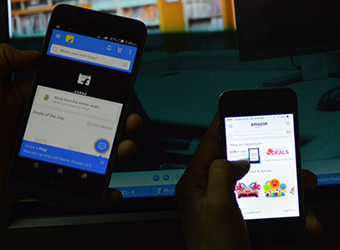 The Indian arm of the US-based online retailer Amazon has been able to offer better customer experience (CX) than its home-grown rival Flipkart in the Indian market where the two ecommerce marketplaces have long been engaged in an intense battle for supremacy, according to a report by Forrester.
According to Forrester's India Customer Experience Index 2016 report, Amazon and Big Basket were the top brands in the 'digital-only retailers' category while Myntra-owned Jabong made the biggest improvement in customer service in this category. "It (Jabong) made great strides in 2016 by meeting customers' expectations and making them feel more positive about their interactions with the retailer," the report said.
The study by the market research firm revealed that digital-only retailers are gradually realising that deep discounting as a customer acquisition strategy leads to a downward spiral. "With no profits to show, increasingly impatient investors, and the threat of foreign entrants with even deeper pockets looming large, many digital retailers have now begun to publicly claim to focus on delivering a differentiated CX instead," it observed.
Both Amazon and Flipkart have been exploring various methods to attract new customers and keep its existing ones happy. In July, Amazon introduced its membership programme Amazon Prime, in India to enable users to get products delivered within a day or two.  Upping the ante, Flipkart soon launched Flipkart Assured, a programme that customers can use to avail themselves of free delivery within two to four days for products that cost more than Rs 500.
Later, in what could give a huge boost to Amazon India's efforts to gain dominance, the US-based e-tailer launched its 'Global Store' in India last month that will give domestic customers direct access to over 4 million global products.
With the launch of Global Store, Amazon.in has become the single-largest online destination for buying both local and global products in India, it claimed.
Meanwhile, it was reported that Flipkart is planning to launch physical stores in smaller cities to attract more customers. Under its new project that it internally calls 'assisted commerce', Flipkart wants to cement its position as the preferred online retailer even in the remote cities of the country through planned brick-and-mortar stores, to double its user base.
However, ecommerce companies fared much lower in customer experience when compared to PC manufacturers, banks, credit card providers, mobile manufacturers, wireless service providers and traditional retailers.
The report observed that digital-only retailers in the US consistently provide high-quality and consistent CX by offering accessible customer support, more flexible return policies, and faster, more reliable delivery services. Similarly, Chinese brands are effectively executing online-to-offline strategies to drive CX improvements.
Overall, foreign brands led the rankings in five of the eight industries the study surveyed.
In order to understand the quality of CX, the survey asked about the effectiveness, ease and emotions that the brand delivers. To understand loyalty, it asked customers about their intention to retain and increase their business with the brand and to recommend it to others.
---