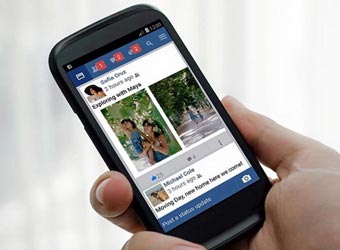 Social media giant Facebook Inc. has been relentlessly trying to takeover Instagram's market share. It has either been launching competitive products or simply buying them out. In its third attempt, Facebook has launched Flash, the new standalone app has Instagram's short-lived photo and video messaging features as well as amplified reality lenses, reported Androidpolice.com.
Most notably, Facebook, this time around is entering the internet-constrained markets with the new product. Flash offers the same self-destructing photo sharing like Snapchat, but at one-third the installed size on the smartphone. The 25 MB app is in itself a space-saving wonder.
The new Flash app is designed for markets which suffer from poor connectivity and lack of WiFi access. In such emerging markets Facebook's popularity is much more than that of Snapchat, said the report.
Facebook has not revealed the app's features as of now and only spoke of the app at its launch in Brazil this week.
Following the success of its Facebook Lite Android app, Facebook Flash most likely will use up less data while offering Snapchat's functionality. It would not be wrong to guess that Facebook might also look at bringing Flash to India, where it has been working hard to reach the masses. Considering that Facebook Flash is only available on Android, this may augment Facebook Lite, which is also only available for Android users.
Facebook first launched Poke in 2012, only to kill it two years later. In the same year, Facebook launched Slingshot, which only lasted for a year. There is something for teenagers called Facebook LifeSTage as well. After Poke and Slingshots, this is the third recent app from Facebook aimed to take on Snapchat.
Recently, Facebook has been marketing itself aggressively by launching new products. Facebook had launched Workplace in October this year, to take on Slack. In recent news, Facebook also added the jobs feature to take on LinkedIn.
---