Myntra targets $2 bn revenue run rate, profitability in FY18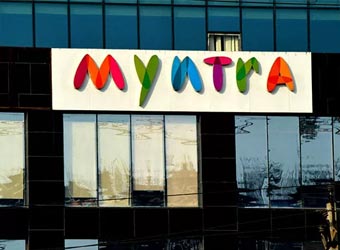 Flipkart-owned online fashion retailer Myntra said the company has crossed $1 billion in annualised run rate riding on an impressive 80% year-on-year growth, thanks to the $70 million acquisition of Rocket Internet-backed rival Jabong and the peak selling festive season sale events.
"This year has been the best year we have had so far. We grew approximately 80% year-on-year and achieved a billion dollar run rate. October was another milestone for Jabong as it turned unit economic positive. Our margins were better this year as we gave out much less discounts," Ananth Narayanan, CEO of Myntra and Jabong said at a press meet in Bengaluru on Thursday.
He said the company expects to hit a revenue run rate of $2 billion, achieve profitability and 60% Net Promoter Score (NPS) by FY'18.

Myntra had recorded annualised gross merchandise value (GMV) of around $500 million and 66% growth in topline in last December.
Myntra's parent Flipkart acquired its main competitor Jabong from Global Fashion Group for $70 million (Rs 470 crore) in cash in July to create India's biggest fashion e-tailer. The deal has consolidated Flipkart's position in the Indian e-commerce market and enabled Jabong's German-backer Rocket Internet to exit the loss-making venture.
Narayanan said the growth was further driven by the increased monthly active user base which is now about 18 million, with Myntra contributing about 13 million and Jabong 5 million.

He reinstated the market estimates that Flipkart, Myntra and Jabong together hold about 70% of India's online fashion segment market share.
Myntra continues to focus on its private labels, which amounts to close to 23% of its overall business currently. "Private labels used to be about 20% on our platform, which is now about 23% and our goal is to take it to 30%," he said.
Talking about the impact of demonetisation, he said the move to withdraw Rs 500 and Rs 1,000 currency notes from the market has negatively impacted the growth rate, but the overall growth has not been alarmingly affected. "Our growth rate has come down, but the move is essentially helping us to improve the digital payments on our platform and that's going to help us in the long run. Cash on delivery was about 60%, of which 5% was card payment on delivery. After demonetisation, the card on delivery has jumped to 50%. About 99% of our delivery executives are now equipped with point on sale devices for card on delivery payment options," Narayanan said.

He said the company is trying to make inventory transparent, live and available to customers for which it is experimenting on increased technological integration with its brand partners. He insisted these efforts will open up the next big growth opportunity for the company.
He also said the focus now is on assisting smaller brands build themselves on the platform rather than just enabling sales. There are over 200 brands with brand pages and followers on Myntra and 2 million followers across these top brands.
The company has also launched a new initiated titled 'Myntra Brand Accelerator Programme' to help unbranded sellers build their brands on the platform, which Narayanan said will help these brands increase their revenue by 10%.

Myntra has launched a new portal to provide brands with customised insights and competitive intelligence reports to manage their performance on the platform.
Myntra is setting up its first brick-and-mortar store in Bengaluru soon to further enhance its marketing efforts. Narayanan said he doesn't expect the offline stores to be a major contributor to its overall business.
Additionally, he said the company is aggressively pushing its 'Try and Buy' feature, which is currently available in 25 cities, to help achieve greater NPS. He claimed that the company is 20 points ahead on NPS than the industry.

Narayanan said Myntra's next phase of growth will be accelerated by its efforts to help customers leverage artificial intelligence (AI) and machine learning for personalised shopping experience, better product discovery and assisted buying.
---