Flashback 2016: Paytm gets note ban boost but payments bank hits a bump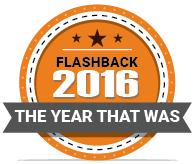 If there is one man who is wholeheartedly welcoming Prime Minister Narendra Modi's decision to scrap Rs 500 and Rs 1,000 banknotes, it's Vijay Shekhar Sharma. The Paytm founder and CEO has turned out to be one of the biggest beneficiaries of the move as the cash crunch prompted people to increasingly use the digital wallet to buy groceries, take an auto-rickshaw ride and even pay for a haircut.
The banknote ban was not the only reason for Sharma to rejoice this past year. Paytm, run by Noida-based One97 Communications Ltd, got funding at a record valuation of $4.8 billion and Sharma zipped past Flipkart founders Sachin Bansal and Binny Bansal to become the richest Indian under 40 as his net worth soared 162% to Rs 7,300 crore.
Here's a round-up of all that kept the company in headlines this year.

Payments bank: Yet to take off
Sharma was one of 11 applicants to have secured the Reserve Bank of India's in-principle nod to set up a payments bank in August 2015. Sharma was initially confident of launching the bank by March 2016 but then postponed it to Diwali before missing the deadline again.
At one point, it did look like Paytm might become the first to roll out a payments bank. Expectations got a boost with former central banker Shinjini Kumar joining as CEO of Paytm payments bank. However, less than four months later, payments bank vice-president Vikas Purohit quit the firm.

In November, telecom operator Bharti Airtel pipped Paytm to launch India's first payments bank. Paytm doesn't want to give any timeline now—Sharma said last month he was working with the RBI on resolve the regulatory issues and that he was hopeful of launching the payments bank by January.
Alibaba: Talk of the town
In August, One97 created two separate entities—Paytm E-Commerce Pvt. Ltd and Paytm Payments Bank Ltd—to run its e-commerce and banking services, respectively. The marketplace is likely to help Chinese online retail giant Alibaba, the largest shareholder in One97, to make a direct entry into India's e-commerce market.

Alibaba was also the most important factor in Paytm's decision to merge its wallet and payments bank businesses to comply with the RBI's directions. The digital wallet will be transferred after Paytm gets regulatory approvals to start the payments bank.
The ownership structure of the new payments bank has raised many eyebrows, with several critics questioning the company's Chinese ownership. But Paytm—and Sharma—have been trying hard to position the company as Indian. NYSE-listed Alibaba Group Holding, along with its financial services arm Ant Financial, owns close to 41% in One97 following investments of $680 million, while Sharma holds 21%.
To allay concerns around the ownership of Paytm's payments bank, the company had maintained that Sharma will hold a majority share (51%) in Paytm payments bank as the bank licence was issued in his name. One97 Communications will hold the remaining stake (49%) while Alibaba's stake in One97 will be transferred to the e-commerce business.

Funding
For a company that raised $680 million in the previous year, the benchmark was set just way too high. However, Paytm still managed to raise $60 million at a valuation of $4.8 billion from Taiwanese chipmaker Mediatek's investment arm Mountain Capital LP, in a year that saw the well of funding run dry for most startups. What makes the fundraising interesting is that earlier this year Mediatek had backed Paytm's rival MobiKwik.
In addition, Sharma was recently in the news for selling 1% of his holding in One97 to raise nearly $48.1 million (Rs 325 crore).

Several media reports have said that the company is raising as much $350 million (Rs 2,350 crore) in a fresh round of funding, for which it has already received a commitment of $60 million (Rs 403 crore) from Mountain Capital.
Demonetisation
Without any doubt, 8 November 2016 will go down as a golden night in Paytm's history. When the entire nation was queuing up in front of ATMs, the digital wallet company was busy formulating its 'cash-less' business strategy to capitalise on this unexpected tailwind.

Thanks to the currency crunch, Paytm has seen its user base skyrocket to over 164 million customers in India. Nearly 40,000 merchants are signing up on the platform every day, and the company expects this number to hit 70,000 as it has been proactively rolling out new features.
Paytm has 15 lakh merchants on its platform and aims to grow the number 10-fold. To get these merchants on board across 680 Indian districts, Paytm is almost doubling its sales workforce to 20,000 people by the end of 2016.
Paytm is on its way to complete $2 billion in transactions this year. To keep pace with the spike in transactions, it has doubled server capacity by ordering 1,300 servers, to build a network that can support 10 million transactions a day.
Thanks to its enormous war chest, Paytm has a huge marketing budget. In 2015, the company spent nearly Rs 2,046 crore on acquiring customers, and it had set aside an additional Rs 500 crore for marketing spend for this year alone.
But high expenditure is burning a hole in its pocket. Paytm posted a net loss of Rs 1,548 crore in FY2016 on revenue of Rs 830 crore, and it's unlikely the tide will turn anytime soon.
Trademark tussle
The year would have been near-perfect for Paytm, if it wasn't for PayPal—a pioneer of online payment systems—accusing the Indian firm of infringing on its trademark. The US-based company filed a complaint in the Indian trademark office, claiming Paytm's logo was "deceptively and confusingly similar to PayPal's".
Paytm had filed an application for trademark rights in July 2012 and advertised it on 18 July this year, as required. Paypal filed its complaint on 18 November, the last day of the four-month period when the application could be opposed.
This minor hiccup aside, 2016 could prove to be an inflection point for Paytm's fortunes and set the stage for exponential growth in years to come.
---