Flipkart relying on fashion vertical to turn profitable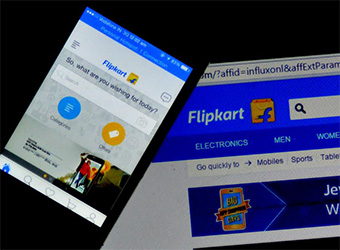 Online marketplace Flipkart expects its fashion business to turn profitable by the middle of next financial year, according to a report by a financial daily.
The company's chief executive officer Binny Bansal said that Flipkart Fashion would be profitable on EBIDTA level by FY2018, according to The Economic Times.
"We will be getting into fiscal year 2018 with a growth tailwind, while we entered FY17 with zero growth," the CEO was quoted as saying.

Flipkart Fashion includes Myntra and Jabong (which it had acquired for $70 million in July). It accounted for nearly a third of gross sales for the e-commerce firm in the September quarter.
Flipkart has also been increasing its focus on private labels, which offer higher margins. While e-tailers make gross margins of 35% to 45% on regular brands, it can be as high as 60% to 65% for private brands.
In July, Flipkart-owned Myntra bought a majority stake in fitness and sportswear brand HRX, launched by actor Hrithik Roshan, to boost its private labels business. Myntra owns 11 private labels, including Roadster, All About You, HRX, Wrogn, Anouk and Ether. Most of these private labels were launched in partnership with celebrities who co-own these brands. All About You is a tie-up with actor Deepika Padukone and Wrogn with cricketer Virat Kohli. Private labels accounted for 20% of the firm's gross sales in 2015.

The company would also be focusing on large appliances, and will invest in its groceries and furniture verticals.
Flipkart Pvt. Ltd, the Singapore-based holding company of India's largest e-commerce marketplace, reported a wider loss for 2015-16 as it spent more to hold off growing competition from the local unit of Amazon.com Inc. The company posted a net loss of Rs 5,768.8 crore for the year through March 2016, up 86% from a year earlier
It was reportedly in talks with Wal-Mart Stores Inc, the world's largest retailer and Canadian pension fund CPPIB. It was also looking to hire investment banks to raise funds.

Flipkart's biggest rival Amazon has also renewed its focus on the fashion sector. Earlier this month, the e-commerce giant launched its second in-house private fashion label, ethnic wear brand for women Myx. Prior to that, it launched its in-house private fashion label Symbol for men in September.
Meanwhile, Snapdeal chief executive Kunal Bahl had also said that the company would invest $100 million, the money saved by not buying Jabong, within a year to boost fashion retailing.
---