Vanguard slashes Ola's valuation by 41%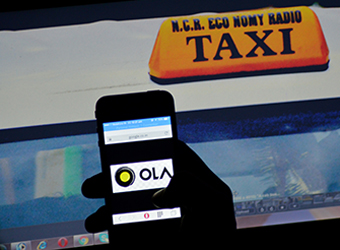 A mutual fund managed by US-based investment firm Vanguard Group has marked down the value of its stake in ANI Technologies Pvt Ltd, which operates cab-hailing app Ola, by 41%.
This brings down Ola's valuation to an estimated $3 billion compared with its peak valuation of $5 billion between April and November in 2015.
According to filings with the US Securities and Exchange Commission (SEC), Vanguard World Fund valued Ola shares it owns at $182.7 apiece as of 30 November 2016. This is down from $311.2 at the end of September 2016 by another Vanguard fund, Vanguard Variable Insurance Funds.

The mutual fund didn't specify any reason for the markdown. Ola did not reply to an email seeking comment.
The Vanguard World Fund, however, didn't change the value of shares it owns in e-commerce marketplace Flipkart.
The development was first reported by the Mint newspaper.

Vanguard Variable had reduced the value of Flipkart shares it owns to $68.7 apiece as of 30 September 2016 from $102.6 at the end of March 2016. The markdown had lowered Flipkart's valuation to $7.34 billion from $11 billion when the investment firm readjusted its Flipkart share values in March.
Vanguard is the second investor, after SoftBank Group Corp, to mark down the value of its investment in Ola. The Japanese telecom and Internet giant had marked down the value of its investments in Ola for the second time in November last year.
SoftBank reported a loss of ¥58.1 billion ($555 million) from its financial instruments for the six months through September 2016. This was due largely to a decline in the fair value of preferred stock investment including embedded derivatives investments in Ola and Jasper Infotech Pvt. Ltd, which operates online retailer Snapdeal. Of this, nearly half was booked as a loss due to the Japanese yen's rise against the rupee.

In the first quarter ended 30 June 2016 SoftBank had booked a loss of ¥30.2 billion ($295 million then) from the decline in the fair value of Snapdeal and Ola, mainly due to the yen's rise.
Vanguard's markdown comes at a time when Ola has been struggling with continuous top-level exits. Earlier this week, Techcircle.in reported that Ola was likely to see two top-level exits soon. According to multiple people aware of the development, Ola's chief marketing officer Raghuvesh Starup and chief financial officer Rajiv Bansal may leave the company.
This comes after Sundeep Sahni, a high-profile hire who headed its new initiatives, and head of luxury cab service Ola Lux Abhimanyu Rawal quit in December.

Last August, Ola shut its subsidiary TaxiForSure and fired around 1,000 people, which was exclusively reported by Techcircle.
---