How is Zomato's paid subscription programme faring?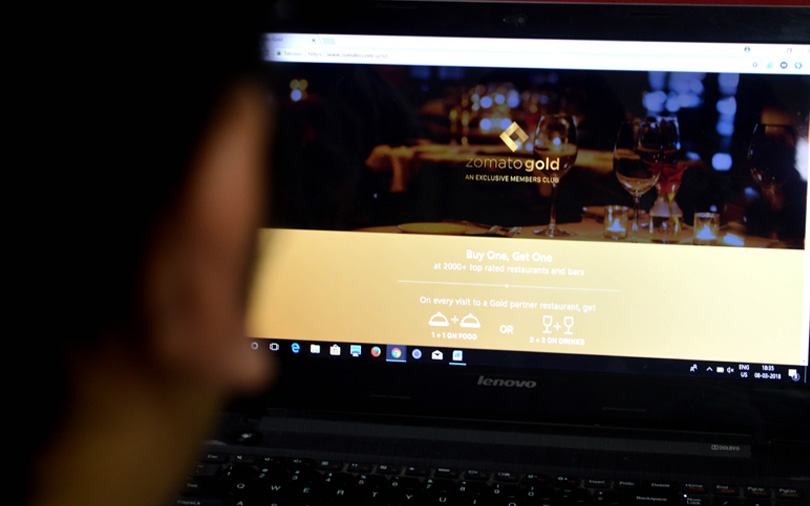 Zomato Gold, the paid subscription product from Zomato, has crossed 150,000 subscribers within three months of its launch, Deepinder Goyal, founder and chief executive of the company, said in a blog post on Thursday.
Goyal also hinted that the firm may increase the pricing of its subscription service. At the time of its launch in November last year, Zomato Gold was available for Rs 299 for a quarter and Rs 999 for a year with a limit of 10,000 subscribers.
"Eventually, the product pricing is 2.5x of the launch pricing, and the conversion rates on the plan page are still holding up (maybe there's still a tonne of room to increase pricing)," he wrote in the blog.

Zomato said it received an overwhelming response when it introduced the service. "We were expecting to sell 10,000 memberships over a week's time but sold multiple times more than that, in less than two days," Goyal said.
He attributed Zomato Gold's growth to word-of-mouth and referrals, with 40% of the total sales being driven by referrals. Incentives too boosted sales for the service. Restaurant partners on Zomato Gold saw a rise in new customers and improved customer loyalty. The service received more than 200 inbound requests per month from restaurant partners, Goyal wrote.
Subscribers to Zomato Gold can access complimentary food and drinks at over 1,200 top-rated restaurant partners. The service is available in Hyderabad, Pune, Delhi-NCR, Mumbai and Bengaluru.

Recent developments at Zomato
The online restaurant finder and food delivery platform recently saw its other co-founder, Pankaj Chaddah, resign from the firm after nearly 10 years. However, Chaddah will continue to serve on Zomato's board of directors.
Gurgaon-headquartered Zomato was founded in 2008 by IIT Delhi alumni Goyal and Chaddah, who were both executives at management consultancy firm Bain & Company.

In February, it raised $200 million (Rs 1,300 crore) from Chinese e-commerce giant Alibaba's payment affiliate, Alipay. The deal valued the firm at more than $1 billion. The transaction will see Info Edge, which owned a 45% stake in Zomato, reduce its holding in the firm to 31%. Alibaba is expected to own around 26% stake in the food ordering platform.
Zomato had narrowed its losses to Rs 389 crore in 2016-17 from Rs 590.1 crore the year before, according to the annual report of Info Edge. It had posted revenue of Rs 332.3 crore for 2016-17, up 80.6% from Rs 183.9 crore in the previous fiscal year.
---