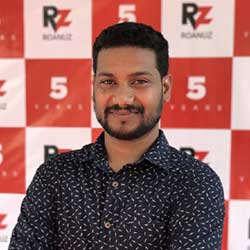 When will MS Dhoni play again? How many matches has South Africa won while playing at home? How many runs has Virat Kohli scored?
A Chennai-based startup has created an artificial intelligence-powered chatbot which it says can answer any query related to the sport.
Roanuz Softwares Pvt. Ltd has built an Application Programme Interface (API) - a set of tools that can be integrated into online platforms, apps or websites.
The company said that the bot can pull out answers from an exhaustive set of data on past and current matches, players and team statistics.
Apart from international matches since 2012, the data-intelligent API also covers the Indian Premier League, state T20 leagues and similar tournaments in Australia, the Caribbean, Pakistan, Bangladesh and Kenya.
Anto Binish Kaspar (in picture), the founder and chief executive officer of Roanuz. said the chatbot can communicate via both text and voice with almost instantaneous responses.
"This one-of-a-kind intelligent bot with analytical capabilities is taking around 1,500 milliseconds to respond at present, and this time is expected to dwindle to 300 milliseconds," he said.
The API has been fed with approximately 5 million records, with Kaspar saying his team has processed more than 1.2 million balls bowled.
In addition, there is also a Cricket Fantasy API aimed at developers of fantasy games, who will have access to a readymade dataset which can be subsequently integrated.
"With the right algorithms and tools, the [fantasy] game has the possibility to become a part of the sporting event itself,"said Kaspar.
---