CureFit revenue doubling every six months, monthly run rate $1 mn: Mukesh Bansal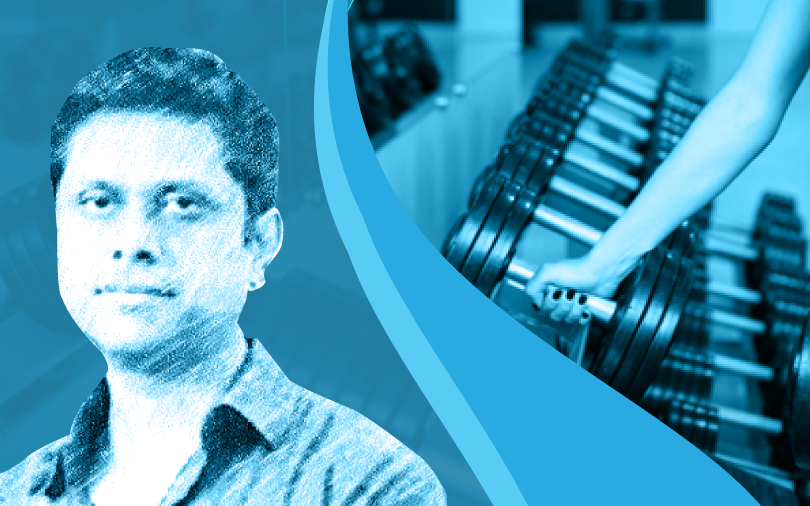 Mukesh Bansal can be counted among the poster boys of India's startup ecosystem. When Flipkart acquired his successful fashion portal Myntra for Rs 2,000 crore in 2014, it marked one of the few occasions a startup founder has exited on a high. A couple of years later, he teamed up with former Flipkart chief business officer Ankit Nagori to start health and fitness platform CureFit.
CureFit has had no trouble raising money. It counts leading venture capital firms such as Accel Partners, IDG Ventures, Kalaari Capital and UC-RNT Fund among its backers and secured $25 million last August in a Series B funding round.
In 2016-17, its first full year, CureFit posted net sales of Rs 3 crore ($460,000 at current exchange rates)and a net loss of six times the revenue.

In a telephonic interaction with TechCircle, Bansal charted CureFit's progress and talked about revenue streams. However, he cut short the interaction, saying he did not need to defend CureFit's performance. Here's the interview as it happened.
Could you give us an idea of CureFit's growth?
We are growing pretty fast with us [revenue] doubling every six months. Our revenue run rate is $1 million per month now and we are hopeful of keeping the same pace of growth.

We set out to build this integrated health platform covering all aspects of a healthy lifestyle including health foods, fitness and mental health. And the products are coming along nicely. We have reached 30 centres now and are opening one new centre every week.
Within the next 18 months, we will hit 100 centres and we are doing 5,000 food orders every day within six months. We will open one new kitchen every month. By this year end, we should touch 25,000 orders a day.
We have five MindFit centres now where there are five yoga and meditation centres. We have a library of meditation and yoga books. We have 1,000 daily active users for that. MindFit is only three months into it but has reached the product-market fit already. Our fourth product, CareFit, will be launched soon in April.

Do you have plans for acquisitions in the food space?
We are open to acquisitions. In the early days, we did a bunch of acquisitions to get started. We look actively at acquisitions even now. If we see good internet kitchen models, we will acquire them. We are very active in the NCR (national capital region) now and are looking out [for acquisitions].
Why have acquisitions been your primary strategy so early in the company's lifespan?

We were not acquiring big companies. For products we want to build, we look for the pieces.
For instance, when we acquired [fitness chain] Cult, it was just one centre. We acquired two kitchens. [B2B logistics startup] Opinio had decent delivery capabilities to get started. On the food delivery side, we did something as well to improve our delivery capabilities.
To build all of those things on our own we will take 12-18 months. We are able to get a head start here. Then we obviously integrate our products together and fine-tune the overall CureFit platform.

Do you have a logistics platform for your food delivery service now?
Yes, it is all tightly integrated now - well-oiled machinery. If you look at the CureFit app today, you can buy Cult membership and you can exercise at home through our do-it-yourself fitness videos. You can buy a one-off meal or subscription where healthy and tasty food reaches you every day.
The same [goes] for our MindFit product as well. On top of it, there is planning mechanism as well where you can track all your activities. You can integrate it with Google Fit or Fitbit app as well. We then get data from them and you will get a scorecard on that basis. There are other features on the way.

The idea is that CureFit app becomes one-stop-shop for all your health needs including fulfilment. It can be seamlessly integrated with all your health needs.
Do you have an overarching CureFit subscription?
No. The subscriptions are individual. But I think at some point we will integrate and have an all-encompassing subscription. It is some time away as we are yet to launch CareFit [for medical checkups].
Retention and renewal rates are among the biggest challenges the fitness industry faces globally. What is your take?
We have a class-booking model and people have to come to class every time they need to book something. We are tracking the users from the time they sign up to see what we can do to motivate them.
Retention is hovering around 75% now which is best-in-class even by global standards. The Cult is a phenomenon in Bengaluru and the engagement levels are quite high. Most of the Cult customers do 10-12 classes a month.
How many customers do you have in India? In how many cities are you operational?
We are present in Bengaluru primarily. Our Delhi-NCR operations are fairly new. During the first half of this year, we will focus on expanding our services in NCR. Our app downloads are around 250,000. Our monthly active customers are around 50,000.
Do you have enough liquidity for the year or will you be raising more money?
We are pretty sorted now. We have raised about $45 million in equity capital and $10 million in debt capital. Our fitness business is already cash positive. We don't need cash for at least the next two years.
Why did you raise debt capital when you already had a lot of cash?
Since we have offline capex at Cult, we felt debt is a much cheaper and better option compared to equity capital. You are not diluting anything. We want to build equity capital for overall platform and technology.
Is a major part of the money now being used to build offline business?
No. The major part is for building the brand and tech platform. The third biggest cost is offline, which is fully funded through debt.
What are the company's revenue streams?
It is equally from all platforms. Cult subscriptions, food subscriptions and MindFit subscriptions.
What is your current cash burn rate?
That I can't share.
Which segment do you see contributing significantly to revenue? Is offline the main revenue platform while online is more a social and interaction platform?
All the products will contribute significantly and revenue will grow as all products mature. Today, most of the revenue comes from food and fitness. We see ourselves as a true online-offline model.
All the purchases and engagement happen online. It is like an e-commerce firm where the order happens online and the product is delivered offline. We don't have any sales happening at Cult centres. We have a lot of content online. We will monetise that later on towards the end of this year.
You also have a logistics entity. What does it do?
It is a wholly owned subsidiary for food delivery.
Fitness as a whole is a crowded space. What exactly is your USP?
I don't know. I don't want to define what we are doing. You are asking a lot of leading questions and then attacking questions. I don't want to answer this question. It is up to you, whatever you feel like.
---