Funding roundup: Auto classifieds, logistics-tech account for half of deal value in subdued week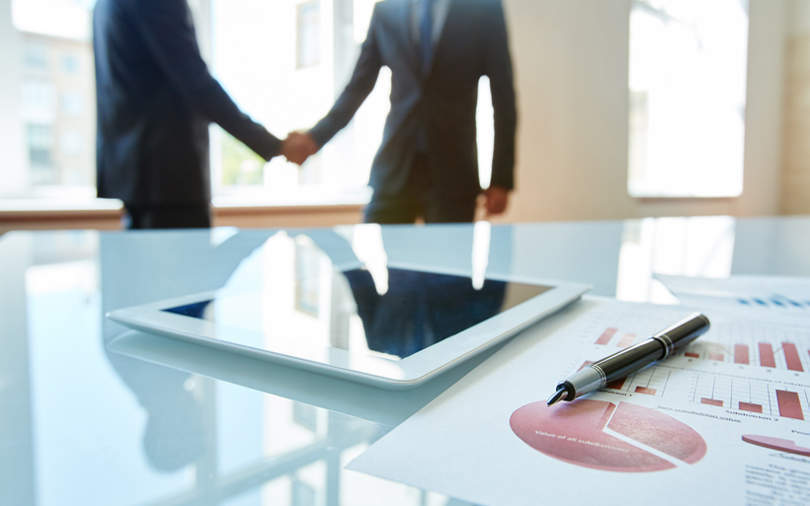 The value of startup-related deals declined further in the fourth week of May despite the volume going up, with no big-ticket transactions to speak of.
In all, around $37.31 million (including both equity and debt) was invested across 13 reported deals in comparison with the $256 million that was spread across nine deals last week. That said, SoftBank's investment of $200 million in online grocer Grofers accounted for the bulk of the deal value in that period.
While the deal value was undisclosed for three transactions this week, they were largely seed and angel-stage investments and so unlikely to push up the numbers significantly.

The auto classifieds and logistics-technology segment accounted for a little more than half the inflow of capital. The rest was spread across segments including urban mobility, co-working spaces and content platforms to name a few. There was an acquisition as well.
Among the standout deals this week was Swedish furniture giant IKEA's bet on online home decor startup Livspace.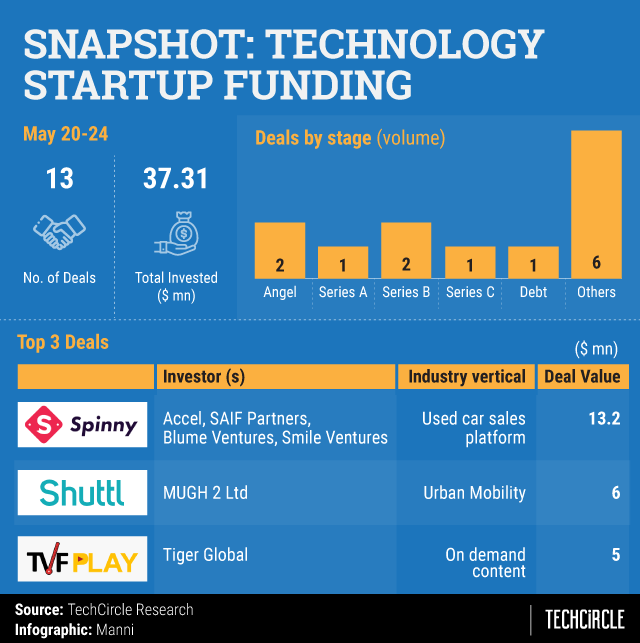 IKEA bets on Livspace
Bengaluru-based online home décor startup Livspace raised an undisclosed amount from Ingka Investments, the investment arm of the Ingka Group which owns and operates Swedish furniture giant IKEA. Media reports pegged the deal at $10-15 million.
Livspace has raised more than $100 million in external funding till date from investors such as Goldman Sachs Investment Partners, TPG Growth, Bessemer Venture Partners, Helion Venture Partners, Jungle Ventures, Trifecta Capital, and Brand Capital, among others.

IKEA, which has similar offerings, is renowned for its do-it-yourself" (DIY) assembly model. It opened its first store in India last year -- a 400,000 sq. ft facility in Hyderabad.
Spinny in the limelight
Gurugram-based Spinny, an online marketplace which specialises in used cars, raised $13.2 million (Rs 92.4 crore) in a Series A round of funding led by venture capital firms Accel and SAIF Partners.

Yellow Drive Technologies Pvt. Ltd, which operates the venture will use the fresh capital to strengthen its team across functions, improve inventory assortment and expand to newer locations.
Spinny offers doorstep delivery of used cars and helps arrange financing besides managing paperwork. In its current avatar, it operates on a full-stack dealership model, using technology to source and maintain inventory for its customers.
Spinny joins peers such as CarDekho.com, Truebil and Droom in tapping investors in the recent past.

Twin deals in logistics-tech
While BlackBuck stole the show earlier this month with a $150 million Series D round that took it to the cusp of unicorn status, smaller peers in the logistics-technology segment are also attracting investors.
LocoNav, which offers fleet management and vehicle tracking solutions, raised Rs 28 crore ($4 million) in a Series B round of funding from existing investor Sequoia Capital India. Founder Shridhar Gupta told TechCircle that the investment was part of a larger funding round in which new investors may also participate.

Likewise, logistics management startup Freight Tiger raised $2 million (Rs 14 crore at the current exchange rate) from Alsthom Industries Ltd, which is the cement grinding unit of Dalmia Bharat Cement Ltd (formerly Dalmia Cements Ltd).
Tiger Global in the mix again
Of late, funding highlights have been incomplete without Tiger Global being mentioned.
This week, the New York-based investment firm topped up its bet on Contagious Online Media Network Pvt. Ltd, which operates video content creator The Viral Fever (TVF).
Tiger Global put in another $5 million (around Rs 34.7 crore) to go with its infusion of $6 million (around Rs 41 crore then) last year. TVF creates content for its YouTube channel as well as for its own streaming platform, TVF Play.
Meanwhile, Fyle, another Tiger Global-backed firm, raised fresh funding as well.
New investor to board Shuttl
Shuttl, the intra-city bus aggregator backed by Amazon, has been raising funding at regular intervals since ending a prolonged lean streak.
This time, it will secure up to $6 million (Rs 42 crore) from an entity called MUGH 2 Ltd in what is likely part of the startup's ongoing $20 million round.
The latest tranche comes a little over a month after the Gurugram-based startup raised $5 million from new and existing investors.
Awfis' valuation touches $100 million
Delhi-based Awfis Space Solutions Pvt. Ltd, which offers shared working spaces, is now valued at $100 million after receiving a $3.59 million (Rs 25 crore) tranche from Sequoia India and The Three Sisters: Institutional Office (TTS:IO), the family office run by Radha, Raakhe and Roshini Rana Kapoor, the three daughters of Yes Bank founder and managing director Rana Kapoor.
The tranche was part of the $20 million Series C round it announced last August.
Other deals
Consolidation
Business software provider Freshworks, formerly Freshdesk, acquired Silicon Valley-headquartered Natero Inc., which offers artificial intelligence (AI)-powered customer success solutions. The value of the deal was not disclosed.
Natero's predictive analytics, customer intelligence and workflow management solutions will help Freshworks' customers generate actionable data to predict and prevent customer churn and increase account expansion.
Natero is at least the tenth acquisition for Freshworks. It is also the first acquisition since the software-as-a-service (SaaS) platform turned into a unicorn in July 2018, with backing from Accel, Sequoia Capital, and Google's venture arm Capital G.
---