With growth stage deals bumping up the funding numbers big time in recent weeks, its absence during the fourth week of July caused it to slide by almost one-fourth from the previous week.
As many as 19 deals were reported during July 22-26, and the investment was $116.66 million (Rs 804.63 crore at the current exchange rate).
A couple of significant ticket size deals managed to take the funding figures north of the $100-million mark. This was a sharp decline compared to last week where 18 deals brought in more than $400 million (Rs 2,754 crore when reported).
While only one growth stage deal was reported during the week, a larger share of the deals was spread mostly across early and Series-B stage. Even in the lone reported growth stage deal, the investment ticket size was not disclosed.
The dip in numbers could perhaps be attributed to just a one-off week and not the general funding sentiments prevailing in the ecosystem.
Funding was also spread across fewer sectors (11) compared to 18 sectors last week. Some deal volume and numbers in supply chain technology, fintech, edtech and EVs (electric vehicles), among others, was witnessed during the week.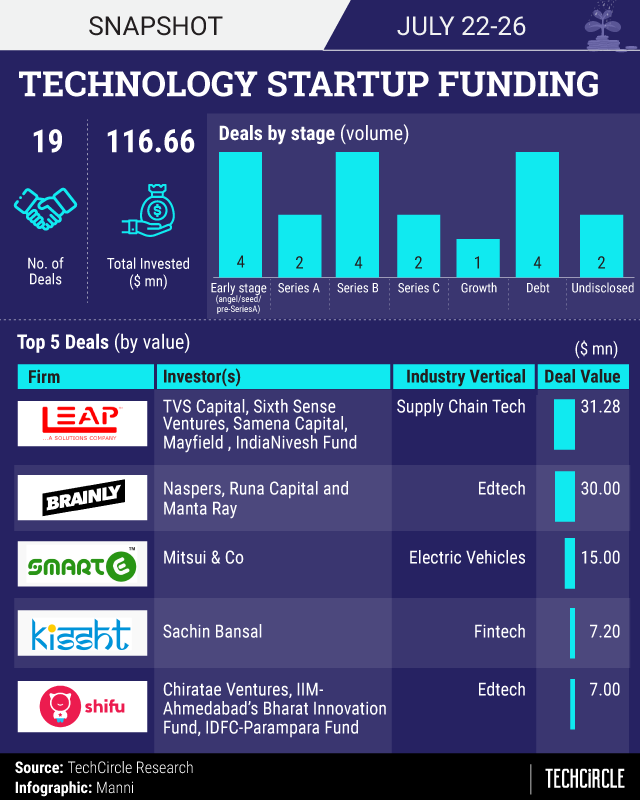 Deal of the week
Supply chain and logistics solutions provider LEAP India raised Rs 216 crore ($31.28 million at the current exchange rate) in its Series C round, media reports said, citing the company's founders.
TVS Capital, the private equity arm of Chennai-headquartered automotive major TVS Motors, led the round with a Rs 100 crore ($17.4 million) infusion. Existing investors Sixth Sense Ventures, Samena Capital, Mayfield and IndiaNivesh Fund also participated in the round. Techcircle had first reported TVS Capital's investment in June.
Founded in 2013, LEAP India's offerings span project, freight and logistics management as well as IT and consultation solutions.
Edtech gets close to $40 mn
Three edtech deals during the week brought in some good numbers in terms of investment deals.
The pick of the deal happened on the last day of the week when Poland-based community learning platform Brainly raised $30 million (around Rs 207 crore at the current exchange rate) in a round led by Naspers with participation from Runa Capital and Manta Ray.
The company, which has a presence in India among other geographies, will expand its reach in India and provide its services in local languages like Marathi, Gujarati, Bengali, Telugu and Punjabi.
India and US-based PlayShifu, which creates augmented reality-enabled interactive educational games for children, raised $7 million (around Rs 48.2 crore at the current exchange rate) in its Series A round of funding, led by Chiratae Ventures (formerly IDG Ventures India).
Earlier in the week, Vernacular competitive examination preparatory platform Pariksha raised $1 million (Rs 6.8 crore when reported) in a pre-Series A funding round from a group of investors including incubator and accelerator platform Venture Catalysts.
EVs, fintech play second fiddle
With the recently concluded budget placing a lot of emphasis on electric vehicles, there seems to be a renewed interest in the sector.
New Delhi-based Trade Mark of Treasure Vase Venture, which runs the electric vehicle startup SmartE, raised Rs 100 crore (around $15 million when reported) in Series-B from Japanese conglomerate Mitsui & Co.
Hyderabad-based electric tractor startup Cellestial E-Mobility raised $200,000 (Rs 1.37 crore when reported) from Singapore-based angel investor Meka Sudhakar Reddy.
Fintech, which has been receiving a marked investor interest over the last two years, saw six deals, raising $16.8 million.
Mumbai-based business-to-business (B2B) payments company PayMate raised an undisclosed amount of Series D funding from Visa, Recruit Strategic Partners and Brand Capital.
Flipkart co-founder Sachin Bansal, who has been pretty prolific in cutting cheques for both equity and debt deals, once again made news with debt investments in two fintech companies.
While he invested Rs 50 crore ($7.2 million when reported) in digital lending startup Kissht, Bansal invested Rs 25 crore ($3.6 million at the current exchange rate) in Bengaluru-based microlender Chaitanya India Fin Credit.
Turnaround for Snapdeal?
Snapdeal, which fell from grace after occupying the third spot in Indian ecommerce once, seems to be making the right noises.
After reporting improved numbers in its recently disclosed unaudited financials, the Gurugram-based ecommerce company bagged an undisclosed amount in investment from Anand Piramal, executive director of Piramal Group.
Other notable deals
Techcircle reported that Bengaluru-based Trak N Tell, which provides car safety solutions, raised $5 million (Rs 34.51 crore when reported) in a fresh funding infusion from WhatsApp co-founder Brian Acton, an existing investor.
New Delhi-based vernacular esports platform WinZO raised $5 million (Rs 34.5 crore when reported) in a Series A round, led by Kalaari Capital and chat app platform Hike India.
Bengaluru-based online classifieds platform Quikr India raised $3 million (Rs 20 crore at the current rate exchange rate) in venture debt from Trifecta Capital.
Singapore-based fintech startup soCash raised $6 million (Rs 41 crore at the current exchange rate) in its series B round, led by Japan-based automatic vending machine manufacturing company Glory.
Consolidation
The week saw two consolidation deals in the digital marketing and artificial intelligence (AI) conversational platforms.
AI-based conversational platform Haptik, majority-owned by Reliance Industries, acqui-hired Los Angeles-based AI startup Convrg.
The deal marks the launch of Haptik's dedicated full-time operations in the US. Convrg develops chatbots, and clients include Reddit, The GRAMMYs, Aveda, Shopify and Proactiv.
US-based digital solutions provider Terralogic Solutions acquired Bengaluru-based Lollypop Design Studio for an undisclosed amount.
Terralogic Solutions offers end-to-end solutions from product conceptualisation to product design, development, testing and taking the product to the market.
---