Does cloud kitchen FreshMenu have a Plan B?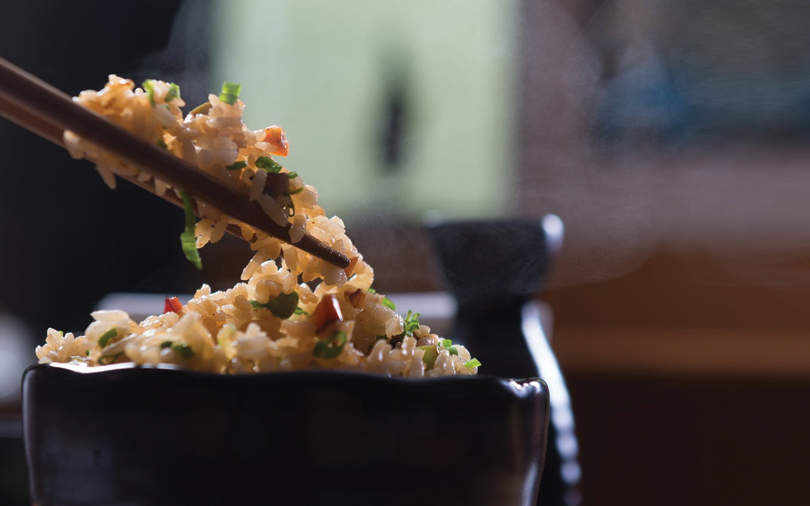 About six months ago, cloud kitchen FreshMenu, seemed to have found a way out of a prolonged funding crunch that had started to put pressure on operations. But, that may no longer hold true. Talks between Foodvista India, the company that owns FreshMenu, and SoftBank-backed budget stays aggregator OYO for a potential acquisition by the latter have collapsed due to disagreements over valuation, people privy to the development told TechCircle.
"OYO valued FreshMenu at around $30 million. That's just about the overall capital it has raised till date. With the liquidation preference, the founder (Rashmi Daga) wouldn't have gotten anything out of the deal. So, she refused to sign it and the deal is off," one of the people cited said, requesting anonymity.
Speculation about discussions between Bengaluru-based FreshMenu and Gurugram-based Oravel Stays surfaced early this year. In February, The Economic Times reported, citing unnamed sources, that OYO was in talks to acquire the startup for $50-60 million. The same month, Mint reported, also citing unnamed sources, that OYO was in talks to pick up a significant stake in the cloud kitchen startup. The report also said that venture capital firm Lightspeed Venture Partners, which is a common investor in FreshMenu and OYO, played a key role in getting the two companies to engage in discussions.

"Lightspeed was hoping to swap its stake in FreshMenu for additional shares in OYO," another person said, requesting anonymity.
Incidentally, even as the talks were on, OYO forayed into the online food business. The company launched two private labels, Adraq and O Biryani, via 20 cloud (delivery-only) kitchens in Mumbai and Delhi-NCR (National Capital Region) and partnerships with aggregator platforms Swiggy, Zomato and UberEats.
When contacted about the talks with FreshMenu being called off, an OYO spokesperson said the company did not comment on industry speculation. "As the largest hotel chain in India, operating franchised and leased assets, we do have an active play in the F&B (food and beverages) business with over 25% of our revenue coming through the kitchens we operate in our hotels and hence culinary design and good food experience are valuable to us. We have nothing further to announce at the moment," the spokesperson told TechCircle. The company also declined comment on its cloud kitchens strategy.

"It is important to understand that F&B is a vast category and has close linkages with the hospitality sector all over the world," K Ganesh, partner, GrowthStory, said. A venture building platform, GrowthStory wrote the first cheque for FreshMenu.
"They are big sectors and complement each other. Conversations do take place all the time with a variety of players within the ecosystem on various issues. This is only to be expected as they are all part of the same ecosystem," Ganesh added.
Detailed email queries to FreshMenu and its investors Lightspeed, Zodius Capital and GrowthStory did not elicit responses at the time of publishing of this story.

Apart from OYO, FreshMenu has also approached a host of players in the food-tech sector including Foodpanda, the food delivery platform owned by ride hailing unicorn Ola, and Rebel Foods, the cloud kitchens platform best known for its Faasos brand, to explore synergies or merger opportunities, a senior executive with a Bengaluru-based venture capital firm that has a few bets in the food-tech sector told TechCircle.
"They have also had multiple conversations with a number of venture capital funds and some of the top ecommerce players. None of these attempts have led to anything concrete due to the high valuation ask," he said, requesting not to be named.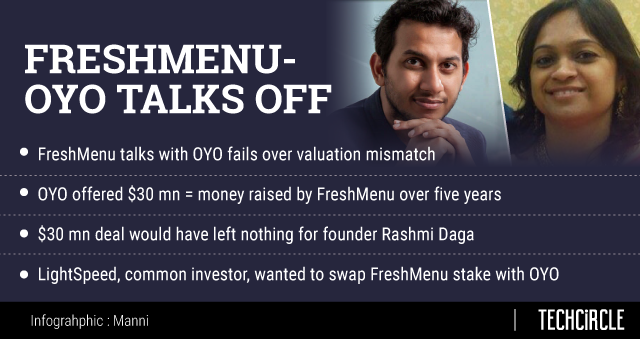 FreshMenu's bid to find a buyer comes in the wake of a nearly year-long campaign to raise a large funding round from new investors in the face of an intensely competitive environment in the cloud kitchens market.
The company, founded in 2014 by former Ola and TutorVista executive Rashmi Daga, got off to a promising start early in its life with a seed funding round from Growth Story founders Ganesh Krishnan and Srinivas Anumolu. In December 2014, Menlo Park, California-based Lightspeed, which invests here through its local arm Lightspeed India Partners, entered the company with a $5 million Series A round.
In January 2016, the company raised a $17 million Series B round led by Mumbai-based private equity firm Zodius Capital (now owned by Avendus Capital). Lightspeed participated in the round.

Since then, however, the cloud kitchen startup has struggled to find new investors. In January this year, TechCircle reported, citing filings with the Ministry of Corporate Affairs, that FreshMenu had raised around $3 million in a bridge funding round from Lightspeed, Zodius and Growth Story. Lightspeed contributed $1.64 million. By TechCircle's estimates, the round valued FreshMenu at $48 million.
The bridge round was a far cry from the big infusion it had hoped to garner. The Economic Times reported in October last year, citing unnamed sources, that the startup was in talks with private equity firms such as TPG Capital, Temasek Holdings, Kedaara Capital and General Atlantic to raise up to $75 million.
"There are basically two buckets of investors in this market. On the one hand you have growth investors who aren't too concerned about profitability at this stage of a company's growth, expect very high returns and therefore, take a longer term view. Then there are traditional private equity investors who seek lower returns and care about unit economics, profitability. When FreshMenu went out to raise a large funding round last year, it found that it was in neither of those buckets," said a top executive at a venture capital firm that makes early stage bets on consumer internet businesses. He requested not to be named.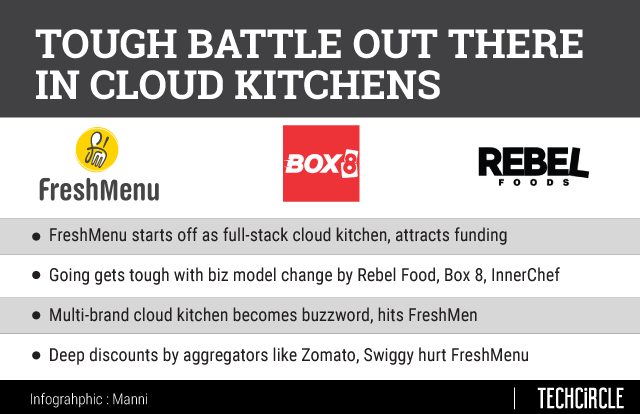 When FreshMenu started up about six years ago, it quickly broke into the ranks of the leading food-tech players in the market, chiefly on the back of its full-stack cloud kitchen model. It controlled the production and packaging of food at its centralised kitchens, took orders online and managed deliveries either through its own network or restaurant aggregator platforms such as Zomato and Swiggy.
However, as competition intensified among aggregator platforms leading to heavy discounting by such platforms, FreshMenu found itself in the cross-fire. "The aggregator platforms are distributors for FreshMenu. But, the heavy discounting on these aggregator platforms has driven down the average order value. FreshMenu has always had a premium position in terms of pricing and because of the discounting, prices have come under pressure. As a consequence, even as FreshMenu's volumes continued to grow, revenues were hit," said the early stage investor cited earlier.
To make matters worse, some of the heavily-funded aggregator platforms also started to enter the cloud kitchens business. FreshMenu rival Rebel Foods decided that the best strategy to hold its own against the aggregator platforms was to pivot to multi-brand cloud kitchens model. Others, such as Box8 and InnerChef, chose to take the same route. Unlike its rivals, as a single-brand cloud kitchen, FreshMenu had limited scope to counter the deep discounting practices employed by aggregator platforms.
As a consequence of all those factors, the startup's revenue growth has slowed down over the last couple of years. Revenue growth dropped 72% for the financial year ended March 2018 in comparison to a growth of 124% growth for the financial year ended March 2017. Meanwhile, rival Rebel Foods saw revenues jump 77.5% in FY2018 (at Rs 146.8 crore).
"FreshMenu missed revenue targets for two years, a period that has seen a massive flow of capital in the food-tech sector. Customers found similar options from other restaurants powered by discounts on Swiggy and Zomato which led to the slowdown in growth in orders and revenue," Satish Meena, senior forecast analyst with Forrester Research, said.
Meanwhile, the company's FY2018 losses also increased marginally to Rs 43.8 crore. Total expenditure increased to Rs 167.6 crore from Rs 118.3 crore in the previous year. The company is yet to announce its numbers for the financial year ended March 2019.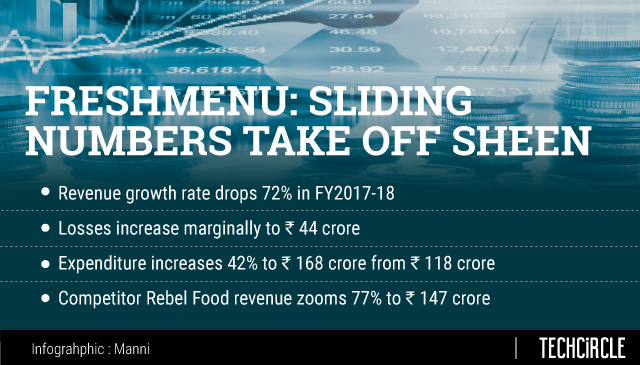 While a potential acquisition by OYO may no longer be on the table, FreshMenu may still have a chance at staying in the game if it is able to drum up investor interest for a reasonably large funding round.
Following the bridge round in January this year, the startup embarked on an aggressive cost cutting drive. "It has brought down its monthly cash burn rate to under Rs 1 crore in the last six months from over Rs 3 crore a year ago" said one of the people cited earlier.
"FreshMenu is currently developing new food brands, opening new locations and exploring other opportunities in the cloud kitchen space. The company's growth continues to mirror the overall growth in the online food market, and FreshMenu will be profitable from August onwards," GrowthStory's Ganesh said.
The startup currently operates about 40 kitchens across three cities - Bengaluru, Mumbai and Delhi NCR, clocking about 25,000 orders a day. However, the firm's reliance on aggregator platform remains a problem. Food delivery platforms Swiggy and Zomato account for about 25-30% of its overall order volume, several industry experts said.
It also seems to be moving away from its single-brand model and experimenting with private labels such as Masale Daan, an Indian meals brand, and Bottle Genie, a milkshakes brand. The company has also ventured into the ready-to-eat and marinated meat segment.
"About six months ago, we made a clear decision. We had to choose a path and we decided to focus on achieving break-even. We are now at that point. Operating burn has significantly come down and we will break-even in a month. At that point, we will certainly invest more in the company and we expect outside capital to come in," the early stage investor cited earlier said.
The next funding round will have to happen sooner than later.
Rival Rebel Foods raised $5 million from Indonesia-born ride hailing unicorn Go-Jek earlier this month. The infusion is part of the Mumbai-based company's larger ongoing Series D funding round. By TechCircle's estimates, the company raised this sum at a valuation of $373-$375 million (Rs 2574.36-Rs 2588.17 crore at current exchange rates). In March this year, the company had raised 110 crore ($15.8 million then) as part of its Series D round, led by existing investor Sequoia Capital India.
Box8, another cloud kitchen player, raised $15 million (about Rs 100 crore) in a Series C round led by Alibaba Group-backed technology vehicle eWTP Ecosystem Fund with participation from existing investors Mayfield and IIFL Seed Ventures fund. Gurgaon-based cloud kitchen provider InnerChef, that delivers ready-to-eat and ready-to-cook meals, raised $6.5 million in a pre-Series B round to expand its presence across India.
---