Why Lightbox bet on offline pharmacy chain Generico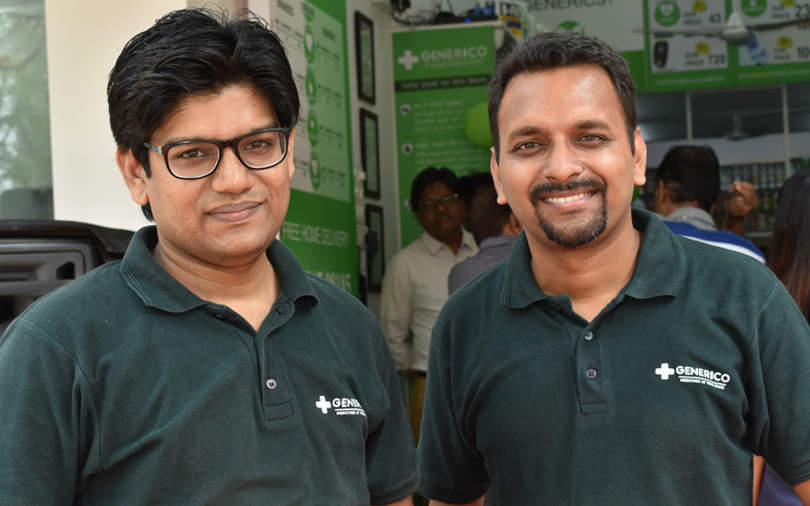 For venture capital firm Lightbox, its $14 million Series A bet on retail pharmacy chain Generico is in some ways reminiscent of one of its earliest investments -- cloud kitchen firm Rebel Foods. Generico, owned by Mumbai-based Workcell Solutions, is a predominantly offline business that the specialist technology investor believes will achieve non-linear scale by making technology intrinsic to its platform and offerings.
"We saw a similar story play out with Rebel Foods. When we first invested in Rebel, they operated 60 physical stores and nearly 100% of their revenues came from offline channels. We worked with them and they transformed their business to a point where 100% of their revenues now come from online channels, through their apps and cloud kitchen network," Lightbox managing partner Sandeep Murthy told TechCircle.
Known for the Faasos brand, Rebel Foods pivoted from a QSR (quick service restaurant) to a pure-play cloud kitchen and has since built 10 brands each serving different market segments. The pivot resonated with the market as well as investors. In August this year, it scored a big funding round from US-based hedge fund Coatue Management, Inodnesian ride hailing firm G0-Jek, among other investors.

Read: There's a lot cooking in cloud kitchens -- does Rebel Foods have the right recipe?
IIT Bombay alumni Siddharth Gadia and Girish Agarwal launched Generico in May 2017 with an aim to pass on the cost benefits of generic medicines to end consumers. The startup has since set up a network of 41 retail outlets with a special focus on customer education and awareness. Besides low-cost generic medicines, the startup offers a suite of preventive health services to help patients manage their chronic conditions.
"From the beginning, Generico has invested in building the backend technology to have systems and processes in place to manage inventory, predict demand correctly and many other tools to scale offline very effectively. If we apply that same thought process to preventive healthcare, starting by understanding some of the offline components, I think we will be able to put that back into a purely online business quite effectively," Murthy said.

Generico plans to foray into a slew of new territories including preventive healthcare, chronic disease management, self-help groups, patient counselling, wellness services and medicine deliveries. Over the course of time, the startup plans to reproduce these offline learning in an online setting to offer a comprehensive, technology driven healthcare system.
"Healthcare is about facilitating knowledge and information, building communities to help people manage their health effectively, and enabling access to the right types of practices and programmes to deal with various health conditions. These are some of the services that will come into an online environment. What order they come, we will figure it out in the coming years," he said.
Generico claims to be clocking nearly 200,00 transactions every month and has recorded gross sales of more than Rs 100 crore since launch.

The startup will use the fresh capital to build its tech platform to allow integration of more and more services into the system, expand its physical store network further and ramp up the online presence.
"We are now focusing on building a healthcare platform that enables people to be champions of their own health and lead healthier lives. We plan to open 150 stores in the next year in and around Mumbai. We are now designing multi-faceted personalized health programs that go beyond medicines into areas like diets, physical activity, mental health, etc.," co-founder Gadia wrote in a blog post.
From a company-owned, company-operated model, Generico has transformed into a master franchise business where the company controls the brand and technology while the franchisee owns the real estate and the front-end operations. Unlike other brick-and-mortar pharmacies, it doesn't stock any fast-moving consumer goods.

Lightbox, whose other known bets include vehicle marketplace Droom and online furniture rental startup Furlenco, recently closed its third India-focused fund at $209 million, slightly exceeding the final target it had set for the fund.
The fund, dubbed Lightbox Ventures III and registered in Mauritius, has invested in female wellness brand Nua apart from Generico.
Fund III takes the total capital raised by the firm, founded in early 2014 by Murthy, Sid Talwar and Prashant Mehta, to more than $400 million. This includes a $54 million expansion fund that the firm raised in 2016 to double down on investments in its existing portfolio.

Murthy is a veteran of India's venture capital market. Prior to starting up with Lightbox, he was a general partner at Sherpalo Ventures, a Silicon Valley-based venture capital firm backed by Google founding board member Ram Shriram. At Sherpalo, Murthy led India investments for the firm as well as for Kleiner Perkins, the iconic Valley-based venture capital firm.
In 2014, when both Sherpalo and Kleiner decided to exit the Indian market, Murthy teamed up with Talwar and Mehta to set up Lightbox. Talwar was a serial entrepreneur and prolific angel investor, while Mehta earlier led operations at technology companies such as Yahoo! and Komli Media.
The Lightbox team got off the ground by buying out part of Sherpalo's and Kleiner's India portfolio including startups such as MapMyIndia, Greendust and PayMate.

The firm now focuses on consumer technology businesses and has a portfolio of 16-odd companies.
---