In another busy week for dealmaking in India's technology sector, as many startups scooped up a total of $446.06 million (Rs 3102 crore) across 15 deals. New York based hedge fund Tiger Global Management made an appearance again, leading an investment round in home services marketplace UrbanClap. As many as three fintech firms raised fresh rounds of capital and early-growth-stage investor Norwest Venture Partners made an enterprise technology bet with MindTickle.
Overall, the $446.06 million invested this week was a big improvement from the $116.66 million that startups managed to shore up last week, despite a higher number of deals at 19.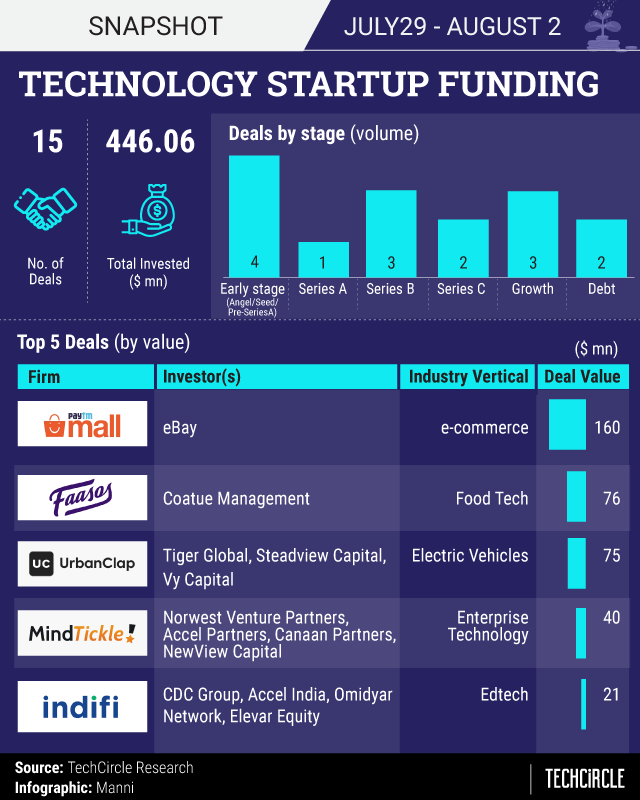 Not surprisingly, growth deals were again instrumental in propping up the investment numbers. Such deals accounted for nearly 70% of the total sum invested. In terms of sectors, funding activity was spread across 10 sectors, including ecommerce, home services, foodtech and fintech.
Rebel Foods scores a big one for standalone cloud kitchens
In welcome respite for standalone cloud kitchen players, Mumbai-based Rebel Foods, best known for its Faasos brand, found another deep-pocketed investor in US-based hedge fund Coatue Management. Coatue committed up to $76 million as part of the startup's ongoing Series D funding round. Multiple media reports said that Goldman Sachs may also join the round at some point.
The food-tech sector has lately become ultra competitive, especially for standalone cloud kitchen startups such as Rebel Foods who find themselves jostling for market share with deep-pocketed aggregator platforms such as Swiggy, Foodpanda and UberEats.
Rebel's Bengaluru-based rival FreshMenu hasn't been as lucky. TechCircle reported this week that talks between FreshMenu and budget hotels aggregator OYO for a potential acquisition have fallen through and the startup may have to go back to the drawing board to remain in the game.
Tiger Global takes a break from B2B
Tiger Global Management, the New York headquartered investment firm that wrote one of the earliest cheques for homegrown ecommerce giant Flipkart, has lately been active in this market with a flurry of B2B deals.
The firm broke pattern this week with an investment in the consumer internet sector, leading a $75 million growth funding round in home services marketplace UrbanClap. The round, which also saw participation from returning investors Steadview Capital and Vy Capital, will have primary and secondary components in the transaction.
Fintech remains investors' darling
The fintech sector saw significant deal activity with as many as five deals drawing close to $46 million (Rs 320 crore).
Enterprise technology bets
Two deals in the enterprise technology sector drew $58 million (Rs 404 crore) from investors.
Pune and San Francisco based sales enablement platform MindTickle raised $40 million in a Series C funding round led by Norwest Venture Partners. Incidentally, Norwest's latest bet in the space comes at a time when the firm is also selling off stakes in some of its older enterprise technology portfolio companies here. TechCircle reported this week that US-based secondaries specialist HarbourVest Partners in a $180-190 million secondary portfolio sale.
Another cross-border startup, Vymo, an app that helps field sales teams manage their work, raised $18 million in a Series B funding round led by venture capital firm Emergence Capital.
Other notable deals
Though US-based ecommerce marketplace Ebay had officially confirmed an investment in Paytm Mall, it did not disclose the investment size even as media reports unofficially pegged it anywhere between $150 -$200 million. The company's latest regulatory disclosures officially finally confirmed the deal size at $160 million.
Mumbai-based digital entertainment company Pocket Aces raised about $14.5 million from Sequoia Capital India, DSP Group, 3one4 Capital, and other investors.
Online grocery delivery platform BigBasket raised $14.6 million in debt from Trifecta Capital. The funds will be used to meet the working capital and capex requirements of the company.
Delhi-based community platform for home-hosted experiences MyScoot secured $1.7 million in a seed round from Lightspeed India Partners, Venture Highway and Mayfield India.
Consolidation
The week saw consolidation deals being struck across sectors that included IT services, design consultation, fintech and robotic process automation.
Tech Mahindra is acquiring US-based design consultancy firm Mad*Pow to ramp up its capabilities in customer experience and digital transformation. US-headquartered Fidelity National Information Services (FIS), which has innovation lab sales offices in India, announced the closing of its acquisition of payments firm Worldpay, thus creating a global behemoth in financial services. Hyderabad-based software services company Walking Tree Technology acquired Mumbai-based IT services firm Techease Systems.
---