Global research and advisory firm Gartner has identified hyperautomation as one of the top ten strategic technology trends for 2020. Business leaders are acknowledging this revolution and realising the sense of urgency among organisations and professionals to take note and act. In the real world, only a handful of organisations have embraced advanced automation as an enterprise-wide strategy. Will 2020 be the seminal year for businesses to tread this path?
Nine out of 10 CXOs I met in the past six months are expecting to significantly increase their use of intelligent automation over the next three years.
When that is the case, business and IT leaders need to move higher on their automation curve -- from basic adoption to full-intelligent automation -- and fast. But how?
Gartner's six levels of automation framework can be a good starting point. While specific to the supply chain, it applies to broader business.
The six levels can be viewed as a path for organisations to consider -- it will help them decide where they want to be on that scale -- both as an enterprise and in specific business processes. The phases gradually ramp up, starting with routine processes/functions that can be managed via intelligent automation of data-intensive and repetitive tasks that machines have proven to do better and faster than humans, then moving through stages by virtue of its intuitive and machine learning abilities, where the system gains more and more autonomy before it can become fully autonomous (or hyperautomated).
By analysing the results of the business and their core activities, leaders can determine how this automation should serve an intelligent enterprise and how they can move from just pockets of automation to an enterprise-wide approach. So, what are the six stages?
Level one starts with a basic form of automation: 'give me the facts', essentially asking the system to take general data around business areas like sales and production, and analyse it before presenting the results.
The second level, 'give me a suggestion', progresses features a bit further, with the system making recommendations from specific information, typically in the form of statistical forecasting.
Third, we have an initial level of the system thinking for itself where it starts to 'help me as I go'. Here, automated alerts add a level of advisory guidance to the user as they plan and execute tasks.
This then progresses on to the fourth level of 'do this task for me', where we rely on the system to take the information, make an assessment and then have the capacity, if told via an 'opt-in', to act on it. This could apply to tasks such as recommending the best approach.
Level five focuses on the system actually having responsibility to do a task, such as automatic reordering 'until it is told otherwise'. While at this fifth level there's still some dependence on human input, the final sixth level is far more sophisticated -- and that is the one that really pushes the envelope.
In the final sixth level, the systems use a mix of machine learning and advanced automation to display more human-like traits, so these systems can start thinking autonomously for themselves. An example of this would be the Oracle Autonomous Database -- it automatically tunes and optimises itself without human intervention. As a result, it is able to protect company data from both external attacks and malicious internal users, and from all downtime, including planned maintenance.
In fact, with the massive explosion in data, it is increasingly clear that some decisions can't be executed without automation, one IT head told me. For example, any kind of real-time, next best offer, next best action kind of cross-sell programs such as what advertisements appear on customers' screens, require execution in milliseconds. The human mind is incapable of mining data to serve this need -- only advanced automation can help.
And it is these benefits, i.e. those that directly impact profitability, that are likely to drive the rapid adoption of intelligent automation in 2020. As a result, it is hardly surprising that the number of companies describing their enterprise's use of AI and automation today as sophisticated and extensive, is limited. It could jump from just 10% now to well over 50% within three years, per Harvard Business Review's The Rise of Intelligent Automation survey, commissioned by Oracle.
To get there, a substantial amount of change needs to happen, spanning not just technology, but also skills, processes and culture in equal measure. The year 2020 will be key for companies to scale the hyperautomation curve to survive and succeed in the next decade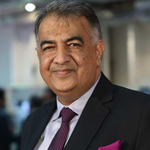 Shailender Kumar
---
Shailender Kumar is Regional Managing Director, Oracle India. The views in this article are his own.
---