FM announces food security measures, Rs 50 lakh medical cover as part of relief package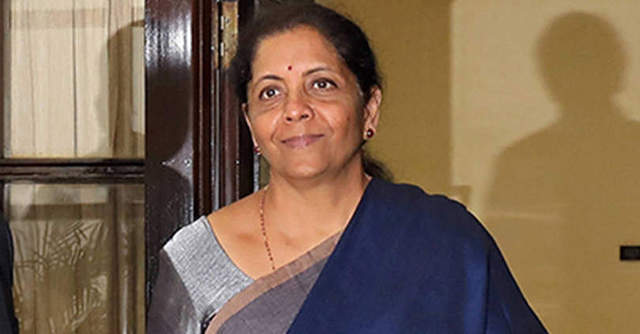 Finance minister Nirmala Sitharaman has announced a Rs 1,70,000 crore relief package for people from the economically weaker section.
The package is part of measures to be taken by the Economic Response Task Force, which was constituted by Prime Minister Narendra Modi on March 19 in view of the Covid-19 crisis and the subsequent lockdown.
The task force had on Tuesday announced an extension of deadlines for taxation and compliance for businesses, particularly micro, small and medium enterprises.

Sitharaman did not announce industry-specific relief packages, adding that details on those would be given out as and when the government agrees on them.
The highlights of the relief package announcement were:
Frontline medical workers, including paramedics, doctors, nurses, sanitation workers, technicians and accredited social health activists, will be eligible for a medical cover of Rs 50 lakh per person for a period of three months. Around 20 lakh employees will benefit from this scheme.
Beneficiaries under the Pradhan Mantri Garib Kalyan Yojana will get cash benefits and food security measures. While the food security measures are to be implemented with immediate effect, the cash transfer will be initiated from April 1.
As part of the Pradhan Mantri Garib Kalyan Anna Yojana, an additional five kilograms of rice or wheat will be provided per person for free for the next three months. This can be claimed in two installments. One kilogram of regional pulses will also be issued per family under the Public Distribution System. Close to 80 crore people will benefit from this.
As part of Pradhan Mantri Kisan Samman Nidhi, an advance of Rs 2,000 will be credited on or before April 1 to beneficiaries. To be clear, beneficiaries under the scheme are already eligible to get up to Rs 6,000 per year as minimum income support. This will benefit 8.69 crore farmers.
Under the Mahatma Gandhi National Rural Employment Guarantee Act (MNREGA), daily income has been increased from Rs 180 to Rs 202. This will benefit five crore people and will lead to an increased annual income of Rs 2,000 per individual. District magistrates can allow agriculture labourers to work during the lockdown, provided social distancing norms are followed.
Senior citizens, widows and differently abled people will be credited a one-time ex-gratia amount of Rs 1,000 over the next three month in two installments under the Direct Benefit Transfer scheme. This will benefit over three crore people.
Women with accounts under the Pradhan Mantri Jan Dhan Yojana will get an ex-gratia amount of Rs 500 per month for the next three months. This will benefit 20 crore women.
Under the Pradhan Mantri Ujjwala Yojana, 8.3 crore beneficiary below poverty line (BPL) families will be provided free cylinders for three months.
Under the Deen Dayal Upadhyaya Antyodaya Yojana, collateral-free loan amount will be doubled from Rs 10 lakh to Rs 20 lakh to benefit 63 lakh women's self help groups. This covers seven crore households.
In the organised sector, the government will pay the Employee Provident Fund contribution of employer and employee, which stands at cumulative 24%, for the next three months. This is for all establishments that have less than 100 employees, 90% of whom earn less than Rs 15,000 per month. This will benefit over four lakh employees.
Organised sector employees, who are a part of the EPFO, will be able to withdraw non-refundable advance of 75% of the amount for contingency expenditure or three months wages, whichever is lower. This will benefit 4.8 crore workers who are registered with the EPFO. Regulations will be amended to this effect.
State governments have been directed to utilise the Rs 31,000 crore fund for building and other construction workers, to help the sector from the economic disruption during the lockdown. This will cover 3.5 crore registered workers.
State governments have also been requested to utilise the District Mineral Fund to augment screening, testing and other activities related to medical attention in the current times.
---