On March 25, the day the nationwide lockdown came into force, grocery delivery startup Grocery Factory saw orders spike ten-fold. The startup, which operates only in Bengaluru, quickly got urban logistics services firm Mojro on board to put in place a tech stack to optimise its route and vehicle capacity and hired additional delivery staff to fulfil the uptick in orders.
Within the first 10 days of the lockdown, Grocery Factory processed about 25,000 orders in comparison to about 10,000 orders a month earlier.
The Bengaluru based startup's manufacturers-to-consumers (M2C) model enabled it to ensure uninterrupted supply of products while the optimisation, via Mojro, propelled its fully-owned, three-wheeler logistics fleet to 100% utilisation.
"We were never broken," co-founder and CEO B Karthik Shetty told TechCircle. "We had total control on our supply chain, logistics and last mile delivery. All our delivery executives are on our payroll. We made sure they stayed. The delivery vehicles are fully owned by us. We have direct connects with manufacturers, we didn't have middlemen. Since we own the product, we were able to control about 98% of the availability of inventory during lockdown, he said.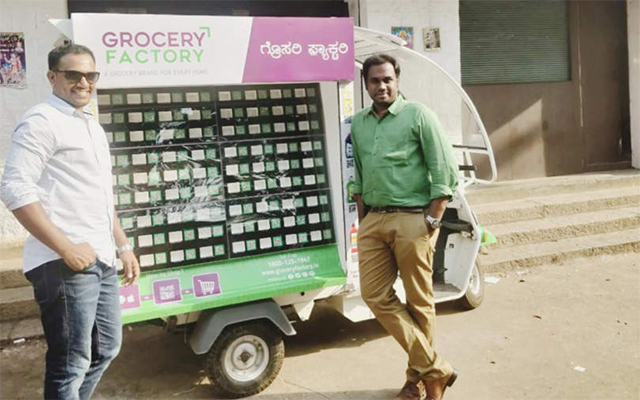 L to R: B Karthik Shetty, Arjun B Shetty, founders, Grocery Factory
Grocery Factory, a four year old hyperlocal delivery startup backed by a bunch of angels, is an exception in a sector that has seen some of the largest players stumble.
Following the imposition of the lockdown, the sudden surge in demand for essentials derailed supply chains and created a logistics nightmare for smaller, regional players and larger, pan-India retailers.
Category leaders BigBasket and Grofers and marketplaces Flipkart and Amazon continue to struggle with their last mile delivery more than 30 days into the lockdown. Once again, the Covid-19 crisis has proved that supply chain, logistics and last mile delivery are the vital cogs in the wheel for grocery delivery.
BigBasket CEO Hari Menon conceded in a series of tweets last week that though the company plans for demand three months in advance, has a warehouse capacity for two years, and has a strong supply chain infrastructure; the scarcity of on-ground staff broke its operations for days.
"A very large portion of our workforce left for their villages just prior to the lockdown. That was something we didn't anticipate, and which meant we couldn't pick orders and deliver them in sufficient numbers to satisfy the 3-6x increase in demand."
A very large portion of our workforce left for their villages just prior to the lockdown. That was something we didn't anticipate, and which meant we couldn't pick orders and deliver them in sufficient numbers to satisfy the 3-6x increase in demand.

— Hari Menon (@harimenon_bb) April 20, 2020
Even as some of the country's largest and most well funded players in the space struggle with operational complexities, grocery delivery has started to draw a new crop of players, some from completely unrelated fields of play.
The new entrants are an eclectic mix. There's food delivery unicorn Zomato, retail-tech firm Perpule, property classifieds startup NoBroker, digital payments firm BharatPe, logistics startup Shiprocket, bike-taxi Rapido, and health and fitness startup Cure.fit.
All of them are hoping to piggyback on the surging demand for essentials induced by the pandemic. Their playbook — the long-dead, classic hyper-local model.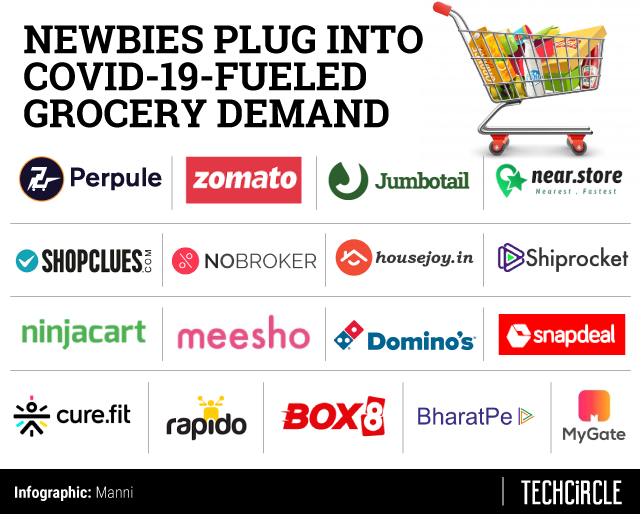 Not to be confused for an act of social responsibility during the pandemic, almost all of them see a long-term play here. Most of them do not store inventory, do not have direct contacts with OEMs, lack a reliable logistics system or do not own last-mile delivery infrastructure.
"For us, grocery delivery has always been on the long term radar since it fits into our vision of 'better food for more people'. Given the current need of our customers, we quickly sprung into action to serve. We collect the products directly from the store and deliver them to the customers," a Zomato spokesperson said in an email response to TechCircle queries.
While Alibaba-backed Zomato has the advantage of a well-established delivery fleet, most others depend on third-party delivery services or the kirana stores themselves for delivery. Given the history of the hyper-local delivery business in India, none of them would want to build an asset-heavy structure. They would rather ink partnerships with brands, kirana stores, housing societies, and apartment complexes to deliver in bulk or otherwise.
"This is a long term strategy as we broaden our stack to provide all modes of logistics on the platform. Hyperlocal deliveries will help us target local businesses who need logistics support, will boost omni-channel fulfilment for retailers and will help reduce overall time for delivery for orders within a certain radius of pick and drop," Saahil Goel, CEO and co-founder of Shiprocket said.
Naspers backed food delivery unicorn Swiggy has fast-tracked the rebanding of its hyperlocal delivery service Swiggy Go into Swiggy Genie and expanded its grocery and household essential services to over 125 cities in response to the rapidly growing demand post the lockdown. Swiggy Go, an instant pick up and drop service, was launched in September last year.
Responding to specific queries from TechCircle, Perpule, Jumbotail, Near.Store, NoBroker, HouseJoy, ShipRocket, and Rocket Delivery said they were in the hyperlocal grocery business for the long haul.
The prospects, to be fair, do look exciting at the moment.
Panic buying has led to high ticket sizes and the peculiar situation has forced people to accept increased delivery charges while customers are willing to manage expectations in terms of wait time.
The moot question, however, is will these newborn hyper-local businesses, currently operating sans inventories, supply chain or last mile delivery systems, be able to build a long term value proposition in this complex category?
"Grocery delivery doesn't make sense for most of them, because this is a momentary trend. Grocery is not the core business for them, so it becomes a hyperlocal game for most of them without any supply chain or last mile delivery system. We are going to see a replay of the 2014 hyperlocal hype," Karthik Shetty of Grocery Factory said.
The grocery delivery business is one of the toughest online retail segments despite being a bulk category and high repeat purchase rates. It works on wafer thin margins and therefore, is a volume play. With about 8-10% of operational costs besides marketing and manpower expenses, companies will have to target a minimum margin of 15% or burn cash and perish in the long term.
"Online grocery firms operate with a fixed cost base to maintain warehousing, delivery and technology infrastructure and also to fuel growth, significant costs have to be incurred for brand building and customer acquisition (CAC). With increased volumes and repeating customers, the fixed costs gets covered over time. But in the pursuit to keep growing exponentially and hence entering new markets and acquiring new customers, CAC and promotional schemes continues, keeping them in red. This will stabilize over time as it's a long-term game," Amit Nawka, executive director at PricewaterhouseCoopers India said.
For a hyperlocal platform depending on kirana stores for supply, the margin advantage is bleaker. The neighbourhood mom-and-pop stores who buy on credit and don't purchase in large bulk qualities, trade at a net margin of about 10-12%. They wouldn't be able to share much of it with another party in the supply chain.
"While some of them might find some success immediately because they are riding on this wave right now, will they operate at scale is the fundamental question," Nawka said.
Therefore, even with a delivery fleet, an inventory-less model is a risky bet in this category while the end-to-end grocery model makes it a deep-pocket game. Survival depends on their ability to stabilize supply chain and last mile delivery, and building a strong warchest to fight the advances from large and heavily funded players. Even established players such as BigBakset and Grofers are still trying to figure out ways to deliver faster.
Fresh fruits and vegetables is another beast of a category, the supply chain and logistic complexities of which are far from being comprehended. Post lockdown, ticket sizes will drop and customers will expect faster deliveries. Customers wouldn't want to wait for days to get their grocery when the restrictions are lifted, which necessitates building a controlled supply chain to ensure faster delivery. The nature of many of the pandemic-prompted business partnerships may change when normalcy returns. Some of the delivery services are likely to go back to their core businesses when business picks up post lockdown.
"In the short-term, what is crucial for early stage companies is that they have a sustainable and differentiated business model coupled with a strong back-end supply chain. Order fulfilment and last mile delivery will continue to be key drivers of success in grocery sales." said Harsha Razdan, partner and head, consumer markets and internet business at KPMG in India.
The consulting firm expects the shift to online to stay in the mid-to long term, expanding the market deeper and wider.
"New entrants should regularly monitor and review their positions so as to streamline their financial arrangements, whenever required," Razdan added.
Various market estimates have pegged the food and grocery retail market in India at $500-$600 billion, of which online retail accounts for a miniscule 0.5% contribution or less. Market availability is humongous and the online grocers are growing in excess of 20-25% quarter-on-quarter. The pandemic and the resultant lockdown is changing customer behaviour and purchasing patterns.
"What demonetization did to online payments, Covid-19 is likely to do online retail. Online grocers are gaining a lot of organic traffic without any customer acquisition cost and average revenue per order is much higher. People now see the benefit of it. The number of active users is going up sharply. There could be a correction, but it's not going to fall dramatically after lockdown." If the online grocery market size grows by 0.2-0.5%, that's a huge market in India," PwC's Amit Nawka said.
Finally, will venture capital investors place bets on this massive market opportunity and changing customer behaviour and back many more players? Possibly no.
Unlike its size and latent demand, online grocery as a segment has not seen a lot of investments in India. The top two players in the space -- BigBasket and Grofers -- have together raised over $1.2 billion since inception, which is relatively conservative in the context of the potential opportunity.
There have also been a number casualties in the sector. Companies such as ZopNow, PepperTap, LocalBanya, and Doodhwala offer relevant case studies to investors in terms of models that have not worked. Ola had shut down its grocery delivery service Ola Store while e-commerce giants Flipkart and Alibaba-backed Paytm had to shutter their first attempts at grocery delivery before relaunching later.
"Clearly because of the sudden demand uplift of groceries, multiple players have tried to experiment and fill the gap. I do not think they will all be long term players… Once the pandemic situation improves, many of the players who were naturally geared to get into an adjacent sector will go back to what they were doing… Non-grocery companies cannot suddenly transform to grocery because of Covid-19," Aakash Goel, partner at venture debt firm Trifecta Capital said.
"I do not think long-term oriented VCs will get swayed by numbers approved over two months. There has to be some thought process and vision and some strong execution on the ground. This is just tactical. I would be surprised this addition of business can get venture capitalists attracted. There are five sectors which have seen some uplift in demand such as grocery, pharmacy, online education, remote collaboration, and gaming. VCs with some dry powder may continue to look at them because these sectors have seen a surge in demand and are beating their projections," he added.
---