How an app made Apollo Hospitals' IT spends count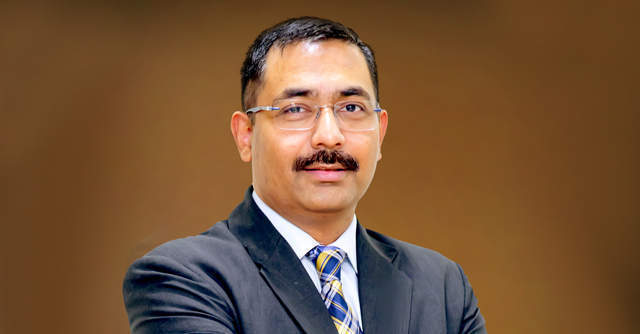 Technology spending is still low in India's healthcare industry. It crossed the $1-billion mark annually only in 2014 as hospitals and large networks of clinics began to outsource IT (information technology) spending. But if there was one year for the private healthcare sector to understand the value of increased spending on technology, it was the year 2020.
That's what Apollo Hospitals discovered as it upgraded its AskApollo app to evolve into Apollo 24/7, and cater to different constituencies of patients who could not commute because of the three-month lockdown. The pandemic led to a behavioural change in not just patients and their families, but the medical staff and Apollo Hospitals' 350-member IT organisation.
"Pick up the vehicle and go to the hospital—that's how people typically look at healthcare," says Arvind Sivaramakrishnan, group chief information officer (CIO) of Apollo Hospitals Enterprise. The private healthcare company generated revenue of Rs 11,247 crore in 2019-20.

"But here, there was no question of going anywhere. It was about how do we take that patient population who are used to providing care in hospital, and provide them with an alternative form of healthcare?" Sivaramakrishnan explains.
Enter Apollo 24/7, the omni-channel online platform of Apollo Hospitals Enterprise. As of 30 November 2020, more than 4,600 of Apollo Hospitals' doctors completed 230,000 online consults on the app. It has 5 million registrations, according to an investor presentation dated January 2021.

The healthcare company has 71 hospitals across the country, and 10,261 beds (the largest private player in India). Apollo Hospitals also has 200 clinics, and a doctor count of 11,000, according to its 2019-20 annual report.
As the pandemic set in, Apollo had to create additional isolation centres across its physical infrastructure, while catering to the existing base of patients.
INSTANT OUTREACH

"The first step was obviously to reach out to the patients," recalls Sivaramakrishnan. It meant bringing to bear its CRM tool, and putting a patient connection to work. Most of the doctors and clinicians had been trained in this respect to educate patients' relatives and orient them on how they can use the remote solutions. "While all of us have used chat and messenger applications, using it in the context of receiving and providing healthcare is something most people are unfamiliar with," Sivaramakrishnan says.
Internally, it was about orienting the care providers on how to provide healthcare with regular flow of patients happening through an app. "Earlier, the app-based patients were additional to the majority who came to hospital. Now, it was the opposite," Sivaramakrishnan notes. "The Apollo 24/7 app was a major conduit for us to enable (healthcare across) various formats."
Throughout this experience, Apollo Hospitals' CIO office didn't have to alter its priorities at all. "A CIOs' job was reiterated by the whole activity," Sivaramakrishnan says. "It wasn't relegated to providing solutions but was based on partnerships with business on the quantum of effectiveness. This part gets underscored. It doesn't get noticed (in normal times), but that doesn't mean it didn't exist before Covid."

Apollo Hospitals' core technology team comprises 350-odd employees, but it is complemented by a slew of vendor relationships. IT services is typically the biggest chunk of private hospital networks' IT spends.
Apollo's partner is DXC Technologies for IT application services. It has carved relationships with Microsoft on the entire cloud offering, Oracle for database, ERP and human capital management, Fortinet for networking gear, PwC for ERP-related IT services, and EY for security-related IT services.
"We work on outcome-based partnerships," Sivaramakrishnan asserts. "They are the experts—I am not going to dictate terms to the experts. I will define the outcome, and they can choose the number of people required for it. It is not a body count conversation. This has to be an outcome-based conversation where the partners see what we are trying to achieve," he explains.

Over the years, the core technology team has put the governance and execution layer in place for most of its 68,000 employees to be familiar with technology applications. This involved constantly working with the business and clinical teams in augmenting business practices and workflows, as technology ran the healthcare ecosystem.
That's why when the lockdown began, Apollo's checklist formats were ready.
If there were patients who had had surgeries a few days before the lockdown, a team quickly segregated patients who needed follow up, from the patients who were on continuous healthcare programmes in specialties like oncology and neurosciences, or kidney surgery patients who needed dialysis. Preference was given to patients who were about to go into surgery. After these constituencies, Apollo began to reach out to the regular care patients like those in diabetes care.

PHYSICAL REALITY
"It was easier for us to make that shift," Sivaramakrishnan says. "More usage, more adoption, and more realisation of what we had done, and moving to better levels of maturity. It was easier to go on improvements, be more proactive, get to higher levels of efficiency than experiment anything. We were not in any experiment mode. We were in execution mode."
Meanwhile, in hospitals, there was the growing need to have safe isolation centres. "Covid-19 is an infection that spreads by contact. So how do we ensure that we can do this in an effective way by minimising contact. It meant maximising any kind of computing equipment—the traditional way or using mobility."
If the IT team was creating additional capacity (centres and makeshift ICU beds) traditionally, it would have been in a high-touch environment. Now, it had to be a high-tech environment to minimise contact and touch.
For this, the team ensured the isolation centres had cameras for continuous monitoring without increasing people in the centres. Even the healthcare staff have to be protected because of the nature of the infection. There was a sudden spurt of activity on this requirement across its hospital chain.
During the lockdown, the core technology team worked in hospital branches. The teams take care of IT operations in every hospital, with business and IT coordinators across every business unit.
This entails technology touching horizontal core functions, such as operations, supply chain, finance, HR, and so on, as well as verticals in terms of each specific function: in-patient care, outpatient care, emergency care, ICU, apart from departments like oncology and cardiology.
The organisational culture is vital, says Sivaramakrishnan. It has to be based on outcomes like clinical quality and excellence. "The IT budgets work based on desired outcomes and how to make that outcome sustainable and part of the organisational DNA," he adds.
In terms of patient experience, this was tackled by digitally-enabling patients, family, care providers, and administrative staff. But while the patient is one important part of the healthcare equation, all actors have to be in sync and enabled in terms of experience, quality, and patient-care standards.
This is where Apollo continues to develop predictive and prescriptive algorithms, check lists, machine learning, and balance score cards.
This can lead to improved speed to diagnosis and care pathway. Time to clinical engagement can drastically reduce, and care outcomes can be measured.
The Apollo experience is a use case in digital transformation, which is expected to be the buzzword in India across sectors for 2021. Technology advisory Gartner estimates the IT market in India will expand to nearly $82 billion this year. "The pandemic provided an opportunity for Indian CIOs to test long-pending projects such as remote working, which delivered on-promise for many enterprises and helped them stay afloat in the most testing times," Arup Roy, research vice president at Gartner, said.
The spends in healthcare have to follow suit to be best prepared for any contingency.
---