Agritech startups Crofarm, Clover are making a bid to disrupt the online grocery business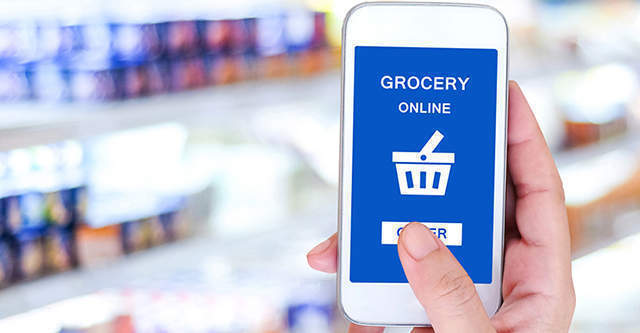 About 12 months ago, when Crofarm decided to foray into online groceries with an app called Otipy -- acronym for onion, tomato and potato -- co-founder and CEO Varun Khurana found himself on familiar ground. As former CTO of Grofers, Khurana was well acquainted with the business and he had the perfect launchpad in Crofarm's B2B platform, which already connected scores of farmers with retailers.
The catalyst for the foray into the B2C online grocery business was the pandemic.
In March last year, when the COVID-19 pandemic was just beginning to disrupt daily life in the country, Khurana and his team saw an opportunity to connect Crofarm's network of 15,000-20,000 farmers directly with consumers. Otipy, the farm-to-fork online grocery app, started with a 100 orders in Gurugram and now processes at least 6,000 orders a day, mostly in the National Capital Region (NCR).

The app claims to make the farm-to-fork journey for chemical-free fresh vegetables and fruits happen "within 24 hours (sometimes less than 12 hours."
"For all practical purposes, Otipy is recognized as a brand that is known for freshness," Khurana told TechCircle.
From serving over 50,000 consumers in the initial days, Otipy now services about 3 lakh consumers. The reseller network, mainly comprising women who use mediums such as WhatsApp to sell to consumers, is at about 4,000 partners in less than a year. Several of the resellers, Khurana said, earn as much as Rs 75,000 a month. The resellers are paid on a weekly basis, he added.

Khurana claims that Otipy currently operates at a 35% gross margin. "35% gets better with scale and as we go deeper into select commodities," he said.
Otipy isn't the only recent entrant to the booming online grocery business in India. Noida born Satoguni Swadeshi Utpaad, founded by travel and tourism industry veteran Vikal Kulshreshtha, launched Farmers Family in August last year.
Like Otipy, Farmers Family sources fresh fruits and vegetables from a network of 80-odd farmers, half a dozen polyhouses -- greenhouses where plants grow under controlled climate conditions -- and 2,000 bigha of farming land and caters to consumers in NCR. It claims to currently supply fresh groceries to 18,000 families in 15 shortlisted residential complexes in Noida.

"Most of the startups that are now taking shape, they work on the various aspects of agritech farming. Few look after post harvest, few look after post harvest, in between they also supply on supply, delivery, management of crop or land. But in supply line management, I think there are very few who work on a B2C model. And then there are fewer players who focus on the health of vegetables," Kulshrestha told TechCircle.
The most recent entrant is Bengaluru-based Clover Ventures.
The erstwhile B2B-only startup launched what it dubs its D2C brand, Deep Rooted.Co, last Thursday. With over 80 SKUs across six categories of fruits and vegetables in supplies to Bengaluru and neighbouring city Hyderabad, the startup aims to shorten the harvest-to-home cycle to less than 24 hours.

The startup took nearly a year to formulate its D2C approach in a highly perishable goods industry. In the next 12-18 months, it aims at a cluster-based expansion strategy to enter Chennai, Pune and Mumbai.
Citing a "consumer demand-led cultivation" process, Deep Rooted.Co will follow an omni-channel strategy, as per a statement from the company on the launch. "Consumers will get consistent access to zero-contamination, high-quality fruits and vegetables while farmers can experience up to a 3X increase in yield and income improvements," co-founder Avinash BR said.
In its primary B2B line of business, Clover has so far supplied its produce to 90 customers in over 175 locations based in Bengaluru and Hyderabad.

"We see that consumers are slowly reverting back to the pre-Covid preference of having the option to shop at neighbourhood kiranas and modern trade stores. Deep Rooted.Co will invest in growing its distribution from the current 150 modern trade and neighbourhood stores across Bangalore and Hyderabad to 500 and brand build to aggregate demand over multiple channels, including online via our own consumer app and web e-commerce presence," BR added.
Terming the Deep Rooted.Co mobile app a natural progression, the company said it currently aims for upwards of 90,000 app downloads by the end of 2021.
Otipy, Farmers Family and Clover enter the online grocery market at a time when the segment finds itself at a tipping point. The business got a massive shot in the arm during the pandemic when the country retreated into a prolonged lockdown and online grocery platforms saw revenues swell from unprecedented demand.

A RedSeer report in November 2020 said the online groceries market was expected to touch a gross merchandise value (GMV) of over $3 billion in 2020. The report projected a CAGR of nearly 60% for online groceries in the lead up to 2024, taking the segment past $18 billion GMV.
For market leaders Grofers, owned by Singapore based Grofers International, and BigBasket, owned by Bengaluru based SuperMarket Grocery Supplies, the growth momentum during the pandemic has turned the online grocery business into a much higher stakes game, both for the companies and the posse of private equity investors backing them. Post pandemic, different strategies have emerged to make the most of the exploding opportunity.
Grofers, which is backed by investors such as SoftBank Group Corp, Tiger Global Management, and Sequoia Capital India, has drawn up plans to go public. In September 2020, Grofers co-founder and CEO Albinder Dhindsa told TechCircle that the company's path to profitability had accelerated during the year's lockdowns. "... and after achieving operational profitability in January, we are on track to become EBITDA and cash positive by the end of this year. We are observing market sentiments and aim to hit the capital market by the end of 2021," he had said.
BigBasket, which counts Alibaba Ecommerce, Bessemer Venture Partners, and Abraaj Capital among its backers, has been less articulate about its gameplan ahead. In March 2020, Business Standard reported, citing co-founder Hari Menon, that the company would go public in 2023. Meanwhile, according to multiple media reports, the diversified Tata Group is picking up a 68% stake in the company for $1.3 billion (Rs 9,500 crore). The deal will create an exit for BigBasket's largest shareholder, Alibaba E-commerce. The Hangzhou, China based entity held a 16.45% stake in the company at the time of reporting financials for the year ended March 2020. Additionally, Dubai, United Arab Emirates based private equity firm Abraaj Group held a 15.02% stake then.
Both Grofers and BigBasket, India's largest e-grocers by market share, run farmer sourcing networks at the companies. BigBasket operates a back-end farmer supply chain programme called Farmer Connect, which it launched in 2016. It has close to 20,000 farmers active today, BigBasket cofounder Vipul Parekh said.
The upswing in the online grocery business has also prompted horizontal superapp operators such as Flipkart and Amazon to scale up their plans in this space. However, the plans are yet to take off.
During the early lockdown days of 2020, the supply chains of both Amazon and Flipkart froze for days, in their grocery and other sides of ecommerce categories alike. The grocery categories go by brands of Amazon Pantry, Amazon Fresh, and Flipkart Grocery.
In terms of a pure-play farm-to-fork model, Flipkart has attempted a shot, more than once. Last year, several months after it registered FarmerMart, the Department for Promotion of Industry and Internal Trade (DPIIT) turned down its license application for the same. The company was last said to be evaluating options to re-apply. There have since been no updates on FarmerMart, a company spokesperson told TechCircle.
FarmerMart was the company's second attempt to enter the fresh produce market as part of a larger grocery delivery play through its Supermart vertical, which was launched in August 2018. Before it was acquired by Walmart, Flipkart ran a grocery delivering pilot called Nearby in 2015.
Read: What Flipkart is up against in India's competitive hyperlocal grocery market
Meanwhile, Amazon's exploits with the farm-to-fork model extends to its Amazon Retail India subsidiary, through which it offers a selection of fresh fruits and vegetables to customers in two-hour time periods. "We are engaging with farmers and government bodies to develop a sustainable farm to fork model by investing in technology," a spokesperson told TechCircle.
Requests for comments on which cities are covered under the service, farmers on the network, type of cultivation, land capacity, supply chain mechanism, and the mentioned technology investment were declined. The entity, Amazon Retail India, had received a food retail trading license in 2017, the spokesperson added.
Farm-to-fork grocery players such as Otipy and Clover have a head start for now in the fresh produce space. Their edge lies in their ability to draw on B2B supply chains that they have built over the past several years to feed the B2C foray. However, as and when the larger players firm up their own strategy for this segment of the online grocery business, as with most B2C businesses, capital will become a key factor in scaling these businesses enough to compete with those players.
Clover has raised a total of $7.57 million so far from investors such as Alteria Capital, Accel India, Omnivore, and Mayfield India. It last raised about $922,500 in venture debt from Alteria Capital, early 2020. Otipy parent Crofarm Agriproducts last raised $136,700 from Pravega Ventures in January 2021, as per VCCEdge data. It has raised a total of $4.04 million so far.
---