LeadSquared CEO on US market push, new growth sectors and doubling revenues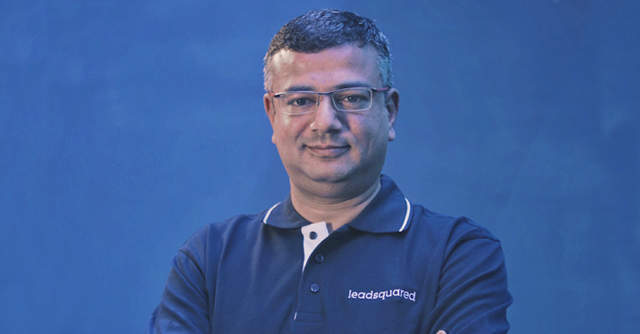 Gaja Capital backed sales automation platform Leadsquared will nearly double its workforce by December this year as it chases aggressive revenue targets on the back of a push into the US market, co-founder and CEO Nilesh Patel told TechCircle. The Bengaluru based SaaS startup expects COVID-19 driven digital transformation imperatives to bring in clients from sectors such as edtech, insurance, and new-age fintech and financial services, among others.
Until a few years back, North America was unchartered territory for the company. Unlike a majority of India-born SaaS companies that sell to the North American market for dollar revenues and the faster adoption of technology, LeadSquared started by targeting B2B and B2C customers in India.
The plan now is to grow the market in North America by hiring field sales personnel, Patel said. The market already contributes around 20% of its revenues. "We are looking to hire field staff for the US market and continue to hire aggressively in India. From around 320 last December, we will be growing to 650-plus by December 2021," Patel said.

Patel, along with Prashant Singh and Sudhakar Gorti, incorporated LeadSquared parent MarketXpander Services in 2013, a year and half after working on pinning down the product they thought customers wanted.
"We realised that high velocity sales had different process needs and speed which a B2B customer did not have," Patel said, adding that the company turned to its current form in 2015, after raising around $1 million across angel and seed funding rounds.
The company has raised close to $38.4 million in equity funding according to VCCEdge. It last raised capital in December last year when Mumbai based private equity firm Gaja Capital led a $32 million round.

The aggressive hiring and expansion planned this year is in line with the company's target of growing revenues over 100% year-on-year. According to data sourced from VCCEdge, LeadSquared clocked Rs 52.6 crore in net sales for the financial year 2019-20 and an EBITDA of Rs 12.27 crores.
Patel said the company will double its business for the year 2020-21, riding on the push for sales transformation and addition of new clients.
The SaaS company which counts education technology as its primary revenue generating sector has added nearly 30% of its customer base over the last eight months, owing to the push for digitization by new age as well as legacy companies.

While the primary contribution to revenues comes from edtech, COVID-19 related digital transformation has added clients from insurance, new-age fintech and financial services companies.
"In the insurance sector, we are working with insurance companies for their sales transformation projects where we work to improve the productivity of agent teams, direct teams as well as digital sales teams. We also work extensively with insurance intermediaries as the demand for health and term insurance products pick up," Patel said.
Apart from B2C operations for its clients, LeadSquared also powers similar sale cycles in the B2BC space for merchant acquisition and account management for hyperlocal delivery players such as Dunzo and Shadowfax.

While direct-to-consumer brands in lifestyle, nutrition and wellness have been all the talk, Patel identifies even new age manufacturing companies such as two-wheeler and four-wheeler manufacturers and mattress brands as D2C (direct to home) brands, owing to the changing nature of the business.
"All these journeys are going part-digital -- I would bracket them as direct to consumer brands who want to have a connection with the consumers. Earlier they were dealer led businesses," he said, adding that the company has also on-boarded similar brands.
The company is also set to roll out new line of products including sales performance analytics product to be rolled out in the next quarter and an AI-led sales advisor product by the third quarter of the financial year, based on customer demand.

---